City clerk says anti-abortion flag flown at City Hall was against policy
[caption id="attachment_67965" align="aligncenter" width="1000"]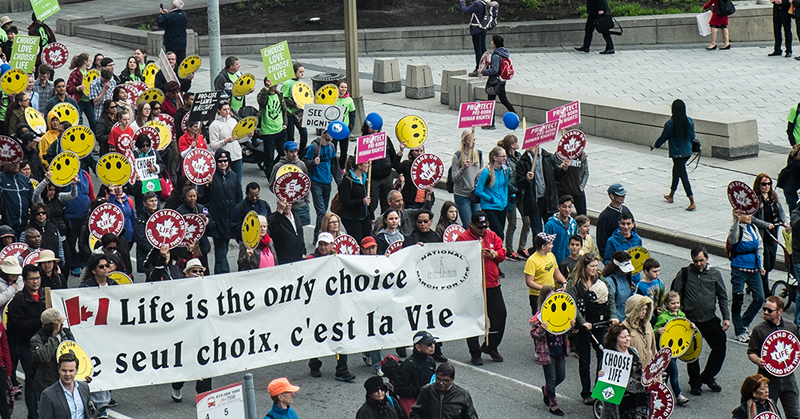 March for Life protesters in downtown Ottawa on May 11, 2017. (Howard Whiting/Lightchasers.ca)[/caption]
City Clerk Rick O'Connor said the raising of an anti-abortion flag at City Hall should not have happened because it was against the city's flag policy.
"A review of this matter has determined that the request for the flag raising was made by an individual," he wrote in a memo released to the media. "This does not meet the criteria and, when this was discovered, the flag was taken down under my authority."
O'Connor apologized to city council for the incident. Mayor Jim Watson requested that O'Connor conduct a review of the city's proclamations and flag raising policies and report back within 30 days.
The City of Ottawa's current flag policy was first enacted on June 22, 2006 and was revised in December 2014. It said the city will, from time to time, fly the flag of a "charitable or non-profit organization to help increase public awareness of their programs and activities, or an organization that has helped to enhance the City of Ottawa in a positive manner."
The policy specifically forbids flying the flag of a group "whose undertakings or philosophy are contrary to City of Ottawa policies or by-laws, espouse hatred, violence, or racism."
City councillors Catherine McKenney, Diane Deans, Marianne Wilkinson, Tobi Nussbaum, Jeff Leiper, Mathieu Fleury and Jan Harder signed a joint statement that the flag raising was unacceptable. Other city councillors said they would have signed the statement, but did not know about it ahead of time.
https://twitter.com/dianedeans/status/862757851521003521
https://twitter.com/JLeiper/status/862716398807785472
Watson has sparked controversy in the past for issuing Respect for Life proclamations that coincide with the March for Life. It is not against the city's current proclamation policy, which was enacted in 2002.
O'Connor said in the memo that proclamations are subject to the Ontario Human Rights Code and thus refusing to issue one could constitute a breach of the code.
He said the only conditions under which a proclamation can't be issued are if they are politically or religiously motivated, go against city by-laws or policies, espouse hatred or discrimination, are not related to Ottawa or intended to make profit.
In this case, religiously or politically motivated means it is for or against specific religions or political parties and candidates, he said.
The flag appeared in the midst of the Ottawa March for Life, an annual anti-abortion demonstration. Demonstrators gathered on Parliament Hill around noon and the march through downtown began at 1:30 p.m.