A list of maple syrup sugar bushes near Ottawa (2018)
[caption id="attachment_5041" align="aligncenter" width="580"]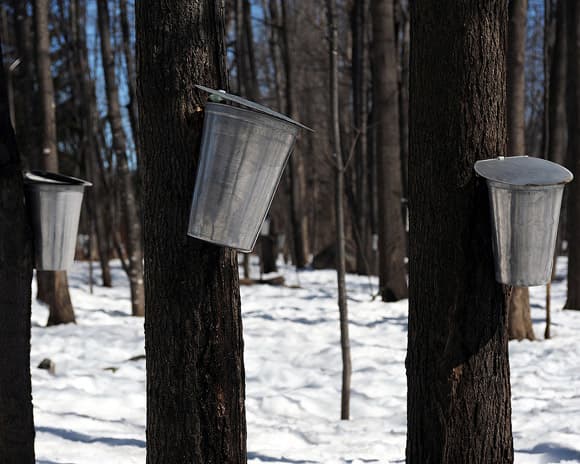 Three buckets. Collecting sap in Vanier during maple syrup season. Photo by Tony Bailey .[/caption]
Visiting a sugar bush has been a springtime activity in our area for generations. Several farms and maple syrup operations in Ontario and Quebec offer tours and programming for kids and families. The sap starts flowing as soon as the weather warms up, usually in late February / early March.  As one local sugar bush puts it: "nothing says Canada quite like mmm….maple!"
Map of Ottawa and Gatineau Sugar Bushes
_ Additions/corrections/comments: please contact us . _
Sugar Bushes - Ontario
Here's a list of sugar bushes near Ottawa that have web sites. You should check the web site or call ahead to make sure they're open for business. If we've made any errors or omissions, please let us know !
 * 
[
 **
  Bean Town
 **
](http://www.beantownranch.com/)
(Plantagenet)

Make a reservation for traditional food, try the maple syrup, take a horse drawn sleigh ride through the maple forest. Plus evening programming including live entertainment.
 * 
[
 **
  Domain Cleroux Maple Orchard
 **
](http://www.domainecleroux.ca/index.php?page=2)
(near Casselman)

Two-hundred acres bed and breakfast with an apple orchard, sugar bush and sugar shack.
 * 
[
 **
  Fulton's Pancake House & Sugar Bush
 **
](http://www.fultons.ca/)
(Pankenham / Mississippi Mills)

Four hundred tranquil acres nestled in the heart of Lanark County. The Fulton family has been a steward of the forest for over 150 years, producing pure Canadian maple syrup.
 * 
[
 **
  Fortune Farms
 **
](https://fortunefarms.ca/)
(Almonte)

Farming in the Fortune family began in the mid-1800s in Leeds, England. When Ray Fortune and his wife Ruth Westover moved to Ottawa in 1968, they rented a sugar bush and began selling maple syrup – the Fortunes have been in the biz ever since.
 * 
**
 [
  The Log Farm / La Vieille Ferme
 ](https://thelogfarm.com/)
**
(Nepean)

A living history farm recreating life of the Bradley family farm as it was in the 1860s. Off Cedarview Road just south of Hunt Club.
 * 
[
 **
  Mapleside Sugar Bush
 **
](http://www.mapleside.ca/)
(Pembroke)

A family-owned operation run by Carol Anne and Ray Bonenberg. They use a combination of traditional methods and new technology for the highest quality and purity in their maple products. Take a walk in the maples and see the "maple shanty" where the syrup is made every spring, using a wood-fired evaporator.
 * 
[
 **
  Proulx Farm
 **
](http://www.proulxberryfarm.com/)
(Cumberland)

In the business of farming and providing farm entertainment for its visitors since 1920. Now in the 3rd generation, the farm has a range of events and activities for visitors of all ages.
 * 
[
 **
  Richelieu Park
 **
](http://museoparc.ca)
(Vanier)

Open Saturday and Sundays, and available by reservation during the week. This is Ottawa's only urban sugar shack, and is located at the same place as the original sugar shack run by the White Fathers. Every year, 1,000 maple trees are tapped in the traditional way, producing up to 400 litres of maple syrup. _ ( More info on Facebook. ) _
 * 
[
 **
  Sand Road Sugar Camp
 **
](http://www.sandroadsugarcamp.com/)
(Moose Creek)

The wood fired evaporation process echoes the age-old production of pure maple syrup. Features a large log building that houses a dining hall and gift shop. Sample the traditional lumberjack camp meals then burn off those calories by taking a walk among the maples, or hopping on the sleigh for a fun-filled sleigh ride.
 * 
[
 **
  Stanley's Olde Maple Lane Farm
 **
](http://stanleysfarm.com/family-fun/sugarbush/)
(Edwards)

Experience the authentic production of pure Canadian Maple Syrup - from horse drawn sap collection to taffy in the snow. The farm has been producing maple syrup since the 1800s.
 * 
[
 **
  Temple's Sugar Bush
 **
](http://www.templessugarbush.ca/)
(Ferguson Falls)

Charles Temple started in the maple business in 1973 with 100 borrowed buckets, a borrowed flat pan evaporator and no clue of how to make maple syrup. Since then the operation has expanded to over 5,000 taps and magnificent old trees. Pancake House Between Carleton Place and Perth. They also host weddings, corporate retreats and special events year-round.
 * 
[
 **
  Wheelers Pancake House and Maple Sugar Camp
 **
](http://www.wheelersmaple.com/)
(Lanark Highlands)

Open daily all year from 9am-3pm, including Saturdays and Sundays. The busiest times on weekends during the spring are from 10am-1pm.
 * 
More:
[
 Ontario Maple Syrup Producers Association
](http://www.ontariomaple.com/)

Cabanes a Sucre - Quebec
Here's a list of sugar bushes near Gatineau that have web sites. You should check the web site or call ahead to make sure they're open for business. If we've made any errors or omissions, please let us know !
 * 
[
 **
  Cabane à sucre Brazeau
 **
](http://www.cabaneasucrebrazeau.com/)
(Papineauville)

Maple syrup and traditional food. Reservations required during the week, and recommended on the weekends.
 * 
[
 **
  Cabane à sucre Chez Ti-Mousse
 **
](http://cheztimousse.com/)
(Papineauville)

Since 1977. Features a dining room, museum, sleighrides and hiking trails. Book by phone only.
 * 
[
 **
  Cheslock Sugar Bush
 **
](https://www.facebook.com/Cheslock-Sugar-Bush-Cabane-%C3%A0-Sucre-Stanley-Cheslock-Family-112869505391848/)
(Val-des-Monts)

Features a buffet menu, open in Saturdays and Sundays, in March/April. Group reservations available Monday-Friday for groups of 10 people or more.
 * 
[
 **
  Le Domaine de L'Ange-Gardien
 **
](http://domaineangegardien.com/?lang=en)
(L'Ange-Gardien)

The Léger family invites you to their traditional sugar shack. Features a traditional antique filled sugar shack where the sap is boiled in a traditional evaporator. They offer traditional maple all you can eat meals and horse-drawn sleigh rides. Reservations recommended.
 * 
[
 **
  Gallant Maple Sugar Shack
 **
](http://www.gallant.qc.ca/)
(Ste-Marthe)

The sugar shack was built with the trees recuperated from the 1998 ice storm. An ideal place for skiers and walkers. Enjoy delicious sugar shack meals and maple products.
 * 
[
 **
  Sucrerie du Terroir
 **
](http://www.sucrerieduterroir.com/)
(Val-des-Monts)

Reservations required. Savour a delicious traditional meal in a rustic and warm decor.  Located 15 minutes from Gatineau with 190 acres of nature. Bring your wine & a musical instrument.