Split identities: How some young Somali Canadians in Ottawa are hanging onto their culture
[caption id="attachment_74579" align="aligncenter" width="1000"]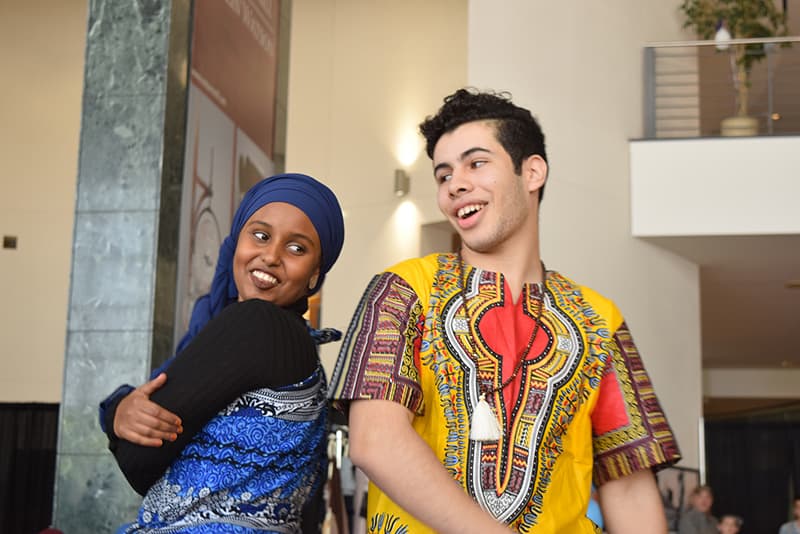 The first annual Somali Cultural Festival was held Saturday at city hall. It featured a fashion show of traditional clothing, as well as Somali food and music. (Devyn Barrie/OttawaStart.com)[/caption]
There is no runway inside city hall, but with cameras flashing and an attentive audience, it still made for a tidy fashion show.
But the outfits being shown off weren't the latest from Paris or New York City, to be worn one season and out of style the next.
They were the traditional garb of the Somali people, being given a new life as part of the first annual Somali Cultural Festival on Saturday afternoon.
Traditions tend to fade easily for some Somali Canadian youth living in Ottawa because they are not exposed to them, said Bille Abdalla, youth department manager with the Somali Centre for Family Services, which organized the festival.
"This is a way for youth who are here to reconnect with their culture," he said. It's also a way for the community to showcase themselves to the city.
Sagal Osman knows a thing or two about tradition.
She helped design the fashion show, which was performed by members of the Carleton University Somali Student Association. They also did a dance afterwards.
"I enjoy learning about tradition," said Osman, 27, who is a youth worker at the Pinecrest-Queensway Community Health Centre. "I really push everyone to restore that."
She's visited Somalia a few times in her life, the last occasion in 2015 around New Year's.
It is not possible for her to obtain Somali citizenship without renouncing her Canadian citizenship, because Somali law does not allow for dual citizens. Fortunately, she can visit with no problems thanks to her Canadian passport (she remarked a Somali passport, on the other hand, would probably not make for easy travel to many countries.)
"It is beautiful weather," she said. "The people are so kind."
The clothes in the fashion show for her represent a huge part of Somali identity and she thinks they should be worn more, where appropriate. For example, one of the girls in the show wore a wedding dress.
"I would love to see young women in Canada get married wearing that," she said, pointing it out in a photo.
---
** Photos: Somali Cultural Festival fashion show ** _ Photos by Devyn Barrie/OttawaStart.com _ [caption id="attachment_74580" align="aligncenter" width="1000"]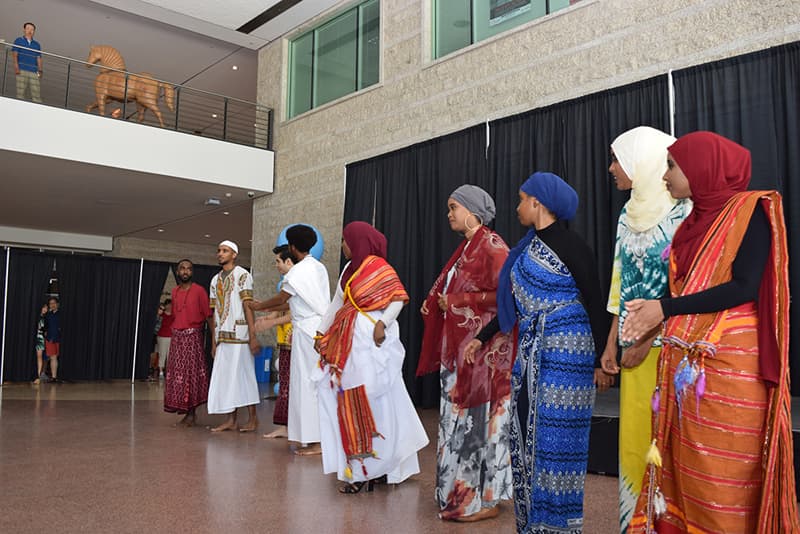 The models show off a variety of Somali clothes. The girl in the centre is wearing a traditional wedding dress.[/caption]
[caption id="attachment_74581" align="aligncenter" width="1000"]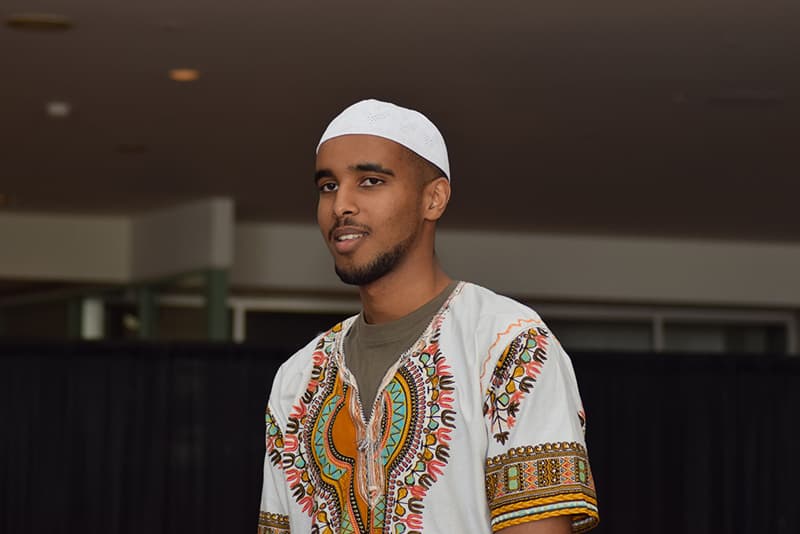 Musab Hassan was born in Canada and moved to Somalia for several years before returning.[/caption]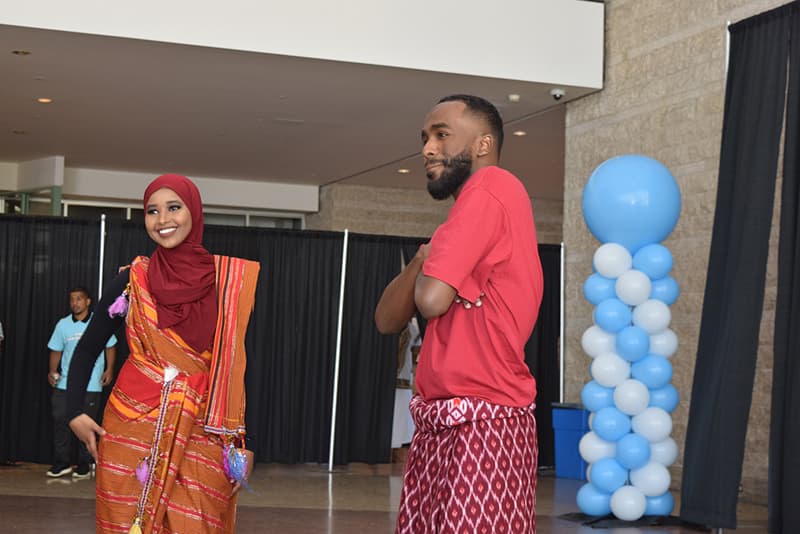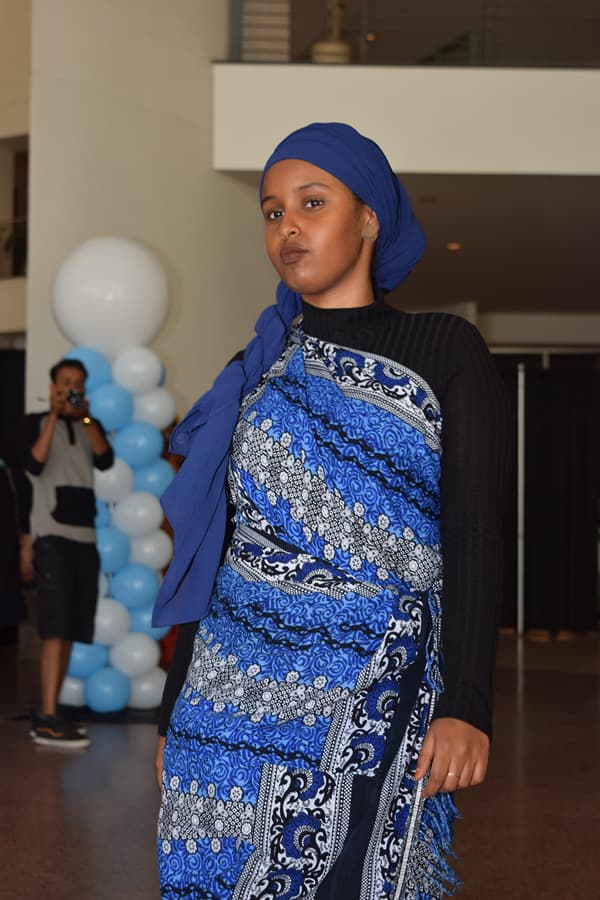 ---
One of the people in the fashion show was Musab Hassan. Born in Canada, he moved to Somalia for a few years before returning to start high school and is now attending Carleton University.
"It allowed me time to finally establish my identity (and) deepen my roots," he said. He called returning to Canada a "culture shock" even though it's his country.
"That's cute," interjected his friend, Malik Omar, causing them both to laugh boisterously.
"We never had promotion of Somali culture," Omar added, something he said this new festival is going to change.
Faduma Mahmoud is on summer break from Bishop's University, where she takes international studies. She spent the afternoon volunteering for the festival as a photographer.
Although she was born in Yemen, she is a Canadian citizen because one of her parents is a Canadian. The story of many origins is common in the Somali community, she said, and it can lead to split identities.
"A lot of the younger Somalis, they have a Somali identity and a Canadian identity," she said. "And one of them comes out more."
Like Mohamed Awil, who was also volunteering on Saturday. He was born in Sweden, moved to the U.K. (long enough to develop a British accent) and now lives in Canada.
Awil said he tries to build a bridge between his cultural background and life in Canada. But that will take time.
"It's a sense (that) we're practically westerners," he said. "But our skin colour says otherwise."
[caption id="attachment_74583" align="alignnone" width="1000"]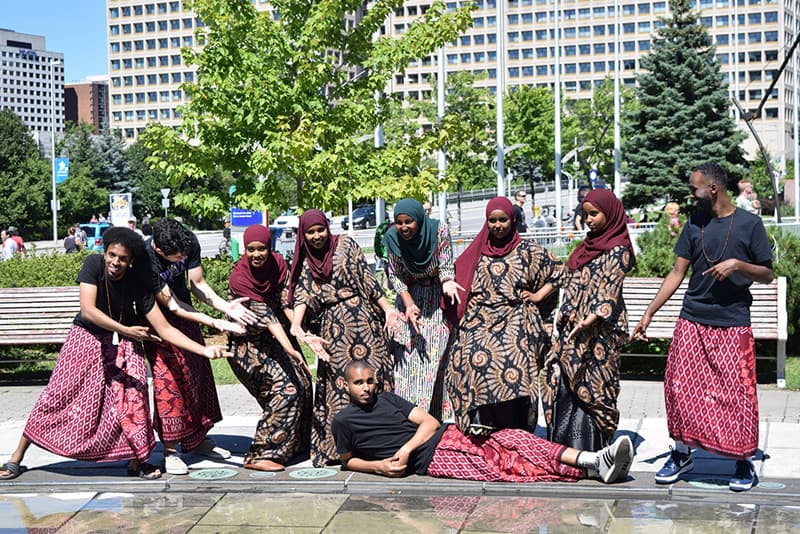 Members of the Carleton University Somali Student Group. (Devyn Barrie/OttawaStart.com)[/caption]