LINKED: Profile of KiSS morning host Sandra Plagakis, the "O.G. of Stittsville"
[caption id="attachment_88624" align="aligncenter" width="800"]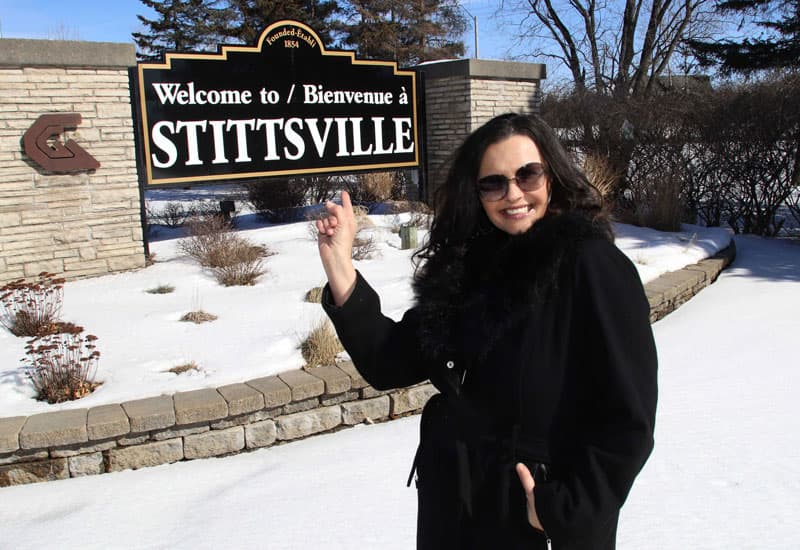 Long-time Stittsville resident Sandra Plagakis in front of the Welcome to Stittsville sign on Hazeldean Road. Photo by Barry Gray / StittsvilleCentral.ca[/caption] _ Here's an excerpt from a profile of KiSS 105.3 morning host Sandra Plagakis that was published recently on our sister site, StittsvilleCentral.ca : _
"I consider myself to be the O.G. of Stittsville. We were here when Country Time donuts were still here and Hazeldean had two lanes."
Sitting relaxed in a coffee shop with a macchiato (Starbucks style not Italian style) Sandra Plagakis comes across as confident, quick-witted and spunky. With perfect lip-gloss and mascara.
There's no hint that the Stittsville wife and mom of two teens is something of local celebrity, a seasoned broadcaster, someone accustomed to rubbing elbows with some pretty serious star power.
Sandra is one half of the ** Sandra and Chris ** morning show on ** KiSS 105.3 ** radio. And she loves it.
"This is almost too much fun to be a job," says Plagakis. "I'm just laughing my ass off… one day, I might have to get a real job."
While the job may be a lot of fun, most people wouldn't consider getting up at 3:00 a.m. on weekdays a perk. "But it's 2:55 a.m. if I'm doing my hair," she says. "It's hard to describe how exhausted you always feel."
It's a schedule she's been keeping since 1997.
The early hours and hard work have paid off now that she is established in her career. "I like being an experienced broadcaster," she says. "I like the confidence that comes with it."
Fortunately, things have come a long way for women in radio. Sipping her macchiato, she explains that there were a few trailblazers that made here current job possible.
"There weren't leading positions for a woman, certainly not on a morning show. Along the way, we got our voice," says Plagakis. "Now, strong women in radio [are] the norm, not the exception."
Like every job, there are things she loves and things she doesn't.
"I hate the rules. I hate that we live in a time right now that any time a crack a mic I have to be concerned I offend someone," she says. "It's live radio – you sometimes tell jokes that don't land. It should never be dissected though."
** _ Read the full article here… _ ** https://www.instagram.com/p/Be0w711naNT