Lincoln Fields secondary plan, Para Transpo booking, councillors on buses: some City Hall notes
Ottawa City Hall. (Photo/Devyn Barrie)
Quite a bit going on at City Hall these days. Here's a few things that caught my attention. What have you been seeing that's interesting? Let me know!
Consultations for Lincoln Fields secondary plan start in the fall
Bay Coun. Theresa Kavanagh has put out a city draft of the proposed study area for the Lincoln Fields secondary plan.
A secondary plan is a sub-plan of the city's official plan that drills down into the needs of a local community that is expected to undergo significant change — in this case, the redevelopment of a dead mall and a forthcoming LRT station in the next few years. The city will likely use it to provide a legal framework for additional hyperlocal planning, which could come either in the form of a transit-oriented development plan (as it has done with other neighbourhoods set to receive LRT service) or a community design plan.
The first consultations for the secondary plan will come in the fall.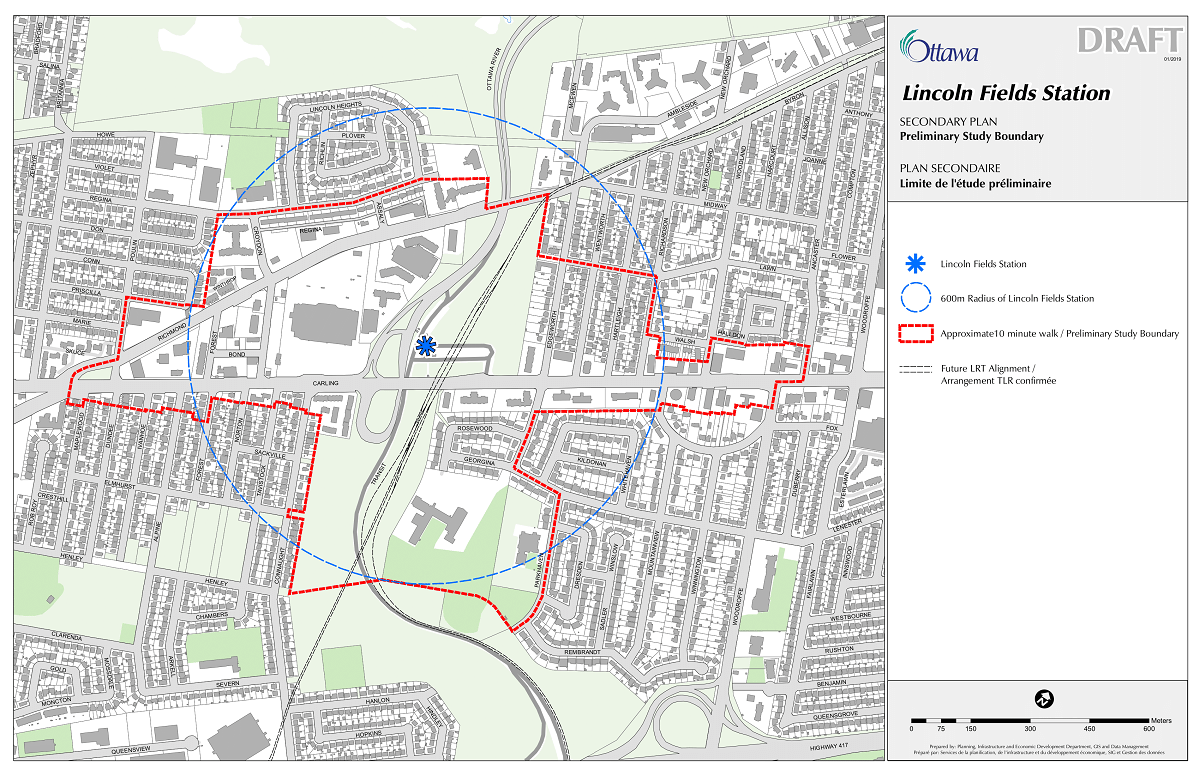 Official plan public meeting
One meeting you won't want to miss if you live downtown is this public consultation on Monday (June 24) for the official plan, for urban residents. It's at City Hall from 6:30 p.m. to 8:30 p.m.
Still time for rental housing study
The city's rental housing accommodation study is still taking public input until June 30. Residents are invited to read a discussion paper on the topic and fill out an online survey, both of which you can get here.
OC Transpo stuff
The city strangely changed its tune on the issue of electric buses. A few weeks ago transit staff said there was no need for a pilot project on the matter. But then, at the transit commission on Wednesday, transportation general manager John Manconi said the city should go right ahead and buy two electric buses — even suggesting the city should sole-source the contract from Nova Bus. The commissioners decided the procurement should follow a competitive bid process, however.
Also, councillors are a bit ticked about the delay in launching online booking for Para Transpo…
Councillors on buses
One of the biggest pet peeves for people who rely on transit is doubtlessly the perception that many of the people who make funding decisions about it — i.e. councillors and the mayor — never or rarely use it.
Case in point: on Wednesday Coun. Carol Anne Meehan revealed in a tweet she drove to the transit commission meeting, a trip that took an hour and a half due to traffic.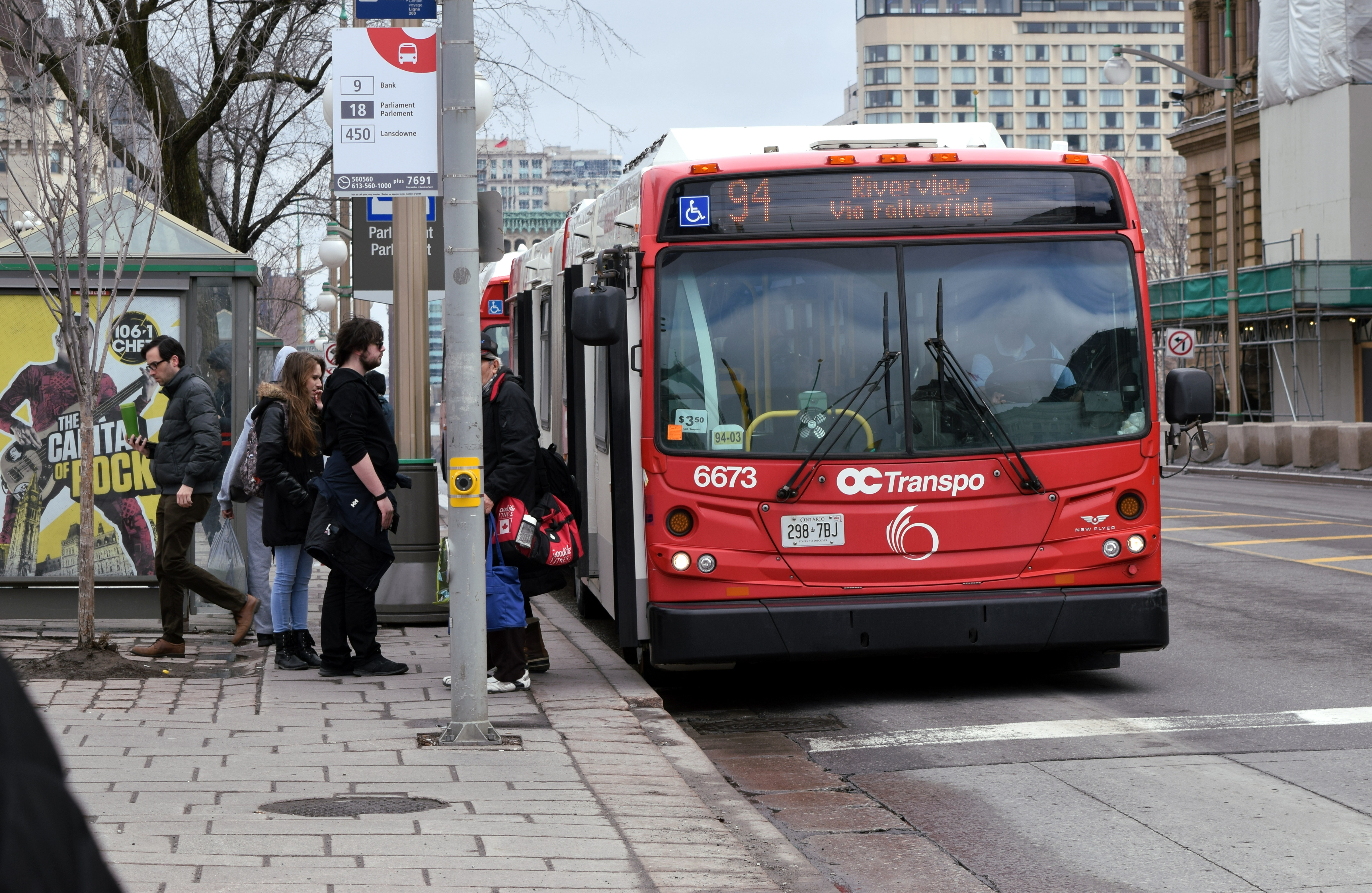 People board an OC Transpo bus downtown. (Photo/Devyn Barrie)
My two cents is that transit riders are really looking for politicians to set a good example and make a bigger effort to use transit. Most people understand politicians have busy schedules and sometimes they have no choice but to drive given how slow transit service can be sometimes — but nobody is going to buy the "I don't have time" line from a councillor who also just spent an hour and a half sitting in traffic.
Meehan deserves some recognition, however. She does make an effort to use transit and has advocated for better service at city meetings. Her advocacy for the federal government to open more satellite offices in the suburbs is of great help to reduce pressure on congested roads.
In her newsletter to constituents on Friday she suggested there should be more bus rapid transit from her ward: "I will be meeting with senior city planners to discuss BRT (bus rapid transit) on existing roads from the south end that would operate during the morning and evening commute. This has not been done on Ottawa roads before. I want to try it, because frankly, there are no other solutions that we can implement right now. I will keep you informed about every step of the process and engage you before anything is implemented," she wrote. She added that while LRT will help when it eventually opens, it will not solve all problems, especially for people further out.
But, back to the issue of councillors riding the bus. Why don't we see it more often? Riding the bus is chock full of benefits for the discerning councillor. They could spend the time replying to emails, reading meeting memos and reports or engage with their constituents or the driver to find out what's on their minds. Not to mention the experience would provide insights that would help them advocate for their transit-riding peers.
Transit in the suburbs is particularly tough, but even out there it's possible for councillors to do it. For example, Innes Coun. Laura Dudas said she takes it about 4-5 times per month, sometimes around the local community and sometimes to get to City Hall.