Library's free access to New York Times great for researchers and Trump addicts alike
[caption id="attachment_66587" align="aligncenter" width="720"]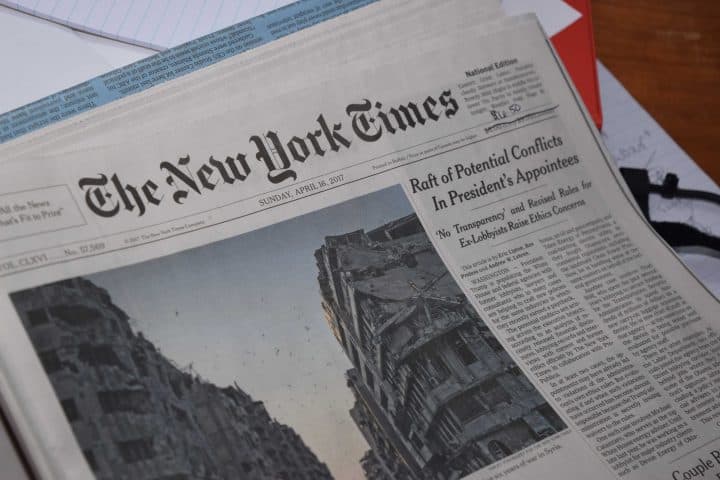 A print edition of the New York Times. Digital access to the venerable newspaper's website is now available online through the Ottawa Public Library. (Devyn Barrie/OttawaStart.com)[/caption]
Whether getting your daily Trump fix, following world affairs or doing research, you can now get free access to the _ New York Times _ and parts of its historical archives through the Ottawa Public Library.
Library members can access any article published in the _ Times _ from 1851 to 1922 and from 1981 on. That includes content published on a daily basis on nytimes.com without needing to buy a digital subscription, which costs at least $130CAD for a year of access.
The site can be accessed either on a library branch's network, or from home by visiting a portal on the library's website – a library card is required. Access is available on computers and mobile devices.
Ann Archer, manager of content services for the library, said offering access to the paper was a "no-brainer.
"Because the _ New York Times _ is world-renowned," she said. "There's very strong interest in American politics, in American issues (and other news)."
She said she first saw the paper offering access to libraries last year and she started looking into it. The library already offers digital access to other newspapers such as the _ Globe and Mail _ as well as the _ Times _ in print.
"I was really excited about it," she said. "I used to subscribe myself to the Sunday _ Times _ ."
Offering the paper is useful "not just because everybody wants to watch Trump," she said. It will also be a useful tool for researchers because they will be able to access articles going back to 1851, although there is a break between 1922 and 1981.
Although access is unlimited and free for library card holders, the _ Times _ is charging the library for the service. Archer said she could not provide the cost of the contract.
"All of our licensed services involve money," she said. "We make sure it's something we can afford."