Less than 6,000 tickets left for 105th Grey Cup in Ottawa
[caption id="attachment_46244" align="aligncenter" width="720"]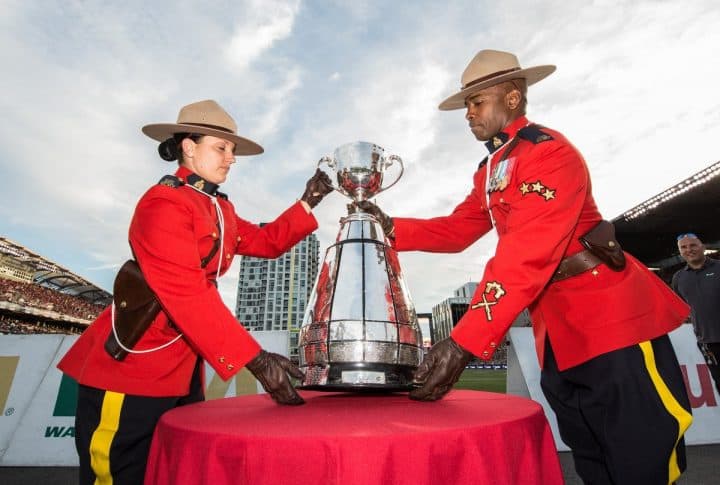 The Grey Cup is presented in Ottawa in November 2016. (OSEG)[/caption] _ (Via Ottawa Redblacks) _ ** OTTAWA-GATINEAU **
The Ottawa REDBLACKS of the Canadian Football League (CFL) today announced that fewer than 6,000 tickets remain for the 105th Grey Cup, presented by Shaw.
"We're humbled by the excitement for the Grey Cup in Ottawa, not just in our region but across Canada," said Jeff Hunt, President of the REDBLACKS parent company, OSEG Sports. "The theme is RNation welcomes Our Nation and we're certainly going to do that, not just at the game but at every touchpoint with fans and soon-to-be fans at the Grey Cup Festival, presented by Shaw. This is going to be the exclamation point on a yearlong celebration of Canada."
Tickets for the annual November classic at TD Place in the nation's capital have been available to REDBLACKS' season ticket holders since last November. Season ticket holders from all other CFL teams got their chance to purchase tickets last month, and fans that took advantage of a REDBLACKS 105-hour deposit opportunity last November were also able to purchase their seats in April.
"The response from fans has been tremendous and while all of us in the REDBLACKS organization are excited, our goal is a sell-out and we're not there yet," said John Mathers, VP Ticketing and Marketing for OSEG. "We still have great seats available in multiple locations and at various price points. We can't wait to welcome our nation and show them that RNation is the best fan-base in the country."
The REDBLACKS phased-in approach to Grey Cup ticket sales continues. Currently, tickets are only available to season ticket holders and fans that purchase a 5-game "Home Opener Ticket Pack."
"The secondary objective of this approach is to help fill TD Place for every REDBLACKS' home game and we are on-track for a record-setting season-ticket base of more than 17,000," said Mathers. "After individual regular season game tickets become available on June 1st, we'll release the remaining Grey Cup tickets on a first-come, first-served basis on June 8, but I encourage fans to explore the opportunity of securing a full or partial REDBLACKS ticket package to jump the cue and ensure they're with us on November 26th."
TD Place will be expanded from 24,000 seats to approximately 35,000 for the 105th Grey Cup, presented by Shaw. A total of 2,000 temporary seats will be added to the west end of the facility and an additional 9,000 seats will be built in the east end. The installation will commence in late September.
Fans interested in purchasing a REDBLACKS ticket package for an advanced opportunity to secure Grey Cup seats are encouraged to visit OttawaREDBLACKS.com for more information.
The 105
th
Grey Cup Festival, presented by Shaw, will feature a wide-range of events and activities for fans and soon-to-be fans of all ages. Information on the Festival will be posted at GreyCupFestival105.ca on a regular basis in the coming weeks.