Legacy of Gord Downie celebrated onstage at We Day
[caption id="attachment_83853" align="aligncenter" width="1000"]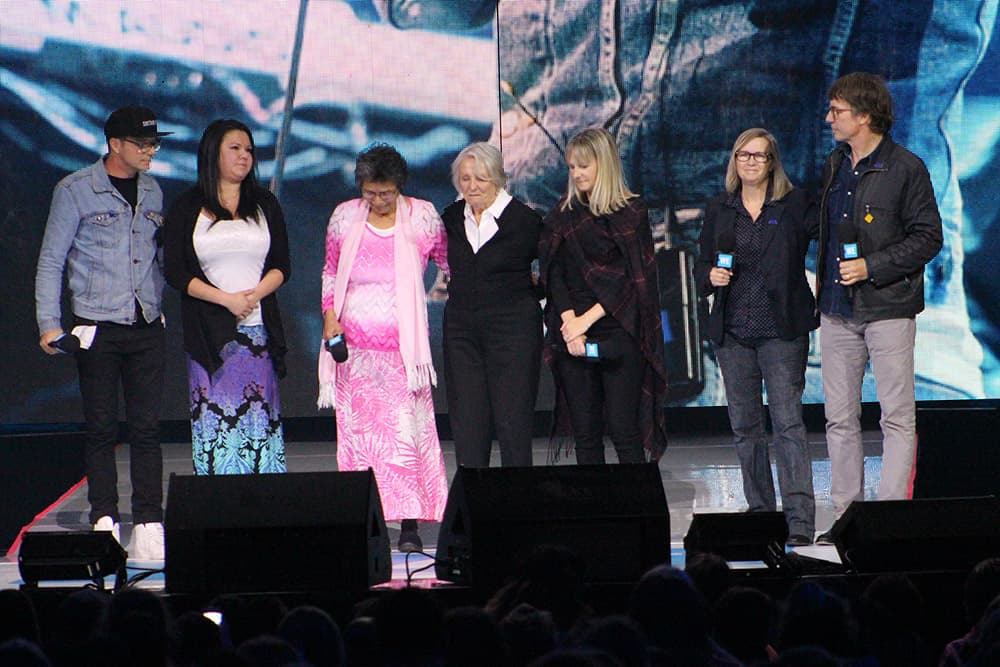 The Downie and Wenjack families onstage during a tribute to Gord Downie at We Day in Ottawa on Wednesday. (Charlie Senack for OttawaStart.com)[/caption]
The family of Gord Downie took to the stage at We Day on Wednesday for a moving tribute to the late songwriter.
"In the past weeks we have shared our grief with Canadians, and along the way we have felt the weight of the entire country," said Patrick Downie, Gord's brother.
The Downie Family was joined on stage by the Wenjack family. The two families have come together to start up the Downie-Wenjack Fund — in memory of Chanie Wenjack who ran away from a residential school in 1964, and died from hunger and exposure. Gord Downie famously dedicated an album to Chanie Wenjack's memory in 2016.
"There are students planning acts of reconciliation with their friends and classmates," Patrick said of Gord's impact on national reconciliation with Indigenous peoples.
Tearing up, Chanie's sister Pearl alongside her granddaughter Sunset, talked about how this was the first time she has been with the Downie Family since Gord's passing.
"It's been rough," said Pearl Wenjack. "We have gotten Gordon to be our brother, and we also had the joy of sharing his dreams, of sharing his happiness, of sharing his goals in life. He believed in life, and all of us are wanting to carry that on."
The two families were one of many speakers with personal messages at We Day to motivate and inspire the 16,000 local students present into making a difference.
We Day is an event that tickets cannot be purchased for. Instead, tickets are awarded to students who took part in fundraising activities for the Me to We campaign — which could include anything from bake sales to coin drives.
We Day was started as a charity in 1995 by Craig Kielburger. Since 2007, events have been held all around the world and include many celebrities, performers and motivational speakers. Over $45 million has been raised.
Kielburger said the organization is constantly growing, and more schools want to get involved. Fourteen-thousand five-hundred schools in Canada, the United States and United Kingdom take part— around 8,000 of which are in Canada.
"The teachers are clamoring for it," Kielburger said in a press conference. "We hear it from teachers at schools that are asking for this, and they are looking for this great high quality resource."
Emma Duplessis, 14, from Mother Teresa High School in Barrhaven was a part of the day's trivia game. She was asked to join We Day because of her involvement as a youth activist, including work with the Barrhaven Food Cupboard.
Last year, while she was a student at St. Patrick's Elementary, she started a trivia game at her school to raise awareness on important issues.
"On Tuesday and Thursday mornings we would ask a question over the announcements that would be like 'how much water do Americans waste,' and then we would get the answers over lunch," said Duplessis. "At the announcements at the end of the day, we would say the answer."
There were many celebrities in attendance including Rick Hansen, a Canadian Paralympian; Ban Ki Moon, former secretary general to the United Nations; Alexandre Trudeau, a documentarian and brother of Justin Trudeau; as well as Rasheda Ali, the daughter of boxing legend Muhammad Ali.
Hansen has been to over 15 We Day events and has partnered up with the organization to raise awareness on persons with disabilities.
He said that one in seven Canadians – and over a billion people worldwide – live with a disability, according to the World Health Organization.
"When people think about buildings or new projects or facilities they often forget about how we make them accessible," said Hansen.
He also joked that he one day hopes that his wheelchair will end up in a museum because a young innovator will develop a faster and more accessible way for people with disabilities to get around.
Eugene Melnyk, the owner of the Ottawa Senators, spoke about a very personal story. In 2015, he was told he had only 75 days to find a new liver, or he would die. He received a successful transplant a week after making a public plea for a donor to come forward.
He used this experience to encourage everyone to become a donor.
"There are 4,500 people in just Canada alone that sit on a waiting list," said Melnyk.  "In the case of some people, they will be on the list for years (and) many of them will just die while waiting in line."
Musical performances also took to the stage including Shawn Hook and Brett Kissel. In an interview with _ OttawaStart.com _ , Kissel said he feels he has the responsibility as an artist to give back to the community.
[caption id="attachment_83854" align="aligncenter" width="1000"]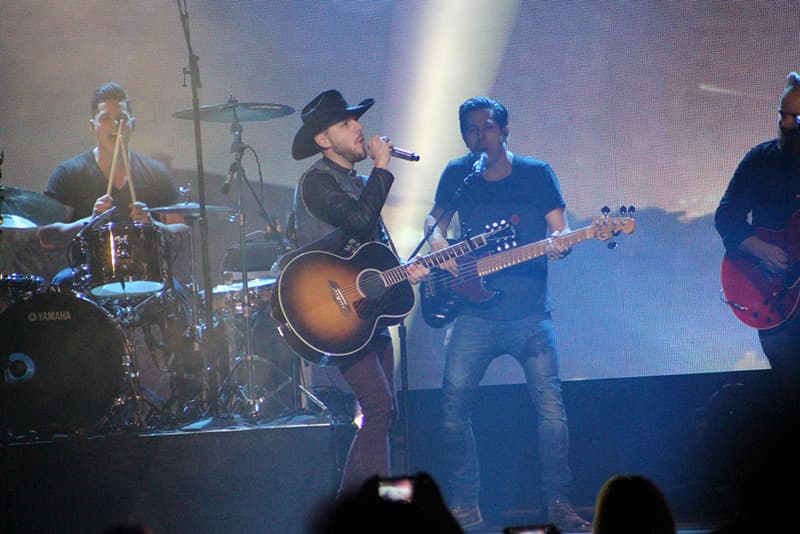 Brett Kissel performing at We Day. (Charlie Senack for OttawaStart.com)[/caption]
"I'm very proud that I get to be here and share my message, and to hopefully inspire… youth that are out there and are ready to make a difference and to start today to leave the world a better place," said Kissel.
He said that with every fundraiser he plays, he tries to always give a contribution. In 2017, he said he has already raised a quarter of a million dollars. He is encouraging the youth to get involved now, and make a difference.
"The first thing I would say is start now (because) there is no time like the present," said Kissel. "The reality is that something small can lead into something great. Maybe your goals aren't to truly have a global impact, that's OK, have an impact on your household, have an impact on your community, or your school."