Keep an eye out for the NAC's 'pop-up' box office Tuesday
_ (press release) _
Please take your seat for the 2016⁄17 NAC season!
The National Arts Centre's 2016⁄17 season, featuring 100+ performances by the NAC Orchestra, Dance, English Theatre, French Theatre and NAC Presents, is about to commence and now is the time to make sure you are a part of it when single tickets go on sale, Tuesday, September 6 at 10 a.m.!
The NAC will be out and about throughout the morning of September 6 in three different locations with a special ' ** Pop-up' Box Office and Southam Hall Seats ** . These three locations will be announced on September 5, highlighted on NAC's Facebook and Twitter pages, inviting Ottawa and Gatineau to visit the touring Box Office and be the first to test out the new Southam Hall seats. There is also a chance to win a pair of tickets to a show in the upcoming season – in fact, there will be ten lucky winners at each location!
[caption id="attachment_49878" align="aligncenter" width="700"]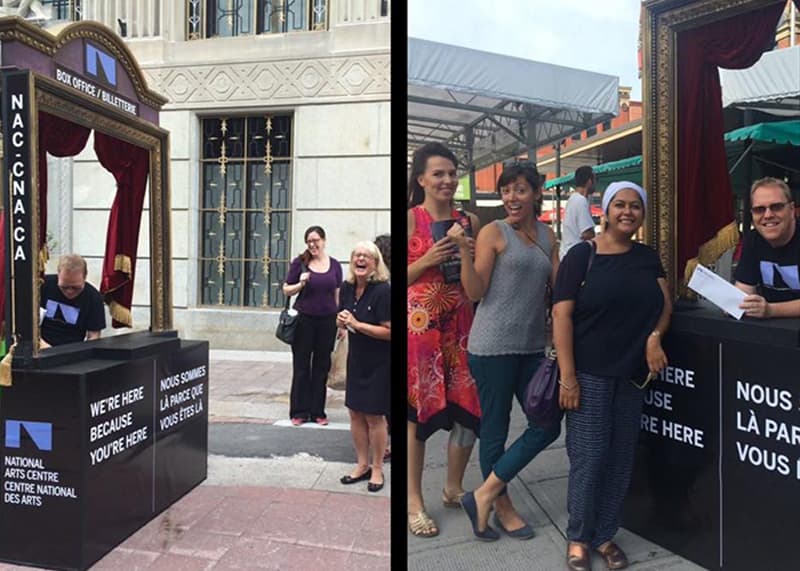 Image via BanfieldAgency.com[/caption]
The fun starts first thing in the morning on ** September 6 ** , so keep following the @CanadasNAC and find out where the NAC Box Office will be coming to you! Share your photos on social media with the hashtag #MyNAC for more chances to win free tickets.
Make sure you get the best seats by getting your tickets as soon as they go on sale!  September 6's Box Office opening is your chance to get your tickets before your best picks sell out – in person at the NAC Box Office at 54 Elgin Street or online at nac-cna.ca.
For every NAC performance, the stage shines brightly because of the response of our audience. It's a story expressed in joy, laughter, inspiration and applause — and it's been that way for 47 years. Now we invite you to escape with us for this daring, unforgettable season _ . _
Highlights for the 2016/17 at the NAC include:
NAC Orchestra : The Beethoven and Schumann Festival; The Music of _ Star Wars _ ; _ Peter and the Wolf _ with Rick Mercer and _ The Hockey Sweater _ with Ken Dryden Dance : Alberta Ballet _ The _ _ Nutcracker _ ; Shanghai Ballet _ Giselle _ ; _ ENCOUT3RS _ ; Companie Virginie Brunelle – _ to the pain that lingers _ English Theatre : _ 'da Kink in My Hair _ ; _ A Christmas Carol _ ; _ The Colony of Unrequited Dreams _ Theatre Français : _ Les armoires normandes _ ; _
Une femme à Berlin

_ ; _
La bonne âme de se-tchouan; La fureur de ce que je pense

_ _ _ NAC Presents : Chantal Kreviazuk; Gordon Lightfoot; Chlo
é
Sainte-Marie
**
 Variety Pack

**
You can choose four or more of your favourite Music, Theatre or Dance performances and purchase them within a Variety Pack on Tuesday and you will save up to 15%.  Once you are an NAC Subscriber you can add on additional performances and still enjoy the discount!

Tickets are available in person at the NAC Box Office (located at 54 Elgin Street, across from the NAC) from 9 a.m. to 9 p.m. (Monday through Friday) and 10 a.m. to 9 p.m. (Saturday) or through TicketMaster (with surcharges) at 1-888-991-2787;TicketMaster may also be accessed through the NAC's website at www.nac-cna.ca .