Kanata group launches new teen drug recovery program
[caption id="attachment_81427" align="aligncenter" width="1000"]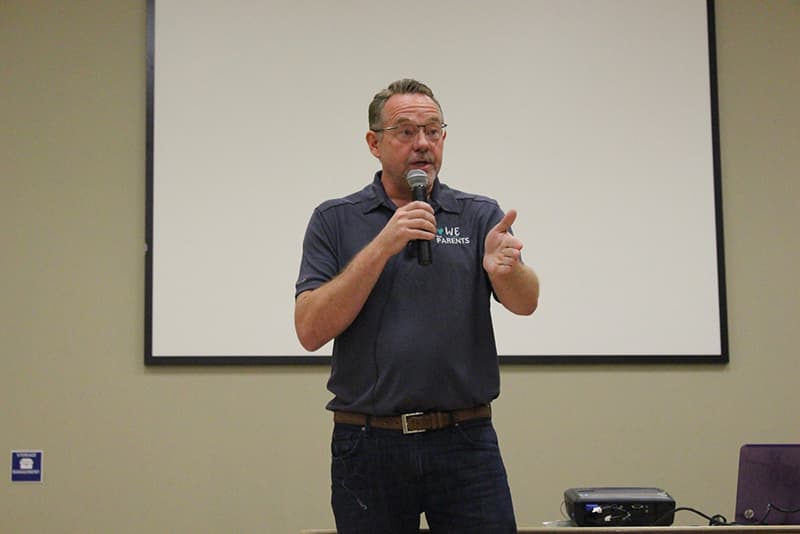 We the Parents, a group that advocates for opioid awareness, is launching a new recovery program. Steve Cody, a We the Parents member, speaks at a meeting last Thursday. (Charlie Senack for OttawaStart.com)[/caption]
Advocacy group We the Parents held a meeting at the Kanata Recreation Centre on Thursday to give an update on the growing opioid crisis and a smart recovery program coming to Kanata.
Smart recovery is a self-motivated life skills program for anybody who has suffered from a drug addiction and wants to learn the skills needed to stay clean.
The first smart recovery meeting will be held on Oct. 20 and the group will have them weekly for teens and twice a month for their parents. We the Parents is hoping to hold meetings more often after getting more trained volunteers.
"Our goal is to start with these smart recovery meetings (once) a week and from what kids have told me they are very encouraged to do it," said Sean O'Leary, executive director of We the Parents.
For the time being the program is targeted at Kanata but there are plans to expand, O'Leary said.
Local businesses are also supporting the smart recovery program. O'Leary has been working with a theatre in Kanata to bring the youth to a movie after recovery meetings and Montana's has offered the occasional free meal.
More information on the program is available at wetheparents.ca .
O'Leary started We the Parents to help combat the drug crisis. He started the organization after coming forward about his daughter Paige's drug addiction. Over the past few years Paige has been through treatment on and off.
"I've been through drug addiction a lot and it's really been hard. I know that everyone who does drugs does not want to be doing them," Paige said at the meeting. "Everyone wants to stop, no one wants to go through a drug addiction."
Paige was admitted into the Dave Smith Treatment Centre about a month and a half ago.
"Of course I was heartbroken and devastated but something very good came out of it," said Sean O'Leary. "(Paige) was admitted into Dave Smith so she got the three months of aftercare even though she stayed a day."
Paige has currently been clean for five weeks.
Sean was very open about Paige's addiction to drugs during the meeting. He talked about the time she stole her brother's Xbox to sell it for money to buy drugs.
"Paige knows the stuff she put me through (but) they don't want to do this to us," said O'Leary. "It breaks her heart that she did it."
Politicians from all levels of government were in attendance at the meeting as well as Bob and Rilee Russell, the parents of Teslin Rusell, 18, who died on New Year's Eve from an opioid overdose.
[caption id="attachment_81428" align="aligncenter" width="1000"]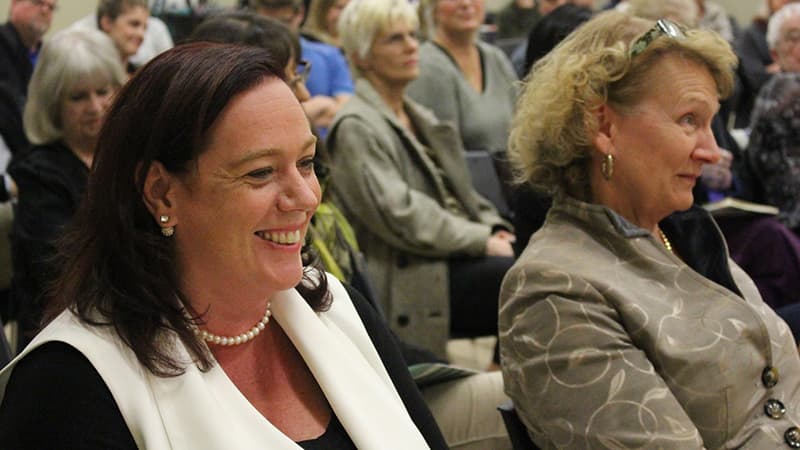 Lisa MacLeod, MPP for Nepean-Carleton and Karen McCrimmon, MP for Kanata-Carleton, were in attendance. (Charlie Senack for OttawaStart.com)[/caption]
The meeting got heated at times, especially when politicians talked about the difficulties government faces in combating this crisis.
"Stop defending them," one member of the audience said to Coun. Marianne Wilkinson, in reference to the city's role in the crisis.
"I'm not defending them," Wilkinson replied. "I'm just telling you the way things work around this place."
Also in attendance was Terry Lake, who is the former minister of health for British Columbia.
B.C. has seen the worse of the drug epidemic in Canada. Already over 1,000 people have died in B.C. this year from drug overdoses, including a friend of Lake.
"This crisis has touched so many people in British Columbia," said Lake. "I lost a good friend two weeks ago. He was a 39-year-old (and) a father to two young children. He died in his hotel room in Victoria."
Lake now lives in the Ottawa area and works at a medical cannabis facility in Gatineau. He has a biased approach on the issue many may not agree with him, he told the crowd.
He supports injection sites and helped open 21 of them in B.C. He said many facilities he saw in B.C. are using cannabis to break addiction.
"They are using cannabis as a way of helping people reduce their dependence on opioids," said Lake. "It can substitute and help people take a different path."
Many people in the audience did not like his approach on the crisis and tension started to rise. Karen McCrimmon, MP for Kanata-Carleton, got up to calm them down.
"I've learned so much tonight," said McCrimmon. "We have started this six months ago and we have made a lot of progress in six months. Back in April we spoke to the school board and they said 'no we can't put (drug) education in the schools, they would just think we had a drug problem.' Now we see (Ottawa) Public Health in the schools talking about drugs and engaging with people."
In addition to dialogue within schools, there have been some key developments in recent months:
 * 
Earl of March Secondary School will be getting a resource board that will detail support available to teens.

 * 
The Ottawa-Carleton District School Board and Ottawa Catholic School Board have put the life-saving drug naloxone, which reverses the effects of opioid overdoses, in all of their high schools.