Kanata councillor wants to set up alternative to soon-to-be closed paper
Kanata North Coun. Marianne Wilkinson is looking to set up a community news site to replace the _ Kanata Kourier-Standard _ , which is to be closed in January, writes Paul Adams, an _ iPolitics _ columnist.
The _ Kourier-Standard _ is closing along with _ Metro Ottawa _ and seven other Ottawa community newspapers previously owned by Torstar Corp., but swapped with Postmedia Network Canada Corp. in a deal that will see dozens of papers shuttered across Ontario.
[caption id="attachment_84441" align="aligncenter" width="676"]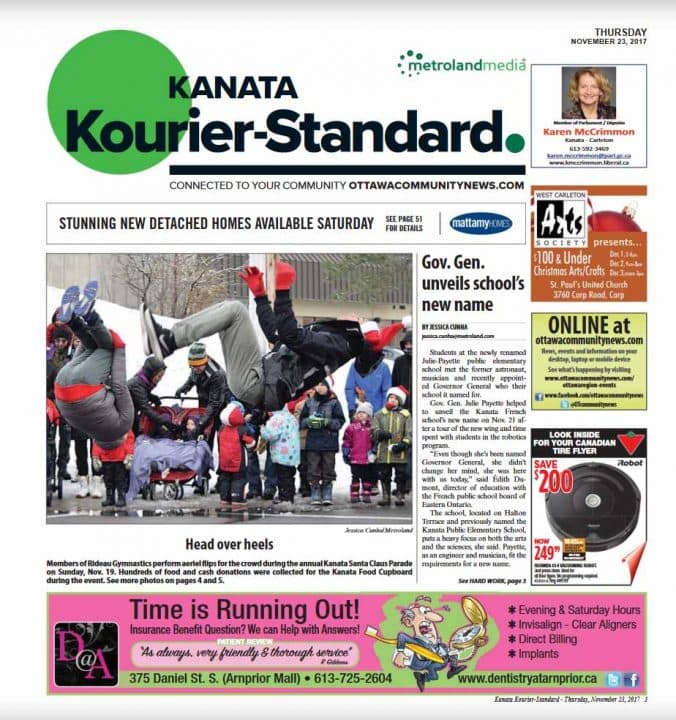 The front page of the Kanata Kourier-Standard on Nov. 23, 2017.[/caption]
Wilkinson plans to have a meeting in the new year to set up the new outlet, Adams writes, and she wants to build on the model followed by _ OttawaStart.com _ 's sister site, _ StittsvilleCentral.ca _ !
"Wilkinson points to [ _ Stittsville Central _ ](https://stittsvillecentral.ca) _ — _ a small internet site that collects news in a neighbouring community and supports itself with local ads — as a model she wants to build on. She is hoping to recruit volunteers, maybe get some help from students at Algonquin College and Carleton University, and perhaps hire a half-time paid staffer to begin with."