It's back: Mosaïculture returns to Gatineau from June 24-October 15
[caption id="attachment_78807" align="aligncenter" width="1000"]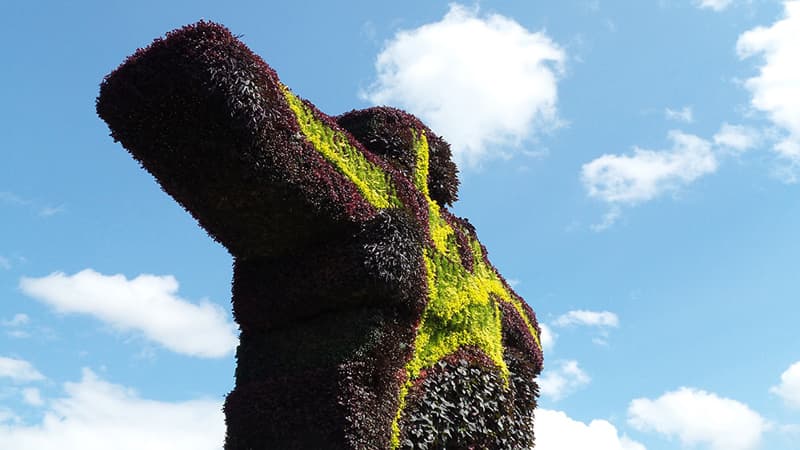 An Inuksuk display. (Photo by G. Gower / 2017)[/caption]
[caption id="attachment_78806" align="aligncenter" width="1000"]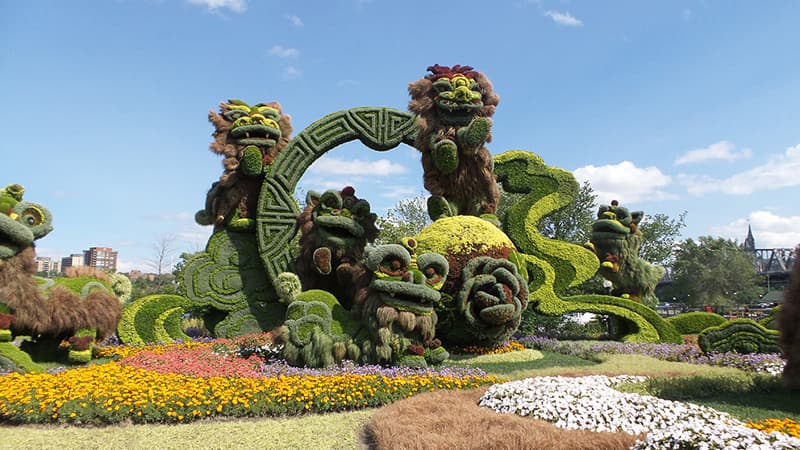 A mosaiculture display at MosaiCanada. (Photo by G. Gower / 2017)[/caption] _ After attracting huge crowds for Canada 150, Mosaïculture returns to Gatineau for 2018. Here's the official press release and translation. _ ** GATINEAU 3 AVRIL, 2018. ** – C'est à la Maison du Citoyen de la Ville de Gatineau que l'équipe des Mosaïcultures internationales de Montréal, entourée des membres de l'industrie touristique et d'affaires de la région de la Capitale nationale, ont vivement applaudi l'annonce et les allocutions tant attendus des partenaires de trois paliers gouvernementaux.
À l'occasion de l'annonce d'une aide financière de 2 M$ à Mosaïcultures Internationales de Montréal pour l'appuyer dans la réalisation de l'événement Mosaïcultures Gatineau 2018, la députée de Hull et deuxième vice-présidente de l'Assemblée nationale, Mme Maryse Gaudreault a expliqué :
« J'ai l'immense plaisir d'être parmi vous, aujourd'hui, pour faire l'annonce, au nom du ministre des Affaires municipales et de l'Occupation du territoire, M. Martin Coiteux, d'une importante aide financière à la corporation sans but lucratif Mosaïcultures Internationales de Montréal. La somme de 2 M$ allouée permettra la tenue d'une seconde édition de l'événement MosaïCanada 150 qui s'est déroulé à Gatineau en 2017 dans le cadre du 150e anniversaire du Canada.
Pour le gouvernement du Québec, qui s'est engagé à assurer l'occupation et la vitalité des territoires, l'aide financière octroyée va de soi. Le retour de l'événement permettra notamment : de contribuer à nouveau à l'essor économique de la région; de maximiser les investissements déjà effectués sur le site; et de répondre à la demande des visiteurs. »
« Nous voulons surprendre et émerveiller les visiteurs avec une exposition qui surpassera celle de 2017 et présentera plus d'œuvres, dont l' _ Arbre aux oiseaux _ qui est unique au monde et qui est cité en référence partout sur la planète, dans le domaine de la mosaïculture. Avec Mosaïculture Gatineau 2018, nous « passons à un niveau supérieur » en matière de défi horticole! » a souligné Mme Lise Cormier, fondatrice des Mosaïcultures internationales de Montréal. « La présence de nos partenaires du secteur public aujourd'hui est un témoignage de confiance bien au-delà d'un appui financier, c'est l'expression d'un engagement envers le développement économique et touristique de la région et de la valorisation de l'art, la culture et la nature. »
« L'annonce de la tenue de Mosaïculture Gatineau 2018 constitue une excellente nouvelle pour l'industrie touristique de Gatineau et de l'Outaouais dans son ensemble. L'appui financier de Développement économique Canada pour les régions du Québec à la commercialisation de l'événement à l'étranger permettra d'attirer davantage de visiteurs et de générer des retombées économiques appréciables, en plus de contribuer à la visibilité et à la notoriété de cette exposition d'art horticole. » a communiqué Greg Fergus, député de Hull–Aylmer.
« Le gouvernement du Canada n'hésite pas à appuyer des projets qui ont un impact positif sur le tourisme et l'économie d'ici. Des manifestations comme Mosaïculture Gatineau 2018 contribuent à la diversification de l'offre touristique régionale et nationale. » a précisé L'honorable Navdeep Bains, _ ministre _ de l'Innovation, des Sciences et du Développement économique et _ ministre responsable de DEC. _ " C'est une excellente nouvelle qui se concrétise grâce aux paliers de gouvernement provincial et fédéral. Le conseil municipal s'était prononcé en novembre dernier pour un retour de ce formidable événement ayant attiré plusieurs milliers de visiteurs. Nous continuons d'accroître la notoriété des destinations que sont Gatineau et l'Outaouais tout en créant un sentiment d'appartenance pour tous les Gatinois. Il s'agit d'une belle vitrine nationale et internationale pour Gatineau, l'une des portes d'entrée du tourisme au Québec." a déclaré le maire de Gatineau Maxime Pedneaud-Jobin.
« Forte du succès de l'année dernière, la Commission de la capitale nationale est fière de s'associer à la Ville de Gatineau et à Mosaïculture Gatineau 2018 afin d'accueillir les œuvres horticoles originales et l'animation qu'elles entrainent dans l'un des plus beaux parcs urbains de la région de la capitale nationale, le parc Jacques-Cartier. » a expliqué Mark Kristmanson, Ph. D., premier dirigeant, Commission de la capitale nationale. ** FAITS SAILLANTS MOSAICULTURE GATINEAU 2018 **
 * 
Du 24 juin au 15 octobre, 2018

 * 
Parc Jacques-Cartier, Gatineau

 * 
Nombre d'œuvres : 45 œuvres dont 10 nouvelles, dont plusieurs sont magistrales

 * 
Thème : Un voyage merveilleux

---
** GATINEAU APRIL 3, 2018. ** – The team of _ Mosaïcultures internationales de Montréal _ , surrounded by the members of the tourism and business communities of the National Capital Region, warmly applauded the long-awaited announcement by the provincial and federal governments.
On the occasion of the announcement of a financial support of $2M to _ Mosaïcultures Internationales de Montréal _ to produce the event Mosaïculture Gatineau 2018, the member for Hull and Second Vice-President of the National Assembly, Mrs Maryse Gaudreault, explained:
« It is an immense pleasure for me to be amongst you today to announce, on behalf of the of the Minister of Municipal Affairs and Land Occupancy, Minister of Public Security and Minister responsible for the Montréal region, Mr. Martin Coiteux, the financial support of $2M to the not-for-profit organization _ Mosaïcultures Internationales de Montréal _ . The significant amount will be allocated to welcome a second edition this summer of the MosaiCanada150 which took place in Gatineau in 2017 during the Canada 150 celebrations.
For the Government of Québec, who committed to the occupation and vitality of the of the land and regions, the financial support "va de soi". A second edition of the event will allow, amongst other goals: contribute once again to the economic growth of the region, to maximise on previous investments on site; and to respond to visitor demand" stated Mrs. Gaudreault.
"Our wish is to amaze and astonish visitors once again, with an exhibit that will surpass the one we presented in 2017. We will showcase more masterpieces, such as The Tree of Birds, a flagship creation admired and referenced as one of the pinnacle pieces of the art of mosaïculture worldwide. With the 2018 Exhibit, we will rise to a superior level in terms of horticultural complexity" mentioned Mrs. Lise Cormier, President and Founder of _ Mosaïcultures internationales de Montréal _ . "The presence of our public-sector partners today is a wonderful commitment that is not only financial, but more importantly an important expression of the level of engagement toward the economic and tourism development of the region and a recognition of the valuable contribution of art, culture and nature."
The announcement of a holding Mosaiculture Gatineau 2018 constitutes excellent news for the tourism industry in Gatineau and the Outaouais at large. The financial support from Economic Development Canada for the regions of Québec to the marketing and commercialisation of the event on the international stage to significantly increase the economic impacts to the region by attracting visitors worldwide and increasing the region's notoriety on the world-stage", stated Greg Fergus, member of parliament from Hull-Aylmer.
"The Municipal Council committed to the event last November for the return of this awesome event that attracted thousands and thousands of visitors and tourists. We continue to increase the notoriety of the destinations that are Gatineau and the Outaouais while creating a sense of belonging and pride for all residents of Gatineau. It is a wonderful one of the main tourism gateways to the province of Québec" declared Maxime Pedneaud-Jobin, Mayor of Gatineau.
"Building on last year's success, the National Capital Commission is proud to partner with the City of Gatineau and Mosaïculture Gatineau 2018 by hosting original horticultural exhibits and animation in one of the National Capital Region's finest urban parks."  shared Dr. Mark Kristmanson, Chief Executive Officer, National Capital Commission. ** HIGHLGHTS: MOSAICULTURE GATINEAU 2018 **
 * 
June 24th to October 15th, 2018

 * 
Jacques-Cartier Park

 * 
Number of masterpieces: 45 artworks, of which 10 are new, and many are masterly

 * 
Theme : A magnificient journey