Is Lyft helping or hurting OC Transpo?
Lyft wants to help connect people to transit in Ottawa. But are they? (Graphic via Lyft)
Rob Woodbridge has seen Ottawa go from being a mid-sized city to having over a million residents. As the city has grown over the past few decades, one thing has remained constant — like most cities, transportation is largely geared towards personal car ownership.
Woodbridge, an established Ottawa-area tech executive for many years, is now about 10 months into his role as market manager for Lyft Ottawa. Much of his role, he said, is focused on providing an alternative to private car ownership.
"It's a simple concept," he said. "Since the invention of the car, we've been building cities for the use of cars. Lyft's view is that we should be building cities around people, not cars."
The ride-hailing company launched its services in Ottawa in March 2018 and competes with Uber for drivers and passengers. Both services work by allowing people to download an app and then order a ride to come pick them up just about anywhere in the city. Anyone can apply to drive for them, too — the companies bill it as an opportunity to earn cash on the side. Both companies are publicly-traded, having made their IPOs in March for Lyft and May for Uber.
However, the companies take different approaches in the markets where they operate. When Uber went public, one of their regulatory forms in the U.S. identified public transit as a competitor. "When we enter a new city … we aim to reach efficient scale and liquidity rapidly to attract consumers to use our platform as an alternative to personal vehicle ownership and usage of public transportation," the form said. After backlash, they amended the filing to avoid mentioning public transit as a competitor. However, the incident contradicted Uber's past line that they aim to complement and not hinder public transit.
Lyft, however, has stayed on-message in describing their service as just what the doctor ordered for cities looking to boost transit ridership. They say many Lyft trips begin or end at transit terminals in the cities where they operate, plus most users of ride-hailing apps also frequently use transit. A survey by mobile ticketing company Masabi found that "80% of weekly drivers never use public transit, while 95.5% of weekly (ride-hailing app) riders use public transit, pointing to a future of reduced car ownership in favor of public/private urban mobility options."
Lyft is so emphatic over this point that their press materials include a photo depicting a driver picking someone up at a transit station.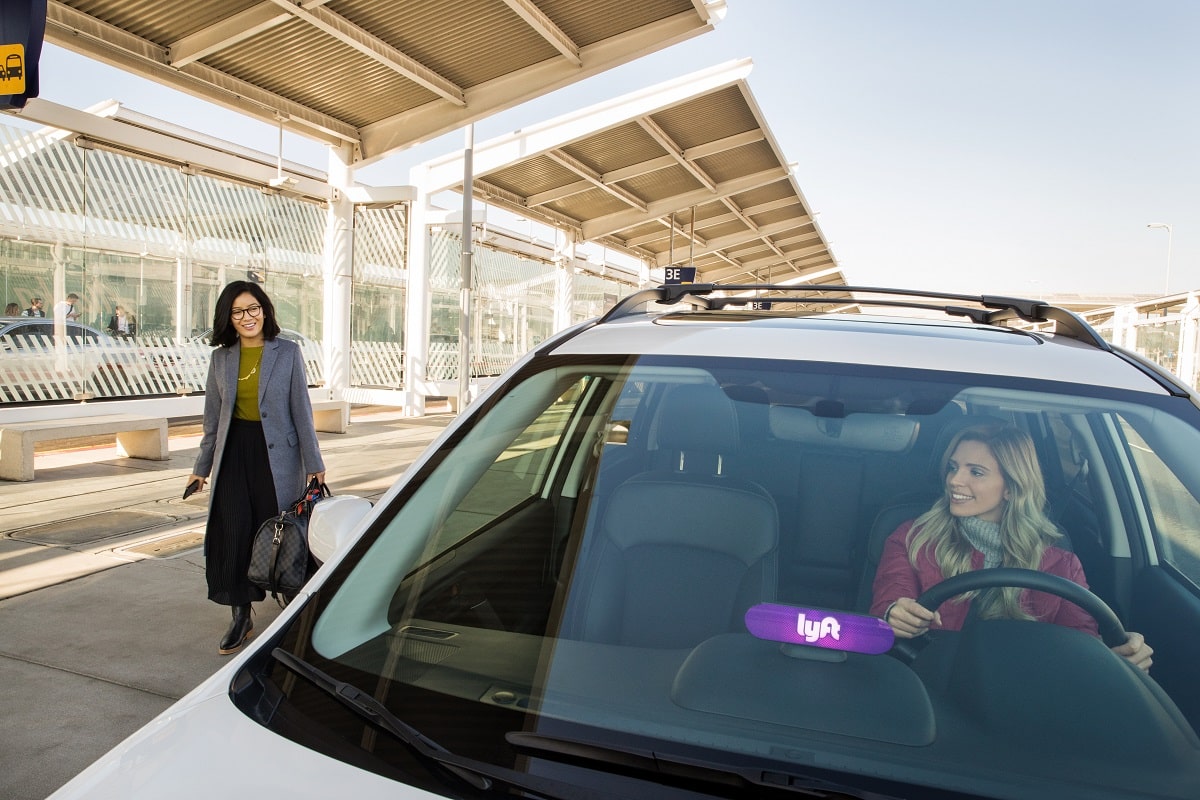 A handout photo from Lyft depicts someone getting picked up at a transit station.
Woodbridge said his ultimate vision for Lyft is to provide a service that can feed riders into major transit hubs and reduce people's dependence on cars for making complete trips. "There are too many cars that are on the Queensway with only one rider in it," he said.
This is what transportation experts refer to as a first- and last-mile solution. Public transit does not work well on the micro-scale, so there's often gaps between where service is and where people need to go — especially in suburban areas, which is most of Ottawa. Many public transit agencies acknowledge it is a barrier in reaching larger riderships, as many people prefer to just stick with the car if it's inconvenient to access transit. There's many possible solutions — for example, the City of Ottawa has been trying to improve cycling connections to transit hubs (and provide more bike parking on-site) as one part of the solution. The ride-hailing companies say they can also help by driving people to transit stations.
In some cities, but not Ottawa, Lyft has even integrated public transit into their app to generate trip suggestions that can blend the use of ride-hailing and transit routes to encourage people to use both.
"The service that Lyft operates is very complementary to the service the city operates with OC Transpo," Woodbridge said. However, he did not have specific data showing how Lyft is complementing OC Transpo. The closest analog Lyft could provide was their own data from Toronto, showing that 83 per cent of riders in that city use transit at least once a week.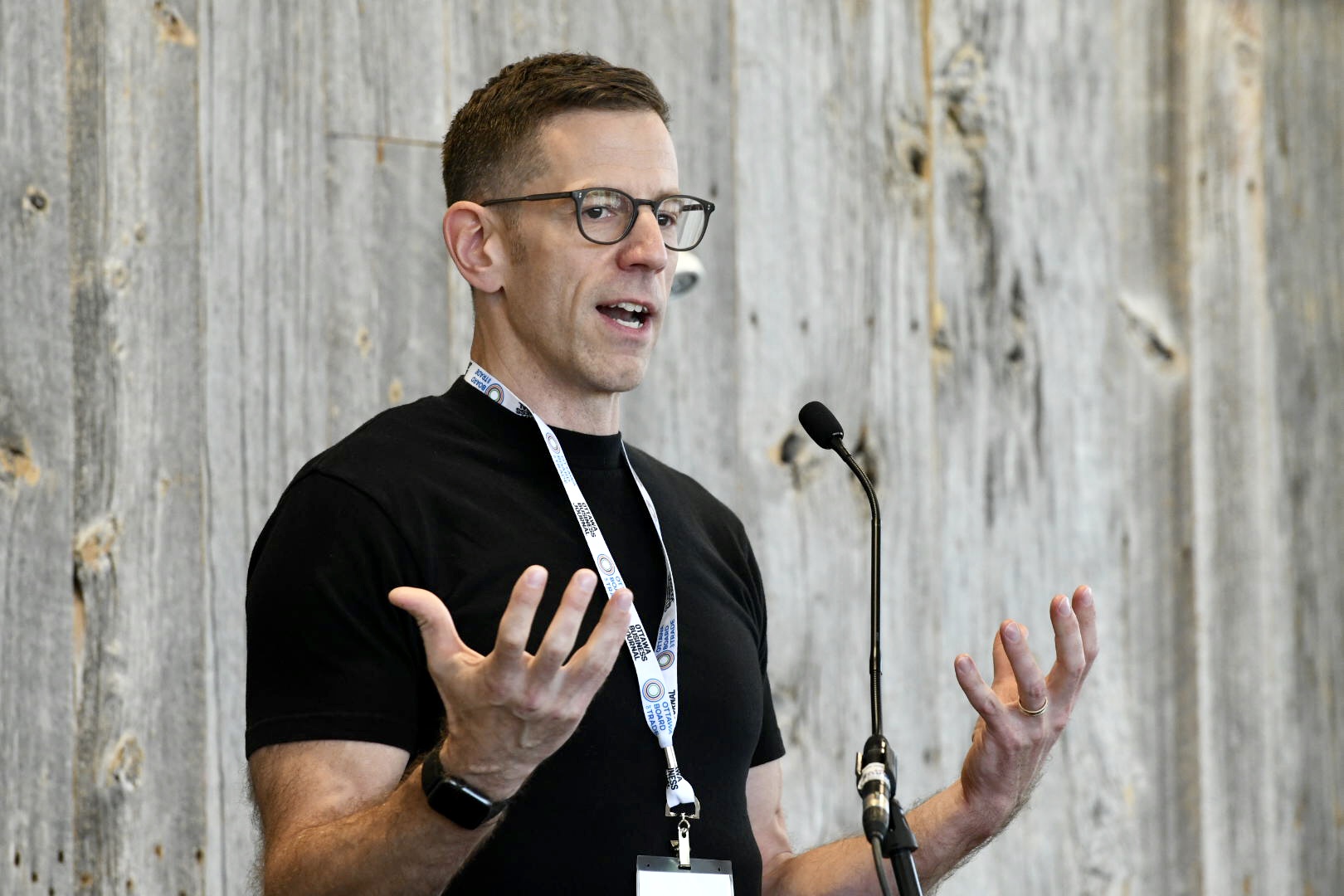 Rob Woodbridge, market manager for Lyft Ottawa, speaking at an Ottawa Board of Trade event. (Handout photo)
There is evidence showing ride-hailing can help transit by improving connections. A study from the University of Toronto looked at Uber's entry into many U.S. cities and corresponding trends in transit use. It concluded that transit use improves after Uber's entry and it generally climbs by 5–8 per cent after two years of Uber's presence.
Yet, there is also evidence that the opposite may be true in at least some cities. A UC Davis study found that Americans who use ride-hailing in major cities reduced their transit usage by an average of six per cent. The study added: "On average, ride-hailing appears to reduce bus ridership and complement commuter rail."
Most North American transit systems have been suffering ridership declines in recent years, with OC Transpo included. It's unclear to what degree ride-hailing may be to blame for Ottawa's struggles, because there have been no studies published on the matter and the city has not publicly drawn any conclusions on it.
A June 26 memo to city council from John Manconi, the city's general manager of transportation services, said OC Transpo ridership reached an 11-year peak of 103.5 million trips in 2011 and has declined since then. In 2018, ridership was 96.5 million trips. So far this year OC Transpo has provided 34.5 million trips, slightly higher than the same period last year where the figure was 34.4 million.
The memo identified many contributing factors to the ridership decline but did not delve into the issue of ride-sharing. Manconi wrote: "Analysis by the American Public Transportation Association has concluded that the three primary causes of (general North American) ridership decline are: erosion of time-competitiveness, reduced affinity and loyalty, and erosion of cost-competitiveness. Some U.S. cities have reported market share losses from transit to vehicle-for-hire services, but this has not been universal across all cities."
Rather, Manconi identified reduced reliability and increased travel length due to LRT construction as a likely culprit. Additionally, an aging population that makes fewer overall trips, people choosing to bike or walk instead and changing employment patterns are also contributing to reduced transit use, he wrote. The Confederation Line will provide better quality service that should encourage more people to ride, he added.
While Lyft's true effect is unclear, there's also not much evidence to show they are making a special effort to integrate with OC Transpo. In some cities, Lyft has partnered with the local transit agency to provide some kind of special function or service; Woodbridge said they have not done so "yet" in Ottawa but are always in contact with city officials.
It's relatively simple to get a ride to a transit station — you can just type in where you want to go and the app will map a route. But in some cases the mapping to transit centres can be iffy. For example, when OttawaStart.com tried ordering a ride to St. Laurent Transitway Station, a major hub, the Lyft app offered a "St. Laurent Station" as the destination. However, when selected, the app identified a bus stop a long walk away from the actual station as the drop-off point.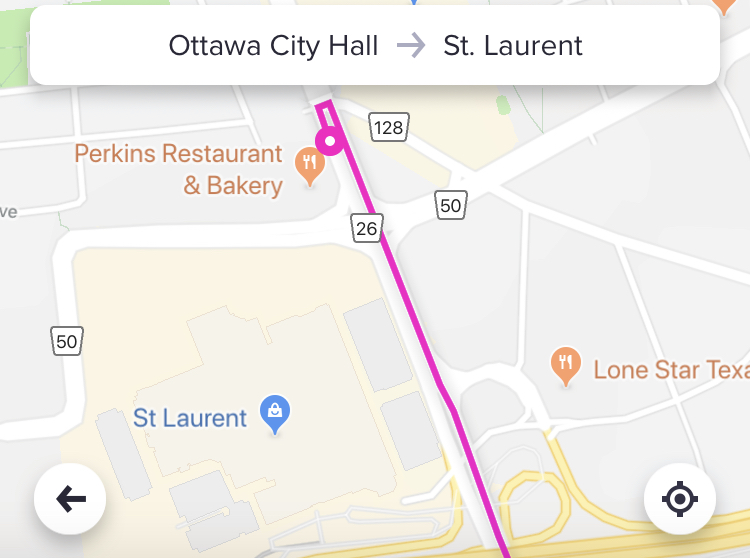 The Lyft app's suggested connection to St. Laurent Transitway Station.
When we tried the same thing with Uber, that app correctly identified a more practical drop-off location.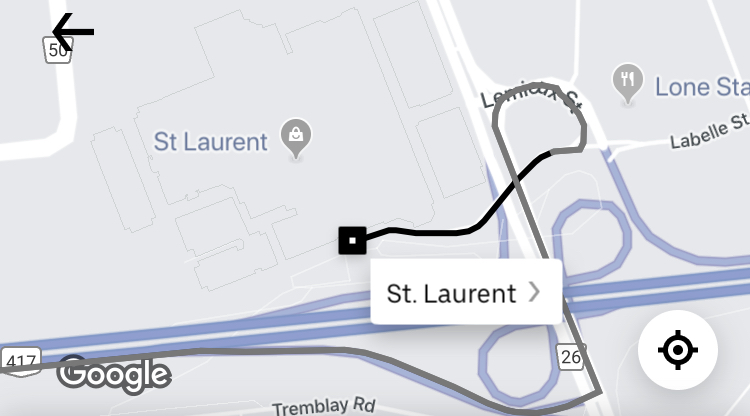 The Uber app's idea of how to drop-off a passenger at the same station.
Lyft did work to improve pick-ups and drop-offs for one key destination. Riders wishing to travel to or from the Rideau Centre are now directed by the app to special designated pick-up and drop-off zones exclusively for Lyft use, at either Nicholas Street and Daly Avenue or Colonel By Drive and Rideau Street. While the zones could be easily used by someone to connect to Rideau or Mackenzie King Stations, the concept was expressly geared towards shoppers.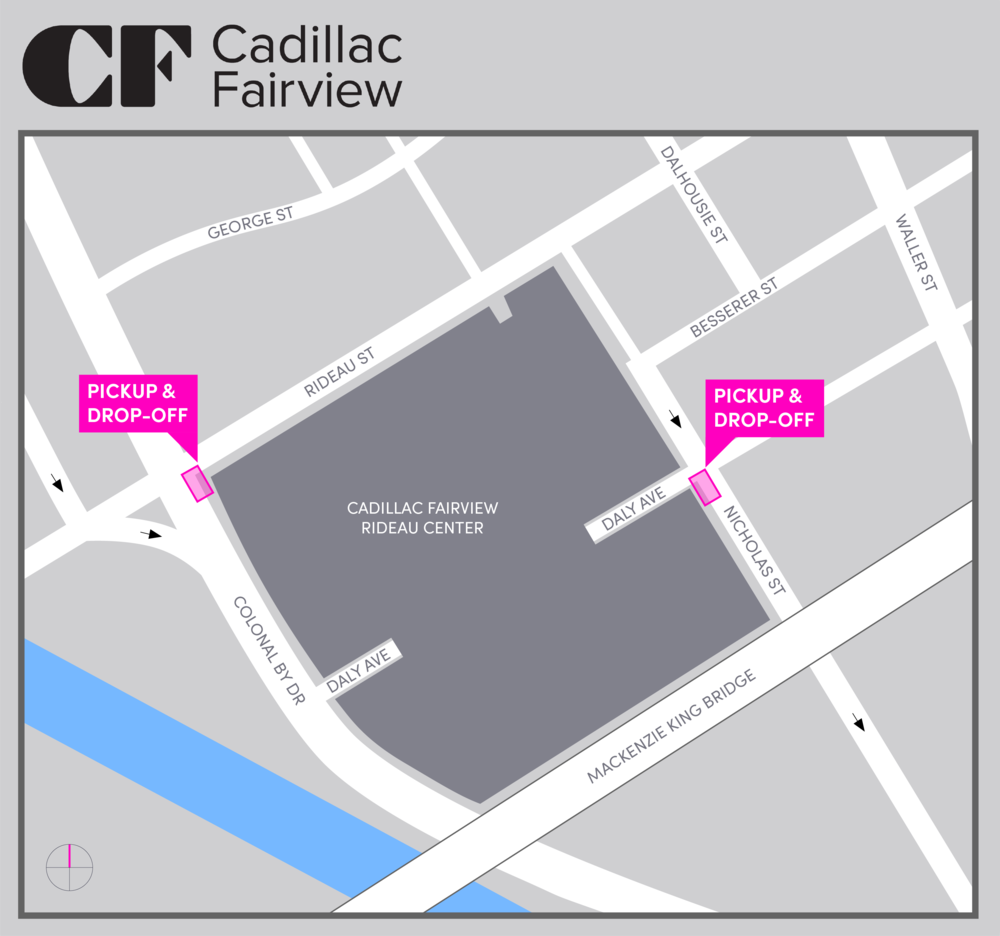 Pick-up and drop-off locations for Lyft at the Rideau Centre. While they were not expressly intended to connect people to nearby transit stations, they could be used for that purpose. (Handout)
There are some questions about the business viability for the companies to be last-mile solutions. The rides are a lot cheaper — although may represent more volume than full-distance trips. Drivers also may not appreciate being stuck with the low-cost rides that customers heading to transit stations will be asking for, as transit expert and writer Jarrett Walker mused.
As for Woodbridge, he said developing Lyft as a transportation option in Ottawa has a personal significance to him.
"I have twin 12-year-old boys and they're eventually going to want to drive," he said. "(So) I'm going to have two 16-year-old kids wanting to drive at the same time, so I need to look at finding an alternative way … to have an option that is not driving and adding to congestion."
"Whatever I do here at Lyft, I keep in mind this has to be a service that my kids can be a part of."