'I find it easy to sell Ottawa' says film commish, capping off Hollywood visit
[caption id="attachment_80107" align="aligncenter" width="1000"]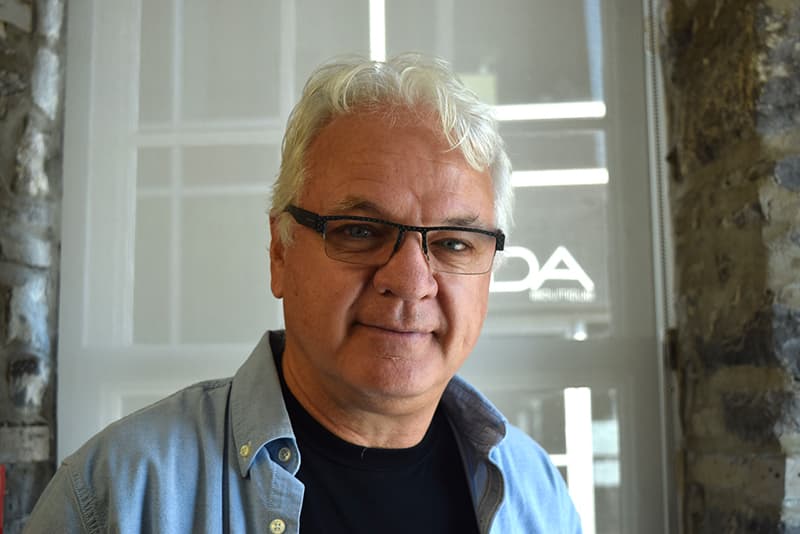 Bruce Harvey, Ottawa film commissioner, says Ottawa's diversity of locations are a big attraction for potential film and TV producers (Devyn Barrie/OttawaStart.com)[/caption]
On his first Monday back from a trip to Los Angeles to sell Ottawa as a filming destination, Ottawa Film Commissioner Bruce Harvey's pockets were still stuffed with American currency.
"Out of milk!" he said as he went to make himself a coffee in his Murray Street office. He handed a crumpled $10US bill to his coworker Jennifer Quintanilla so she could go out and buy some more.
He had just had an animated phone call with a producer who was interested in coming to Ottawa for a project, a continuation of the L.A. trip Harvey undertook last week with Mayor Jim Watson and other delegates.
"It was a great trip, it was really good," he said, stirring his cup.
"I find it easy to sell Ottawa," he said.
The reasons are plentiful for him. Although Ottawa may not typically be thought of as a vibrant filming destination, Harvey said there's lots of interest in the location for both film and television.
"We had producers who've been here before," he said. "And ones that are actively looking at coming here."
By meeting with writers, producers and broadcast executives, Harvey said the delegation was able to gauge interest in Ottawa as well as learn more about its strengths and weaknesses so they can improve it.
One of the biggest weaknesses of Ottawa is a lack of infrastructure – namely zero soundstages.
With the biggest industry growth over the past few years being television series and streaming series like what Netflix and Amazon produce. To bring that type of work to Ottawa, soundstages will have to be built.
"It's too difficult to bring a TV show and expect to shoot for 40 weeks a year in someone's neighborhood. You can't do that," he said. "So all your principal locations, you want to have those in a soundstage location so you're not interrupting traffic."
There's a soundstage shortage across North America and Ontario had to turn away over $80 million worth of production last year because of it, he said.
The best solution would be a public-private partnership to build some in Ottawa, which he said could be a real cash cow given the current market.
An emailed statement from Livia Belcea, Watson's press secretary, said the mayor is open to the idea.
"He (Watson) is aware of Ottawa's strengths, as well as the shortcomings we face, in order for our city to become a prime filming destination," the statement said. "Mayor Watson is open to considering proposals from the film commissioner and our industry stakeholders that would enable us to grow this sector of our economy."
Although Ottawa boasts authentic features such as Parliament Hill and the Rideau Canal, most films that are made here do not actually take place in Ottawa.
"I would say the majority of projects shot anywhere, except probably for specific European cities or New York (City) or L.A., the majority of them are shot as somewhere else," he said.
Ottawa is an attractive location because of the crews that are located here as well as the range of scenery it offers, he said.
"We have some great locations here," he said, listing everything off from the Experimental Farm to the Connaught Ranges, from the Deifenbunker to the NRC campus on Montreal Road. Urban areas, suburbs and countrysides are all available within short distances, unlike in some cities like Toronto or Vancouver.
"The diversity is pretty phenomenal," he said.
The beginning of 2017 was slower than usual for production because of Canada 150 disruptions but it's since picked up so much there isn't enough crew to satisfy demand, he said.
Last year $100 million was brought into the local economy as a result of film, television and animation, according to the Ottawa Film Office. That money would have been spread around to pay cast and crew as well as hire local businesses to help with production, making it a big benefit to the city as a whole, Harvey said.
"Everyone benefits," he said. _ This article was updated with a statement from Mayor Jim Watson. _