How to find an apartment in Ottawa
If you're looking for a place in Ottawa, now's the best time to start looking. Peak moving season starts in the spring… and with low vacancy rates in our area, it's never too early to get started. Here are some handy tips and references for finding your Ottawa apartment.
To suggest a resource for this list, please email us at feedback@ottawastart.com.
Ottawa apartment listings
How much is rent?
Within the city of Ottawa, average rent in 2017 was $1,113, according to the Canada Mortgage and Housing Corporation, a crown corporation that reports on the housing sector.
But for Gatineau, average rent was much lower at $755. You may have an easier time finding a rental across the river as well, as the vacancy rate was 3.8 per cent for Gatineau compared to 1.7 per cent for Ottawa.
The vacancy rate is used to measure supply and demand in a rental market. A high vacancy rate means there is more supply of units than demand (thus a lower price), whereas a low vacancy rate means more people want units than are available (vice-versa).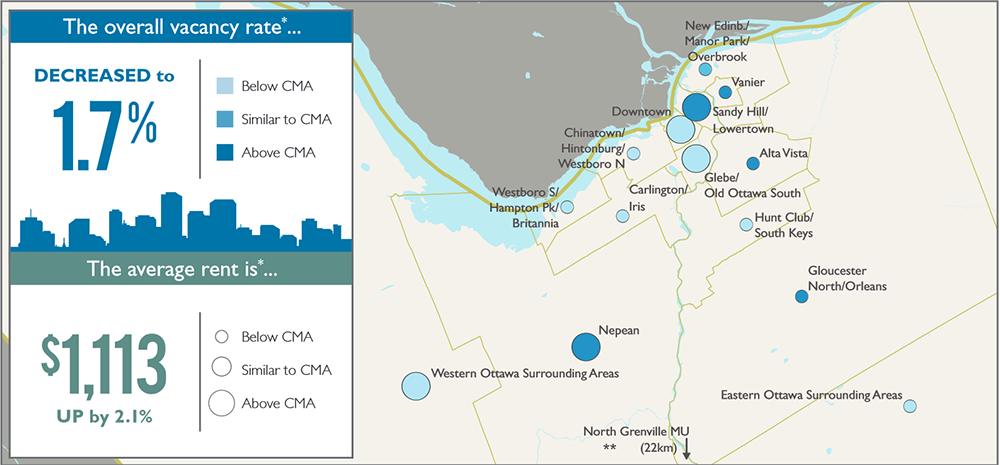 Graphic via CMHC: Rental Market Report for Ottawa-Gatineau CMA, 2017.
Full CMHC reports:
Get a good deal
"Be aware that you could go to a rental complex on three different days and get three different rents on the same apartment each time," writes U.S. consumer expert Clarke Howard, making the point that what the landlord is asking is never set in stone. It's OK to haggle on the price but be prepared to move on to another listing if it doesn't work out.
Some things ask:
Are utilities included?

Can you get a lower rate for signing a longer lease?

Are there any amenities such as a gym?

Do tenants stay there for long?

How much is parking?

What telecoms are available/can you install a satellite dish?
A common tip for getting a good deal is to start searching early so you're not rushed into the wrong place.
Know the neighbourhood
Before moving in, or even signing the lease papers, it's a good idea to know the neighbourhood that may become your home. Here are some helpful links:
"If you like restaurants and entertainment, downtown may be right for you. But if the convenience of being near Algonquin College is a must, consider renting your next apartment on Pinecrest Road," suggests District Realty
Resources and help
Here's another Ottawa rental guide from rentals.ca…

Community Legal Clinic (uOttawa) 17 Copernicus Street (613) 562-5600

Community Legal Services (Ottawa-Carleton) 1 Nicholas Street, Suite #422 (613) 241-7008

South Ottawa Community Legal Services 1355 Bank Street, Suite #406 (613) 733-0140

West End Legal Services 1301 Richmond Road (613) 596-1641