Hey look, the Ottawa Sun has a new web site (again)
Media news you may have missed this week – the _ Ottawa Sun _ launched a new website on Tuesday.
Interestingly, the last time they redid their website, in April 2011, it was also launched on a Tuesday. Here's a blog about it from our archives… The design is essentially a refreshed, modern take on the old tile design. Still bold and in-your-face like the _ Sun _ usually is.
To compare, here is a (slightly broken) look at the old site from the day before the change, via the Wayback Machine :
[caption id="attachment_82070" align="aligncenter" width="975"]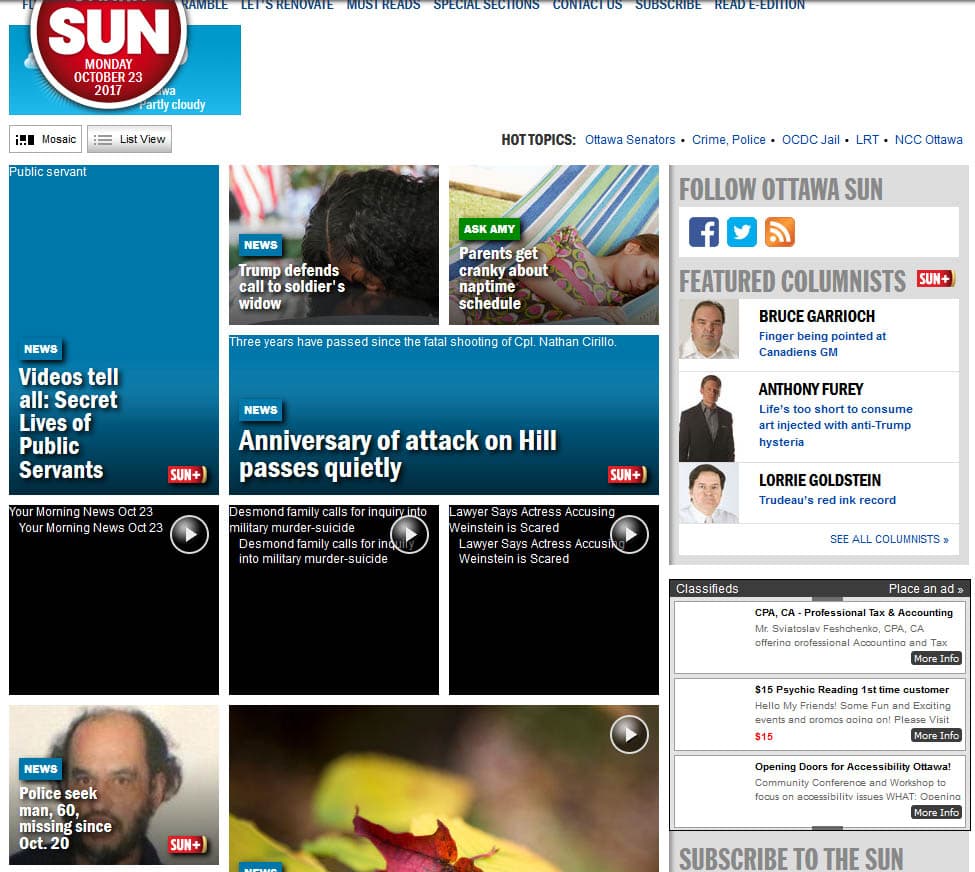 Via Wayback Machine[/caption]
And after:
[caption id="attachment_82071" align="aligncenter" width="1000"]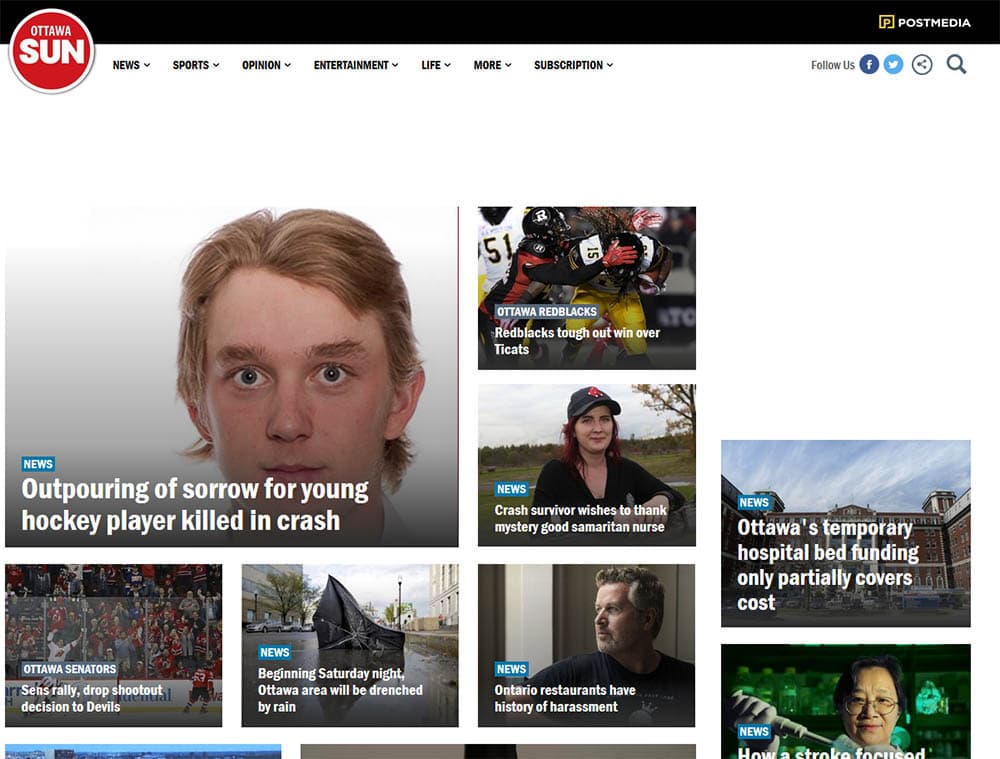 ottawasun.com[/caption]
Here's a snippet from a Postmedia press release about the changes: _ ** October 24, 2017 (Toronto, ON) ** — Postmedia Network Inc. ("Postmedia") today announced the launch of all new apps and websites for the Ottawa SUN , Toronto SUN , Winnipeg SUN , Calgary SUN and Edmonton SUN . This launch features new responsive apps and websites for the desktop, tablet, and mobile platforms enhancing the digital experience for readers. _ _ The new SUN apps and websites offer a superior user and content experience around each of the SUNs' newsroom platforms – Local News, Sports, and Politics. _ _ "We're focusing on what our readers love most about their SUN brands – great sports, opinion and local news – while leveraging technologies to enhance the overall user experience and celebrating the strong relationship we have with our loyal audiences," said James Wallace, Vice President Editorial, SUN. "Another exciting feature is the reintroduction of commenting allowing for robust dialogue and greater sharing options." _ _ ** User features ** of the new SUN digital product suite include: _
 * 
_
 Sticky header for ease of navigation on all devices.
_

 * 
_
 Carousel slider for a one-stop-view and recap of local sports teams, final scores and highlights with no redirects and no new page loads.
_

 * 
_
 Engaging visual experience with images and videos at the forefront.
_

 * 
_
 A new longform story template with rich media features and easier sharing options.
_

 * 
_
 The return of commenting.
_