HERITAGE DAY: A big list of our favourite local Ottawa history web sites
[caption id="attachment_5029" align="aligncenter" width="640"]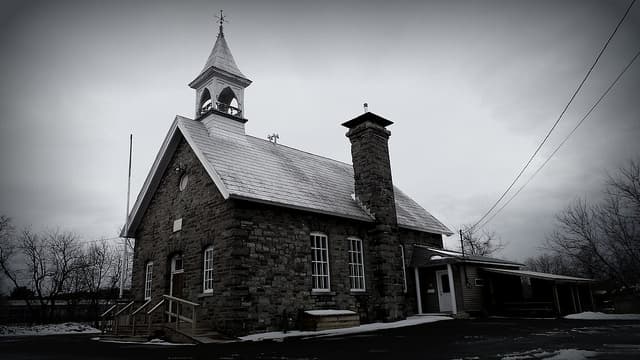 Heritage schoolhouse on Slack Road (near Merivale) in Nepean. Photo by Glen Gower.[/caption]
Tuesday, February 20 is ** Heritage Day ** in Ottawa, and all this week is ** Heritage Week ** ,  a nation-wide celebration that encourages all Canadians to explore their local heritage, to get involved with stewardship and advocacy groups, and to visit museums, archives, and places of significance.
If you're near City Hall on Tuesday, drop in between 11:30am-2:00pm to see exhibits from over 45 organizations. See how heritage is being celebrated in your community, learn about services offered by local heritage organizations, public programs and special initiatives, as well as professional development and volunteer opportunities.
You don't even have to leave your house to access treasure troves of historical photos, maps, and stories about Ottawa's rich local history.  Here are our favourite local history web sites.
Our faves
 * 
[
 **
  OttawaStart Blog: History
 **
](http://ottawastart.com/category/history/)
A collection of every history-related blog post on OttawaStart. Shipwrecks, stone buildings, aviation, lost signs, architecture and more.

 * 
[
 **
  Heritage Ottawa
 **
](http://www.heritageottawa.org/)
This site is full of interesting articles, photos and news. One of the best features is an archive of their newsletters, dating from 1974 to the present. Also check out the recent
[
 50 Years | 50 Stories
](https://heritageottawa.org/50-years-50-stories)
series.

 * 
[
 **
  Ottawa Rewind
 **
](http://ottawow.wordpress.com/)
Andrew King's excellent collection of Ottawa history. Equal parts storytelling, sleuthing, adventure and exploration.

 * 
[
 **
  Bytown or Bust: Pioneer families
 **
](http://www.bytown.net/)
A massive genealogical site run by Al Lewis containing information about pioneer families who settled in Ottawa starting in the early 1800's.

 * 
[
 **
  The Margins of History
 **
](http://www.historynerd.ca/)
Christopher Ryan loves local history and takes very interesting photos of Ottawa buildings and landmarks. His specialty is researching the backgrounds of some lesser-known architectural gems.
[
 Chris has also written a number of special features for OttawaStart.com...
](http://ottawastart.com/author/cryan/)

 * 
**
 [
  The Kitchissippi Museum
 ](http://kitchissippimuseum.blogspot.ca/)
**
Dave Allston's blog about old west Ottawa's little-known history, with stories, photos and information covering the fascinating history of the historic Kitchissippi neighbourhoods.

 * 
[
 **
  Mid-Century Modern Ottawa
 **
](http://modernrealtor.blogspot.ca/)
A collection of photos, drawings and information about mid-century housing design in Ottawa. Written by Saul Svirplys, an architectural historian and PhD student at the University of Ottawa. Focus will soon be changing to 1970s suburban architecture and community design, he says.

 * 
[
 **
  Ottawa Past & Present
 **
](http://www.pastottawa.com/)
You can really get a sense of how Ottawa has changed over the decades with this blog by Alex Laquerre. His posts feature an interactive "slider" that allows you to compare scenes from the past with what they look like today.

 * 
[
 **
  URBSite
 **
](http://urbsite.blogspot.com/)
In each post, Robert Smythe does an in-depth historical and pictorial study of a very specific feature of Ottawa's urban landscape.

 * 
[
 **
  Vanished Ottawa
 **
](http://vanishedottawa.wordpress.com/)
A blog documenting "the vanished and the vanishing" in Ottawa, including buildings, landmarks, etc.

 * 
[
 **
  Ottawahh
 **
](http://www.ottawahh.com/?p=1522)
Lots of incredible photos from Ottawa's past.

Facebook Groups
 * 
[
 Abandoned Ottawa
](https://www.facebook.com/groups/101618683358172/)

 * 
[
 Lebreton Flats Remembered
](https://www.facebook.com/lebretonflatsremembered)

 * 
[
 Lost Ottawa
](https://www.facebook.com/LostOttawa)
(This group is so popular the owner created a best-selling book out of all the photos and memories that have been shared over the years!)

 * 
[
 Vintage Ottawa
](https://www.facebook.com/VintageOttawa)

Local History Web Sites
 * 
[
 Ancient Ottawa
](http://collection.nlc-bnc.ca/100/200/300/ont_archaeol_soc/ancient_ottawa-e/jbj.htm)

 * 
[
 Archaeological and Historical Landmarks
](http://aix1.uottawa.ca/~weinberg/ottawa.html)

 * 
[
 Barrymore's: 1978-1988
](http://www.barrymores.on.ca/)
Originally opened as the Imperial Theatre in 1914, the building we now know as Barrymore's lasted for nearly four decades as on of Ottawa's premier movie theatres. It closed in 1955, spent a number of years as a furniture warehouse, and then re-opened in the 1970s as concert hall, and then as a restaurant/discotheque.

 * 
[
 British Isles Family History Society of Greater Ottawa
](http://www.bifhsgo.ca/)

 * 
[
 Britannia: A History
](https://britanniaottawa.wordpress.com)

 * 
[
 Bytown Museum
](http://www.bytownmuseum.com/)

 * 
[
 Carleton Place Local History
](https://carletonplacelocalhistory.wordpress.com/)

 * 
[
 Central Canadian Exhibition History
](http://collections.ic.gc.ca/superex/)

 * 
Closed Canadian Parks:
[
 Britannia Park
](http://cec.chebucto.org/ClosPark/Britanni.html)
...
[
 Victoria Park
](http://cec.chebucto.org/ClosPark/Vic-Hint.html)
...
[
 Rockcliffe Park
](http://cec.chebucto.org/ClosPark/Rockclif.html)

 * 
[
 Colonel John By - Canadian Heritage Gallery
](http://www.canadianheritage.org/reproductions/23268.htm)

 * 
[
 Council of Heritage Organizations in Ottawa
](http://choocopo.ca/)

 * 
[
 Cumberland Township Historical Society
](http://www.cths.ca/)

 * 
[
 Eastern Ontario Ghost Towns
](http://www.ghosttownpix.com/ontario/east/index.html)
Here's an idea for a weekend getaway: explore Eastern Ontario's ghost towns. This site features photos and information about dozens of abandoned towns in Ontario and across Canada.

 * 
[
 Encyclopedia of Ottawa Movie Theatres
](http://movie-theatre.org/canada/on/ottawa/Ottawa.html)

 * 
[
 Friends of the City of Ottawa Archives
](http://www.fcoa-aavo.ca/)

 * 
[
 Goulbourn Township Historical Society
](http://goulbournhistoricalsociety.org/)

 * 
[
 Historical Society of Ottawa
](http://hsottawa.ncf.ca/)
"...founded in 1898 as the Women's Canadian Historical Society of Ottawa. Its objective is to increase public knowledge of the history of Ottawa through its publications, meetings, tours, outreach programs and participation in local heritage events..."

 * 
[
 Lebreton Flats and Chaudiere Area Photo Album
](http://freepages.genealogy.rootsweb.ancestry.com/%7Ecrossroads/help/lebreton/index.html)

 * 
[
 Museums
](http://ottawastart.com/useful-links/museums/)

 * 
[
 One Room Schoolhouses
](http://www.oneroomschoolhouses.ca/)
From local author Joy Forbes, who recently published her book, "Perseverance, Pranks and Pride - Tales of the One-Room Schoolhouse". It is a collection of 75 stories from English- and French-speaking individuals who attended or taught in local one-room schoolhouses, capturing the fascinating history of our rural education system.

 * 
[
 Ottawa Chapter of the Ontario Archaeological Society
](http://www.ottawaoas.ca/)

 * 
[
 Ottawa Genealogical Society
](http://www.ogsottawa.on.ca/)
If you're looking for ancestors with an Ottawa connection, this should be your first stop. It's an extremely worthwhile resource, with plenty of material and suggestions to get you started on your search for your great-great-great-great-grandparents.

 * 
[
 Ottawa Branch - Ontario Genealogical Society
](http://ogsottawa.blogspot.ca/)

 * 
[
 Ottawa Mayors
](http://en.wikipedia.org/wiki/List_of_Ottawa_mayors)
Some mayoral trivia: Bytown's first mayor was John Scott (1847). Ottawa's first mayor was John Bower Lewis (1855). Ottawa has had three female mayors:
[
 Charlotte Whitton
](http://en.wikipedia.org/wiki/Charlotte_Whitton)
, Marion Dewar, and Jacquelin Holzman. (from Wikipedia)

 * 
[
 Ottawa Railway Heritage
](http://churcher.crcml.org/Heritage/Heritage.html)

 * 
[
 Ottawagraphy
](http://www.ottawagraphy.ca/)
(a heritage project for sharing Ottawa's stories)

 * 
[
 Our Little Italy
](http://collections.ic.gc.ca/ottawaitalians/index.htm)
A history of Preston Street (aka Corso Italia), the heart of Ottawa's Little Italy, and the home of many of Italian immigrants in Ottawa.

 * 
[
 Parks Canada: Rideau Canal
](http://www.pc.gc.ca/lhn-nhs/on/rideau/index_E.asp)

 * 
[
 Richmond Heritage
](http://www.richmondheritage.ca/)
(Richmond celebrates their 200th birthday in 2018)

 * 
[
 Sparks Street - the Commercial and Banking Centre
](http://www.magma.ca/%7Edjeanes/Sparks%20Street.html)

 * 
[
 Stories You Told Me
](http://www.karensecordwrites.ca/)

 * 
[
 Transit history...
](http://ottawastart.com/octranspo.php#history)

 * 
[
 Urban Exploration Ottawa
](http://www.uer.ca/locations/newlist.asp?country=Canada&province=Ontario&city=Ottawa)

 * 
[
 Watson's 2002 Guide to the Rideau
](http://www.rideau-info.com/canal/visitor-guide.html)

 * 
[
 Watson's Mill
](http://www.watsonsmill.com/)

 * 
[
 Westboro
](http://aix1.uottawa.ca/%7Eweinberg/westboro.html)

 * 
[
 Westboro Online Historical Database
](http://westboro.cjb.net/)