Here's where OC Transpo is adding extra bus service
(Following is a memo from the city's transportation department to council)
At the Transit Commission meeting of November 6, we undertook to provide a list of the assignments of the 40 additional buses that have been put into service, and the routes that they are supporting. You will find below the list of routes where this additional capacity has been deployed, benefitting transit customers in every ward.
All of the bus assignments are based on feedback from customers, both through Councillors' offices and directly to OC Transpo, and on operational data and observations. Supervisory staff have been making adjustments to the assignments over the last two weeks to be sure that we are using them so as to provide the greatest benefit to customers.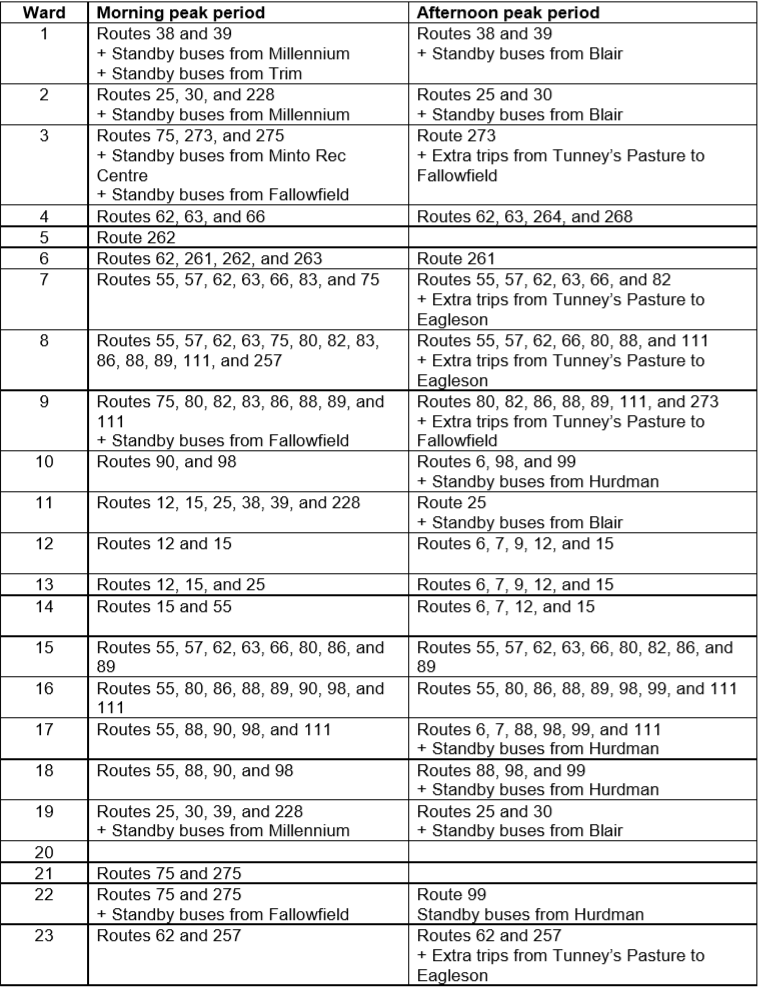 We are assigning some buses to stand by at key locations, so that our supervisory staff are able to dispatch them to replace regularly-scheduled trips that are missing or late. We are assigning some buses to provide supplementary trips on routes that have had consistent reliability issues or that have had consistent reports or observations of crowding. In the afternoon peak period, we have also assigned some buses to provide extra trips from Tunney's Pasture Station to the park and ride lots at Eagleson Station and Fallowfield Station.
We are continuing to monitor the use of these buses and their success in reducing waiting times and crowding. Further adjustments may be made to these assignments through the remainder of the year.
We are currently preparing new schedules for many routes for the January 2020 service change, also based on reports from customers and on operational data and observations. Some of the schedule changes will be to address on-time performance on routes that are currently experiencing reliability issues and some of the changes will be to increase capacity where required. We will share details of the January schedule changes when we have completed that work. We will also continue to work with Councillors on addressing certain specific issues that they have raised.