Here's what's happening for Stage 2 LRT construction right now
St-Laurent Station on the Confederation Line.
O-Train Line 1 has only been open for a few weeks, but plenty of prep work is underway to build the extensions east, west and south. Here's a few details on what's happening. (There is actually a ton going on, we definitely didn't list it all!)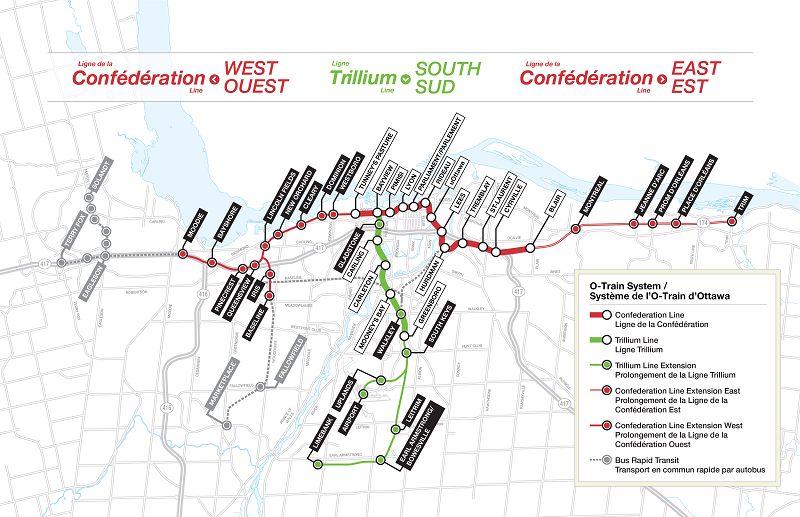 Map: Stage 2 of the O-Train will go Moodie and Baseline Stations in the west, the airport and Limebank Road in the south and to Trim Station in the east.
East extension
Grading, fence installation, foundation work, tree clearing and utility realignment has been underway for some time around several station areas. Lane widening for eastbound Highway 174 started in the summer. Crews are also re-configuring the Montreal Road/Highway 174 ramps to prepare for bridge construction.
There will not be any major bus impacts in the east, with only one major routing change in the way buses get on and off Highway 174 at Blair Station. The Transitway flyover ramp will be decommissioned and buses will access the highway via Blair Road.
West extension
The Sir John A. Macdonald Parkway is nearly finished being realigned to shift traffic north of the median. This is to make space for a cut-and-cover trench/tunnel between Dominion Station and the future Cleary Station. There's also surveying work and borehole drilling at several station areas.
Eventually the Transitway between Tunney's Pasture and Dominion Station will have to close to be converted to rail. The bus detour will be shorter than what it was like during Stage 1 construction. Buses will go onto Scott Street at Tunney's Pasture and, using a special bus-only road extension, travel onto the Parkway to continue on their way, bypassing the closed Transitway. The Scott Street detour will not happen until at least December 2021.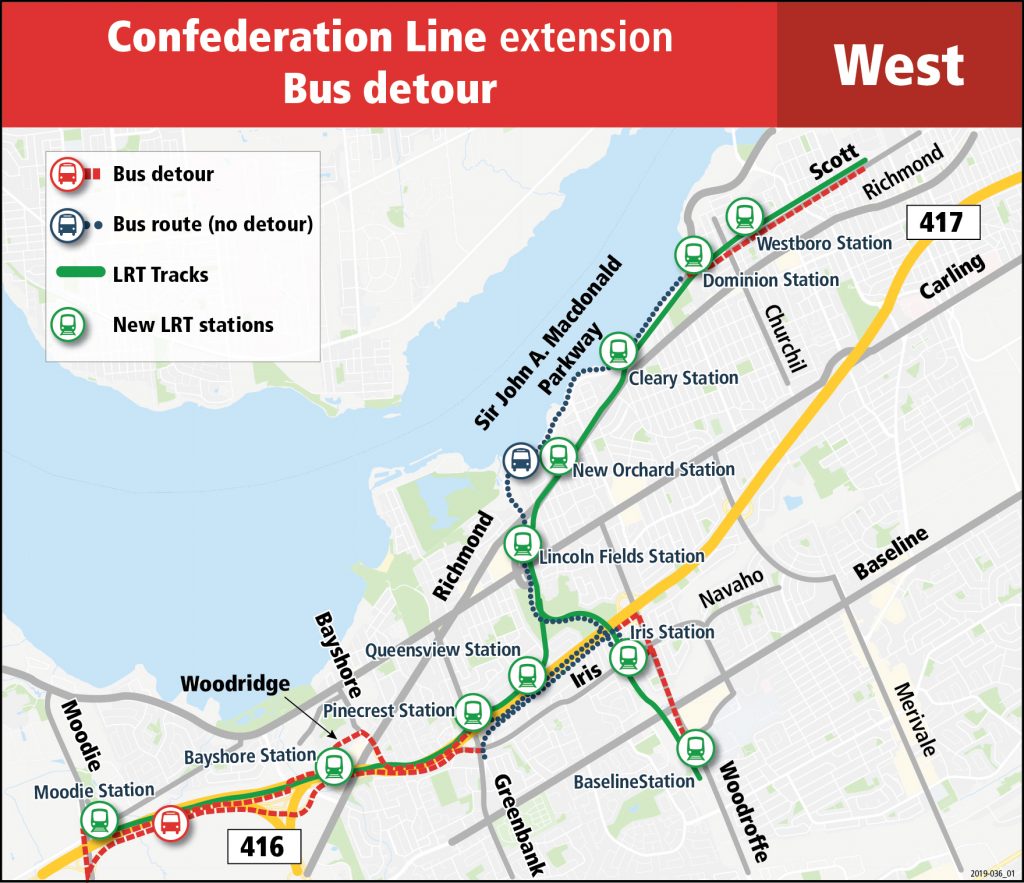 There will also be detours along Woodroffe Avenue for the Transitway between Iris and Baseline Stations, as well as Pinecrest to Moodie Stations. Buses will use Highway 417 after Pinecrest and access Bayshore Station via Woodridge Crescent.
Tree clearing is underway between Baseline and Iris Stations, along the Parkway and also for the area of a future storage and maintenance facility at Moodie Station.
At last word around the middle of October, crews were almost done borehole drilling for the west extension, with over 3,500 boreholes completed by the most recent update on Oct. 13.
South extension
Preparation for the new Walkley Road rail maintenance and storage facility for O-Train Line 2 (Trillium Line) started in September with tree clearing, surveying, clean-up, rail-laying and building excavation. Delivery of the actual rails for the south extension began in September and was completed last week, Mayor Jim Watson tweeted.
Ever wonder what 16 kms of stacked rail looks like? The Stage 2 Trillium Line South Extension received its final shipment of rail last week, take a look! #OttLRT pic.twitter.com/Z7eBCwtQyp

— Jim Watson (@JimWatsonOttawa) October 23, 2019
There was also topsoil removal between Uplands Drive and Airport Station as well as culvert installation and embankment construction. There is also caisson drilling at Uplands Drive to support a future train bridge. (A city update explains what caisson drilling is: "A method of creating structural foundations where boreholes are drilled and filled with concrete/reinforcing materials. These weight-bearing concrete columns (perhaps supplemented by steel cages or other reinforcements) can reach all the way down to the bedrock, providing for a much more stable base for large structures.")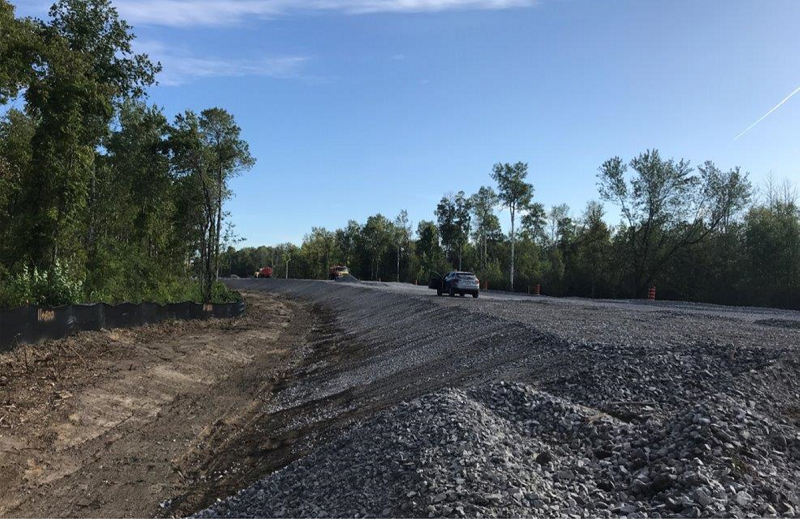 Photo: New embankment being built between Airport Parkway and Uplands Drive. (Photo/City of Ottawa rail office)
The Trillium Line will close for about two years, starting on May 3, 2020. It is supposed to open when the project finishes in 2022. The reason for the closure is partly because the existing line is also in need of equipment upgrades. During the closure, R2 replacement buses will run between Bayview and South Keys Stations at high frequencies to provide similar capacity to the train.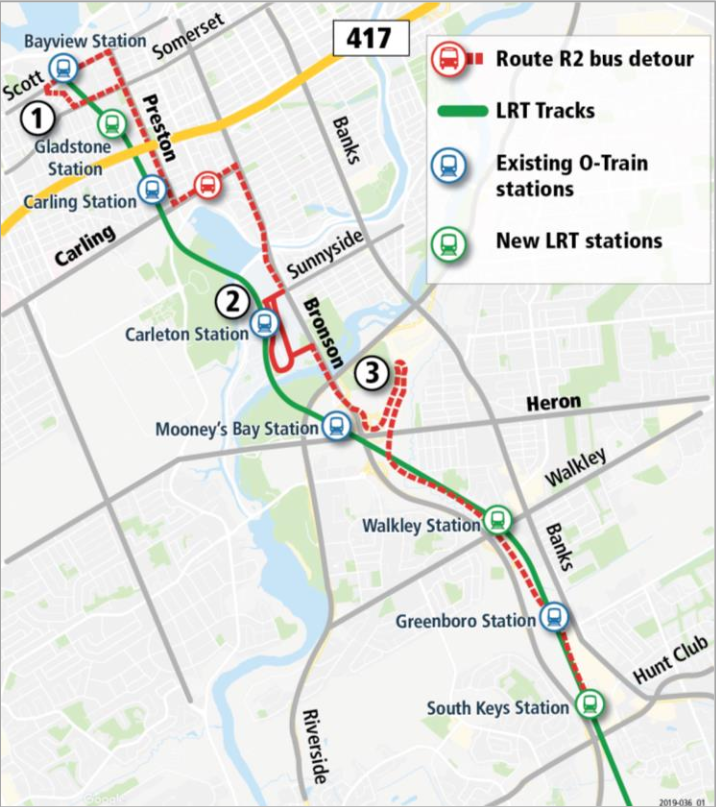 Stage 2 is scheduled to be completed in 2025.