Here's how we'll ring in the new year on Parliament Hill
_ (press release) _ November 28, 2016 – Gatineau – Canadian Heritage
Canadians will be marking the arrival of the 150
th
anniversary of Confederation in a spectacular way on Parliament Hill on December 31. This event, hosted by Isabelle Racicot, promises to wow audiences! The evening will kick off at 7 p.m. with a Peace Tower Carillon concert, followed by a national ceremony attended by dignitaries and Olympic and Paralympic athletes, among others. The talented Julie Nesrallah will sing the national anthem.
At precisely 8:17 p.m., a spectacular pyro-musical display will light up the sky of Canada's Capital Region with fireworks launched simultaneously from Nepean Point, Alexandra Bridge and Parliament Hill. The fireworks will be accompanied by Canadian music that will transport the audience through time and revisit different historical eras of our country over the past 150 years. There will be different spots in Gatineau and Ottawa offering a great view of the fireworks, including the Canadian Museum of History and Major's Hill Park.
Starting at 9 p.m., Acadian duo Radio Radio will rock the main stage at Parliament Hill with their signature Chiac electro-rap sound. The festivities will continue at 10 p.m. with Alberta country singer Brett Kissel entertaining the crowd. Grammy- and Juno-nominated, multi-platinum singer-songwriter and recording artist Carly Rae Jepsen will close out the show before the countdown to 2017 and the traditional fireworks display. The British Columbia native is sure to bring people of all ages to their feet to properly kick off the New Year.
Manulife is the exclusive sponsor of this historic celebration on Parliament Hill.
(You can also watch from the comfort of your couch. CBC is carrying the tv show live starting at 11pm. )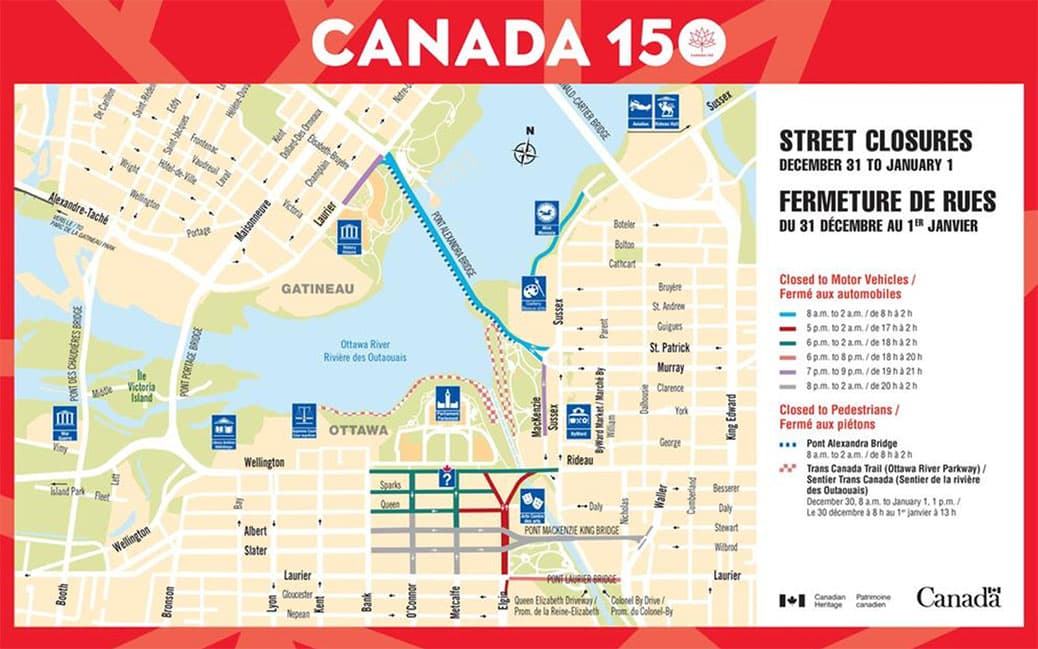 > > > > > > > > [ Just call her Carly! The mystery artist is @carlyraejepsen and she will perform LIVE on #ParliamentHill December 31 at the #Canada150 Kick Off party! #Ottawa #wow Mystère résolu! @carlyraejepsen fera rayonner la scène avec son énergie contagieuse le 31 décembre sur la #CollineduParlement au Coup d'envoi de #Canada150! #Ottawa #wow ](https://www.instagram.com/p/BNUk4ysFAiL/) > > > > A photo posted by Canada's Capital(e) du Canada (@canada_cap) on Nov 27, 2016 at 9:11am PST > > > >
Quotes
"Bundle up and come celebrate the New Year on Parliament Hill! December 31 will kick off the start of a year full of celebrations for the 150
th
anniversary of Confederation throughout the country. Canadian artists, emotion and lots of fun await you on New Year's Eve at Parliament Hill!"
—The Honourable Mélanie Joly, Minister of Canadian Heritage
"Canadians will be treated to a spectacular show to start the official celebrations for the 150
th
anniversary of Confederation. New Year's Eve will be exciting for the whole family, and we hope everyone will have the opportunity to enjoy the festivities."
—Peter Wilkinson, Senior Vice President, Regulatory and Public Affairs, Manulife
Quicks Facts
 * 
The official Canada 150 Kick-Off celebrations will take place on December 31, 2016.

 * 
Canadian Heritage, Ottawa 2017 and Gatineau 2017 have joined forces to turn Canada's Capital Region into the centre of spectacular activities.

 * 
On Parliament Hill, the festivities start at 7 p.m. and will be hosted by Isabelle Racicot.

 * 
Radio Radio, Brett Kissel and Carly Rae Jepsen will perform on the main stage of Parliament Hill.

 * 
There will be two fireworks displays: a pyromusical show at 8:17 p.m. and the traditional midnight fireworks show.

 * 
Spots with great views of the fireworks can be found at the Canadian Museum of History, Major's Hill Park and Parliament Hill.

 * 
We recommend that you arrive early, as tight security measures will be in place.

 * 
Throughout Canada, memorable events celebrating the 150

 th

anniversary of Confederation will be held in 18 other urban centres on December 31: St. John's, Charlottetown, Halifax, Fredericton, Moncton, Québec City, Montréal, Toronto, Winnipeg, Regina, Saskatoon, Edmonton, Calgary, Vancouver, Victoria, Whitehorse, Yellowknife and Iqaluit.

Associated Links
Stay Connected