HAPPY FRIDAY: Firefighters free dog after paw stuck in sink drain
Ottawa Fire Services received a call at 9:56 pm on Thursday, August 18th from a very concerned pet owner. The family's dog, Luna, had gotten her paw stuck in the drain of the sink and after numerous attempts they found it impossible to free the paw. The dog owner did not know who else to call for assistance with this unusual pet emergency.
Ottawa Fire Dispatch staff gets all kinds of requests and this one was especially heart wrenching. Three little girls could be heard in the background obviously upset that their four legged family member was in distress. Our mission at Ottawa Fire Services is to protect the lives, property and environment for the citizens of and visitors to the City of Ottawa. We fully appreciate that pets are an important part of a family. Therefore a call was placed by the Dispatch Supervisor to the closest Fire Station in the area, Station 42, to see how we could assist.
Captain MacCormac and his team of firefighters made their way to the home on Brady Avenue without any lights or sirens. They were quickly greeted by 4 concerned faces but within 10 minutes those frowns had turned upside down because Luna had been rescued without injury.
Firefighters are primarily known to extinguish fires. However, as well as having a number of other specialized teams they, on occasion, also step in to tackle other smaller emergencies such as this one. As members of the community they do their best to help when they can. The outcomes vary with every incident but being rewarded by smiles such as the ones shining in the photo below makes their efforts worthwhile
[caption id="attachment_48759" align="aligncenter" width="367"]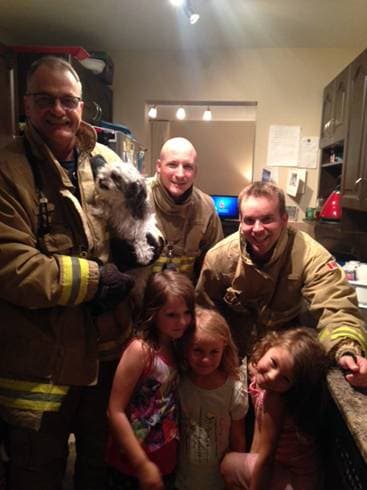 Handout[/caption]