Grey Cup to be displayed at Rideau Hall
[caption id="attachment_46244" align="aligncenter" width="720"]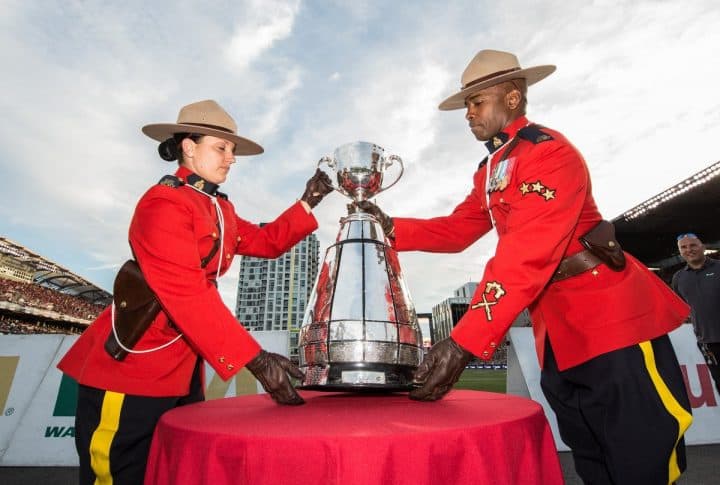 The Grey Cup is presented in Ottawa in November 2016. (OSEG)[/caption] _ (Via Rideau Hall) _ OTTAWA ** — ** On the occasion of the 105
th
Grey Cup Championship Game, taking place this year in Ottawa, Her Excellency the Right Honourable Julie Payette, Governor General of Canada, along with Mr. Randy Ambrosie, Canadian Football League (CFL) Commissioner, will welcome Canadians to Rideau Hall to see the Grey Cup on ** Tuesday, November 21, 2017 ** . ** Public Viewing of the Grey Cup and Visits of the Residence ** Football enthusiasts will have the opportunity to see and take their picture with the Grey Cup inside the Tent Room from ** 4 p.m. to 6:30 p.m. ** In addition to the Grey Cup, visitors will also have the chance to see the portraits of Earl Grey, 9
th
governor general of Canada (1904-1911), and Major-General the Right Honourable Georges-Philias Vanier, 19
th
governor general of Canada (1959–1967),who, in 1965, established the Vanier Cup for the Canadian university football championship.
Rideau Hall guides will show visitors the residence's State rooms where the governor general fulfills official duties in welcoming dignitaries and honouring Canadians. ** Parking and Site Access ** Visitors are recommended to walk, bike or use public transportation. They can enter the grounds on foot or with their bikes through the Thomas and MacKay gates. Street parking is available in the surrounding neighbourhood.
Visitors with mobility restrictions will have limited access to parking on the grounds of Rideau Hall on a first-come, first-served basis via Princess Entrance Gate. To reserve your parking, call in advance at 613-991-4422. ** About the Grey Cup and the CFL ** In 1909, then-Governor General Earl Grey donated a trophy to the Rugby Football Championship of Canada. Originally, only teams registered with the Canadian Rugby Union were eligible to compete for the trophy, which subsequently became known as the Grey Cup. Over time, Canadian football became markedly different from its rugby origins. The Grey Cup subsequently became the property of the CFL, which had evolved into a professional football league.
In October 2012, the trophy came home to Rideau Hall and was on display for four days to mark the 100
th
Grey Cup Championship Game.For more information about the CFL, visit ** www.cfl.ca ** .