Give Back to School Day beautifies local schools
_ (press release) _ Ottawa, ON – On Friday, June 3rd, 2016, the Ottawa Network for Education (ONFE) and the Ottawa-Carleton District School Board (OCDSB) will host the 7th annual Give Back to School Day. This event offers an opportunity for OttawaReads corporate teams and others to work together improving the appearance of the economically disadvantaged schools to foster school pride. OttawaReads is a unique ONFE program in which employees from the corporate or public sector volunteer to read to JK/SK to grade 3 students on a weekly or bi-weekly basis in economically disadvantaged schools. This year we have four schools participating and projects will begin at 9 AM.
 * 
Queen Elizabeth Public School, 689 St. Laurent Boulevard- Borden Ladner Gervais LLP staff will create a garden path to build on their previous years' projects.

 * 
 Roberta Bondar, 159 Lorry Greenberg Drive- Ottawa Police Service employees will be restoring a perennial flower bed around the school sign.

 * 
 Carson Grove Elementary School, 1401 Matheson Road- GAP Factory store employees will be painting murals to welcome the 100+ Syrian refugees to the school.

 * 
 Grant Alternative School, 2625 Draper Avenue- Algonquin College Students are painting murals for the exterior of the school to beautify the walls.

Thanks to the staff at Borden Ladner Gervais, Ottawa Police Service, GAP Factory Store, and the students from Algonquin College for supporting local public schools. _ "School pride is an essential component in building a successful school community. Having pride gives students a sense of ownership and as a result, they do better in school. Give Back to School Day provides an opportunity for community volunteers to work together improving the school environment—the students and the volunteers see the immediate impact of their work." _ ** _ Lee-Ann Scott, Director, Volunteer Programs ONFE _ ** [caption id="attachment_32374" align="aligncenter" width="929"]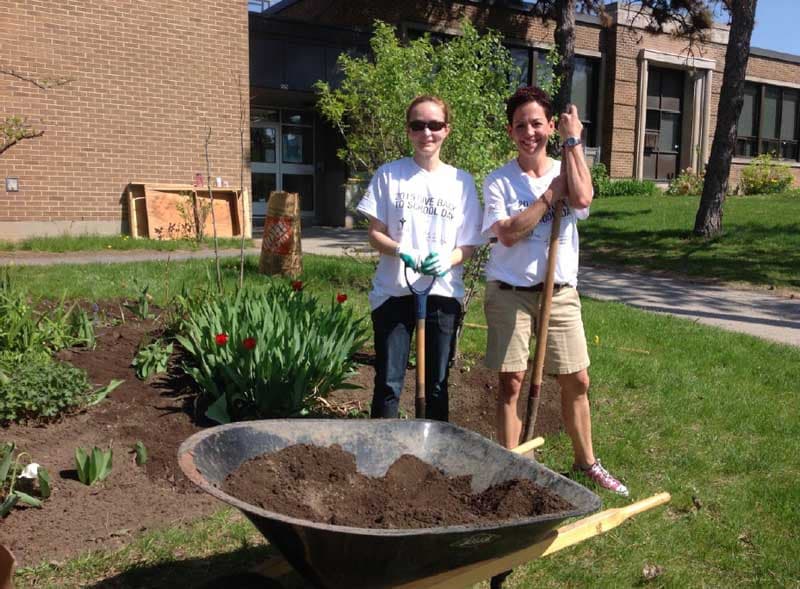 Members of the Ottawa Police Service have been volunteering with OttawaReads early literacy program since 2008 and participate in Give Back to School Day each year. (handout)[/caption] ** About Ottawa Network for Education ** Since 1985, the Ottawa Network for Education (ONFE) has played a lead role in developing over 40 innovative programs that harness the resources of the Ottawa community to help students overcome learning barriers, bolster essential skills, and make informed life and career choices. ONFE is the only organization that works directly with, and is endorsed by, all four school boards to deliver programs in local schools. Over 80% of Ottawa schools have one or more ONFE programs, providing access to more than 122,000 students each year. ** For more information about ONFE and OttawaReads, please visit onfe-rope.ca. **