At Rideau Hall, a celebration of achievement
[caption id="attachment_68810" align="aligncenter" width="1000"]
Carleton University professor Marie-Odile Junker accepts the Governor General's Innovation Award, which she received because of her pioneering work in preserving endangered Aboriginal languages. (Devyn Barrie/OttawaStart.com)[/caption]
Inside Rideau Hall, there is an ornate ballroom with a tall ceiling and a large crystal chandelier. A blue-and-gold rug covers the hardwood floor and golden drapes the tall windows. In the centre of the room, a mass of well-dressed onlookers chatter, awaiting the arrival of Canada's viceroy.
They stand and applaud as Governor General David Johnston walks into the room, a kindly man with a reddish face who smiles seemingly by second nature.
It was in this room that Prime Minister Justin Trudeau and his cabinet were sworn in back in November 2015, before the tall portrait of a smiling Queen Elizabeth II. And it was in this room Tuesday night that six gleaming scientific minds were honoured for their achievements with the Governor General's Innovation Award.
They may not be household names in the way of Edison or Bell but this award certifies that their contributions to their fields and outside-the-box thinking are meaningful.
Indeed, in the words of recipient Patricia Lingley-Pottie, the honour "further validates" the work of her and her team.
"Innovation is greatly important to our future and to our children's future," she said to a mesmerized crowd, tearing up as she thanked her husband and children for their support.
Lingley-Pottie, along with Patrick McGrath (whose award was accepted by his brother Michael), created the Strongest Families Institute, which provides mental health support over the phone and internet. Their programs are the result of six years' of research.
---
** In photos ** [caption id="attachment_68814" align="aligncenter" width="1000"]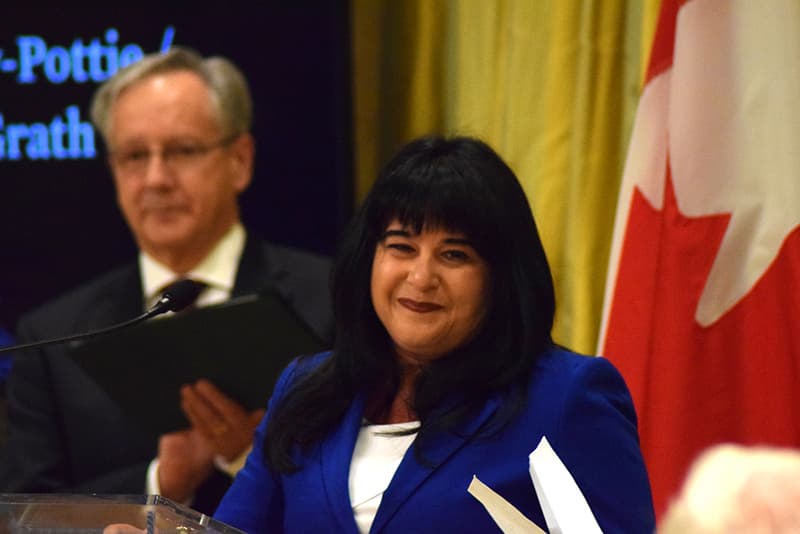 Patricia Lingley-Pottie choked back tears as she thanked her husband and children for their support of her work. (Devyn Barrie/OttawaStart.com)[/caption]
[caption id="attachment_68811" align="aligncenter" width="1000"]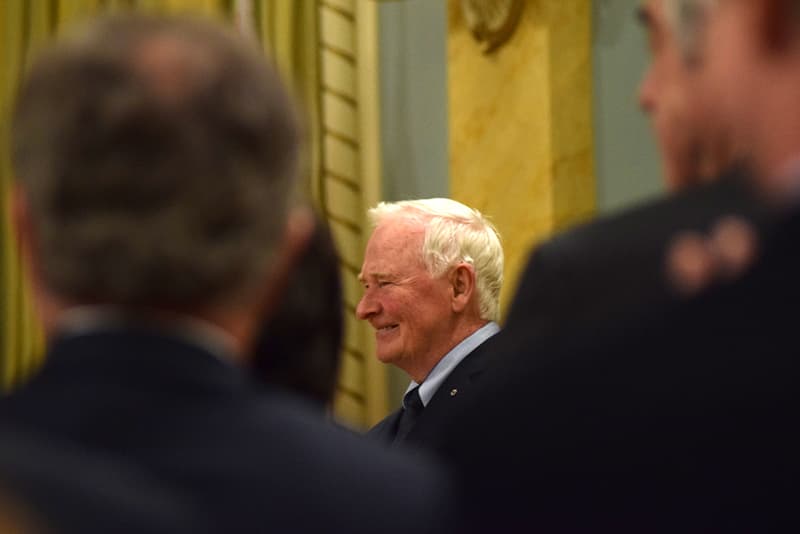 Governor General David Johnston pauses for applause shortly before presenting the Governor General's Innovation Awards. (Devyn Barrie/OttawaStart.com)[/caption]
[caption id="attachment_68882" align="aligncenter" width="1000"]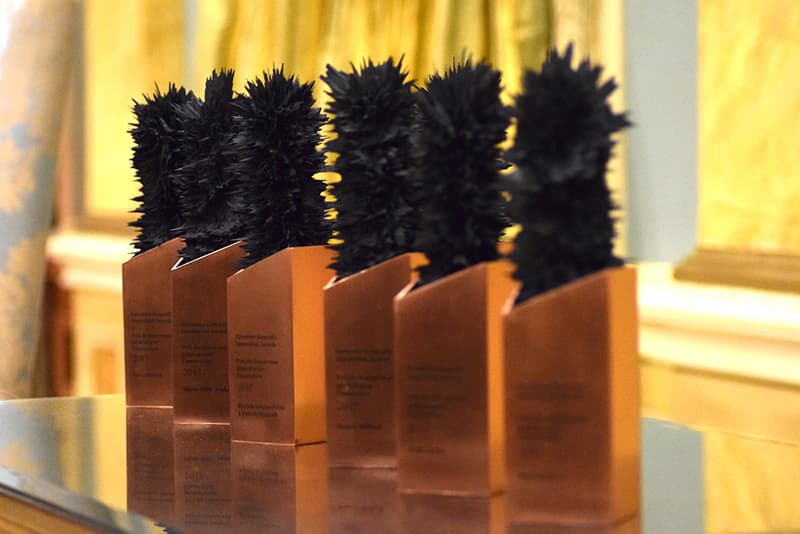 The awards share an identical copper base. The top portion meant to signify a "collision" of ideas and was made with 3D printing – no two awards are the same. (Devyn Barrie/OttawaStart.com)[/caption]
---
"Your efforts have something important in common," Governor General Johnston, himself an academic, said in a speech. "The desire to help others and to improve the way we do things.
"Your work is exceptional, transformative, life changing," he said.
One of the objectives of the award is to inspire Canadians, particularly youth, to be innovators. One recipient thinks it will do just that.
After accepting her award, Bonnie Mallard, who invented a technology that tests the immune system strength of livestock, pointed to her nine-year-old granddaughter in the audience.
"I'm confident that an event like this will inspire her to be one of Canada's next generation entrepreneurs," Mallard said.
Inspiration, no doubt, like she had as an undergraduate student at the University of Guelph 25 years ago, when she had the idea for her invention.
And for Marie-Odile Junker, a Carleton University linguist who was inspired to research Aboriginal languages after immigrating to Canada in the late 1980s.
"I noticed when I arrived in Canada that you could study any immigrant language," Junker said in an interview after the ceremony. "But not the language of the land and that really shocked me."
Because there was so little work done on the subject, she had to start from scratch on how to tackle the research. She had to, she said, research how to research.
She started around 1999 or 2000 with a small grant from the Social Sciences and Humanities Research Council of Canada, which gave her the freedom to "go wild," she said.
Years later, thanks to her work, there is now a better understanding of Aboriginal language in Canada. She created online dictionaries for the Cree, Innu and Atikamekw languages, documenting them so they will not be lost to time.
In 2005, she co-created the Algonquian Linguistic Atlas , which is currently in its third phase of development in collaboration with other linguists and institutions.
She thinks her work will help Aboriginal communities heal as Canada navigates its way to reconciliation. "I certainly hope so," she said.
One of the award's goals is to foster innovative culture. One way Junker said Canada can encourage it is by focusing on the process of innovating, rather than the results – similar to what her first grant let her do.
"Because you cannot know what the result will be."