Gauthier: The Music of Star Wars a perfect blend of nerdy and symphony
If you created a Venn diagram of symphonic music nerds and space fantasy nerds, the intersection  between the two sets was out in all its glory Thursday night at the National Arts Centre.
The NAC Orchestra performs _ The Music of Star Wars _ this week as part of its Pops series. Showcasing the best-known excerpts from John Williams' memorable scores, the program includes a full choir, a light show, and entertaining narration by Charles Ross  (of "one-man Star Wars Trilogy " fringe fest fame) and, en français, actress Émilie Fournier.
The lure of a Star Wars-themed evening was irresistible to fans, especially just one week before the release of _ Rogue One _ , the franchise's latest installment. People turned up in full cosplay, and concertgoers could snap selfies in the foyer with Stormtroopers, Imperial Guards, Darth Vader, and Kylo Ren.
[caption id="attachment_58267" align="alignright" width="488"]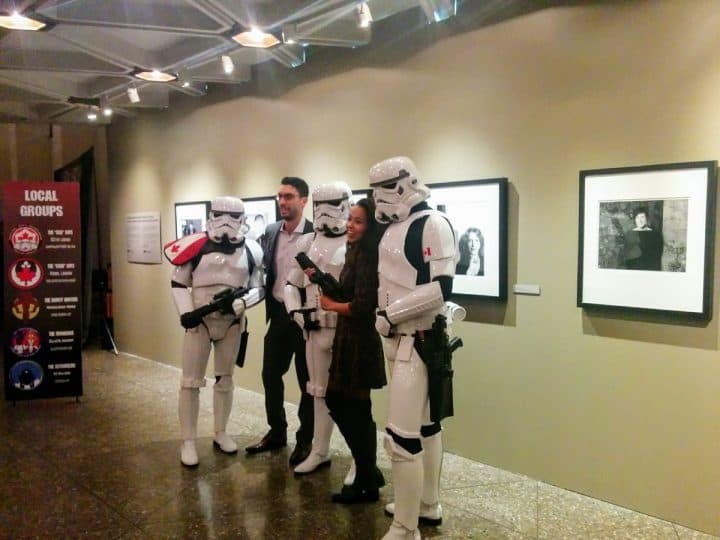 Natasha Gauthier photo[/caption]
It was nice to see so many young kids in the audience. It's easy to roll your eyes at these shows for being gimmicky, but you never know what might trigger a lifelong interest in music.
I was just six when the first _ Star Wars _ movie came out. I remember going to see it at Montreal's Imperial cinema with my older brothers. I can still picture the soundtrack we had at home: a deluxe double album, the iconic Star Wars lettering sprawled against the black background. I played it obsessively and learned through a kind of osmosis how an orchestra functions.
By my early teens, I had started listening to more "serious" music–Brahms, Prokofiev, Rachmaninoff. Wait a minute, I thought. This all seems… familiar. Williams isn't a musical innovator, but he has a genius for respectful pastiche, and for cherry-picking the most vivid and emotionally resonant elements from great symphonic composers.
Hearing the music live brought the sheer cleverness of Williams' craft out in even sharper relief. There was the Elgar pomp of the Throne Room music at the end of _ A New Hope _ ; the wintry horn lines, straight out of Tchaikovsky, in the Anakin-Amidala love theme; the Prokofiev pastiche of the jaunty Ewok march from _ Return of the Jedi _ .
Without the distraction of the film, other subtleties were revealed. I hadn't really noticed before how the music that portrays Anakin Skywalker as a child shifts to foreshadow Darth Vader's famous march.
Guest conductor Erik Ochsner has made film music one of his specialties. He struck an expert balance between pleasing the crowd and providing a clear, sane framework for the orchestra to handle the score's considerable demands on its virtuosity, stamina, and precision.
The musicians were clearly working hard, but they also looked like they were having the time of their lives. Tympanist Feza Zweifel was grinning ear to ear, and the "Cantina Band"–Kimball Sykes, Sean Rice and Shauna McDonald on clarinets, along with a certain masked trombonist–hammed it up like good sports.
It was a marathon concert, but the enthusiastic audience would have happily listened to more. Afterwards, I overheard one tired musician  comment "I'm glad we took that X-wing fighter section at Bruckner scherzo tempo and not Mendelssohn scherzo tempo," which may well be one of the most delightfully nerdy sentences ever uttered in history. The Music of Star Wars continues Dec. 9 and 10 at the NAC.
[caption id="attachment_58268" align="aligncenter" width="656"]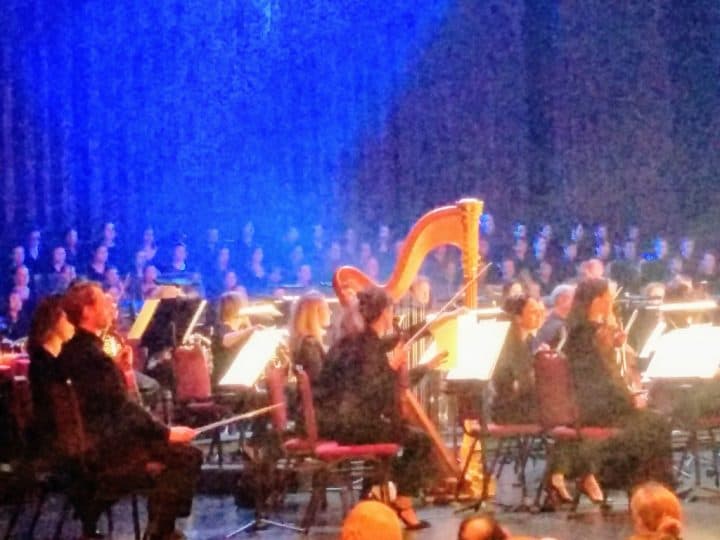 Natasha Gauthier photo[/caption]