Music review: A metal cellist goes classical
_ What: Raphael Weinroth-Browne performing the complete Bach Suites for Solo Cello _ _ Where: The Record Centre, Ottawa _ _ When: November 25-26, 2016 _ For 25-year-old Ottawa cellist Raphael Weinroth-Browne, the question isn't why he should be playing heavy metal. The question is, why the hell not?
[caption id="attachment_57599" align="alignright" width="398"]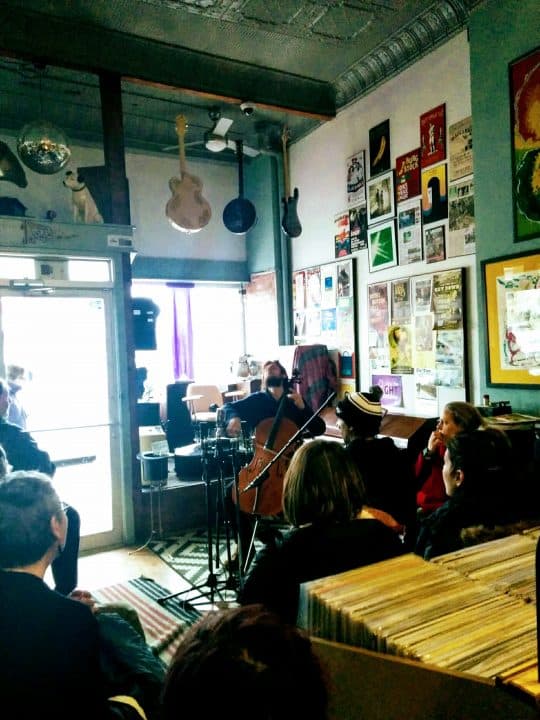 Raphael Weinroth-Browne performed the complete Bach Suites for Solo Cello at The Record Centre in Hintonburg over the weekend of Nov. 25-26. (Natasha Gauthier photo)[/caption]
What seems incongruous at first actually makes a lot of sense. When you consider how many metal instrumentalists pride themselves on their technical virtuosity and knowledge of classical references, confining the genre to guitar, drums or keyboards seems unimaginative.
Although metal isn't exactly my area, curiosity led me to Weinroth-Browne's appearance last month at Pressed Café on Gladstone. The cellist performed with singer Heather Sita Black, his partner on the uncategorizable hit recording The Visit. As the duo performed a set that wandered freely between Middle-Eastern, Slavic and Celtic idioms, listeners wearing Mastodon and Slayer t-shirts showed their appreciation by flashing the sign of the horns. This was not your grandpa's cello recital.
Weinroth-Browne exemplifies a new breed of concert performer: rigorously trained, fluent in many musical languages and rejecting any pressure to pick just one. This weekend, for example, he casually returned to his classical roots by playing the complete Bach Suites for Solo Cello at The Record Centre in Hintonburg, spread out over two days.
I attended Sunday's concert; the audience was definitely more diverse than what you normally see for this repertoire. Listeners perched on chairs a few feet away from Weinroth-Browne's bow, or stood patiently in the store aisles. Shop business continued as usual, Bach's music punctuated by ringing phones, beeping cash registers, and the soft slap-slap of customers browsing through bins of vinyl.
Weinroth-Browne performed on a modern cello (by renowned Sudbury luthier Raymond Schryer) with a Baroque bow. His approach is informed by period performance–fairly straight sound, tasteful ornamentation, jaunty tempi–without being puritanical.
No matter the genre, Weinroth-Browne always plays with affecting sincerity, beautiful tone, and an intimate, conversational way with phrasing. The sense of dance was never far away; in the Third suite, the Allemande had a cheeky lilt, while the Sarabande conveyed grace and regal dignity in equal measure.
However, he does have a tendency to rush, and some movements felt a little loose and undisciplined. The structure of the Courante in the Fifth Suite in particular began to disintegrate as the underlying pulse was lost. But the Prelude of that most peculiar of the suites was nobly articulated, the difficult counterpoint clear and precise. The pale, bleak quality of the Sarabande was striking.
In the Fourth Suite, which closed the cycle, the Prelude wanted a little more grandeur and legato. But the Allemande and Courante were both played with an elegant, shapely flow, and the Sarabande was sensual and spacious. The final Gigue had real joy and a seductive swing in its step.
No devil horns in the crowd this time, just enthusiastic, well-deserved applause. Perhaps not everyone in the audience realized the scope of Weinroth-Browne's achievement–playing through all six suites is, in his own words, like climbing a mountain. But you didn't have to be a classical music lover to appreciate this appealing young musician's gift for connection.