From a dirt road to community hub: Celebrating 50 years of the Brookfield Restaurant
[caption id="attachment_72641" align="aligncenter" width="1000"]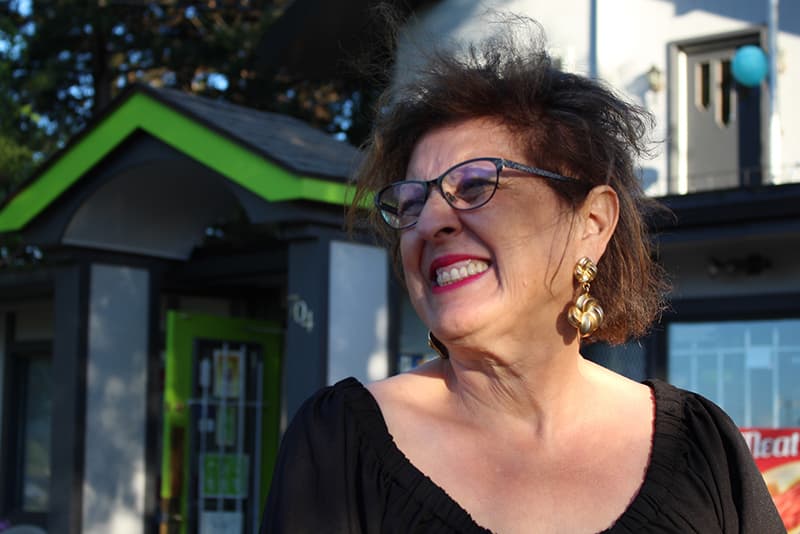 Joyce Aboud smiles in front of the Brookfield Restaurant and Confectionary during its 50 year anniversary on Saturday. (Charlie Senack for OttawaStart.com)[/caption]
July 1 was the 150th anniversary of Confederation, but it also marked 50 years of the Brookfield Restaurant and Confectionary in Riverside South.
On July 1, 1967, Nash and Yvonne Aboud set up shop at 704 Brookfield Rd., which was then nothing more than a dirt road.
"My mom and dad came from Lebanon, moved to Sarnia, Ont.," said Joyce Aboud, one of their daughters who is now the owner. "We had family and kinda scouted out Ottawa thinking that this would be a good place to settle."
Residents gathered to relive the memories of years past at an anniversary party on Saturday.
Craig and Carolyn Searle, who have lived in the area for years, wanted to celebrate how much the restaurant has done for the community.
"It's been a locally owned family run restaurant, and it's been wonderful," said Craig, president of the Riverside Park and Community Association. "They give back to the community."
The restaurant is down the road from Brookfield High School and has been a popular spot for students to get a bite to eat for years – some former students even turned out, causing Carolyn to compare the event to a high school reunion.
The celebrations included live music from several local musicians – including Johnny Vegas, a graduate from Brookfield High School.
"We have had pretty much something for everybody today," said Craig.
Now, the restaurant is hoping to serve the Riverside community for another 50 years.
"I'm pretty proud, it's an accomplishment (that) came with a lot of work," said Aboud. "Once you walk through the door, you're a part of the family."