Jeff Avery, Jim Kyte & Betty Shields among five to be inducted into Ottawa Sport Hall of Fame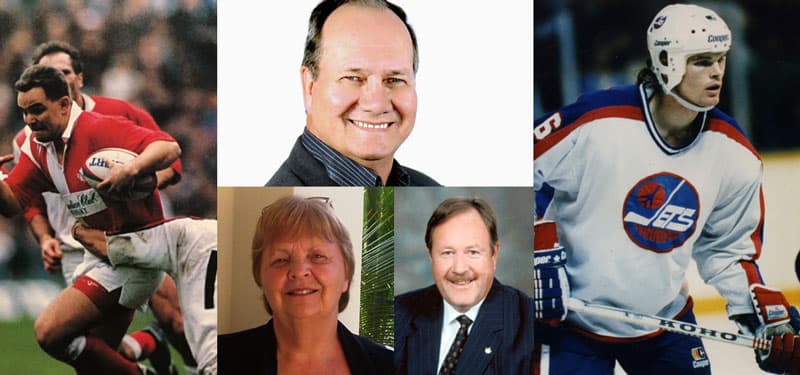 The Ottawa Sport Hall of Fame announced today that Jim Durrell, Jeff Avery, Jim Kyte, Betty Shields and Steve Gray will be its 2018 inductees. They will be honoured at the Ottawa Sport Hall of Fame Induction Ceremony, which will take place on
June 1
at the Horticultural Building at Lansdowne Park.
"Again this year, the selection process was very challenging", says Dave Best, chair of the Ottawa Sport Hall of Fame. "We received many strong nominations from the community, a reminder of the broad range of sporting achievement and excellence that exists in the nation's capital. This year's class clearly reflects that diversity, as each inductee not only has a truly remarkable sports pedigree, but an impressive record of community service." ** Jim Durrell ** served as Mayor of Ottawa from 1985 to 1991, and was instrumental in making the city an attractive and viable destination for professional sports. Among the many achievements attributed to him are the revival of the Ottawa Senators in 1990, landing the CFL's Grey Cup in 1988, and championing the return of professional baseball. Most recently Durrell was the Chair of the very successful 2017 Grey Cup in Ottawa. ** Jeff Avery ** is a Grey Cup champion with the Ottawa Rough Riders, a CFL East All-Star, and a Vanier Cup winner with the University of Ottawa Gees-Gees in 1975. Since retiring as a player, Avery has covered CFL football on radio for 30years and has been president of the CFL Ottawa Alumni Association for 16 years. ** Betty Shields ** is a trailblazer for the sport of ringette in Canada and abroad. She began as a local volunteer and rose through the ranks to become the first president of the International Ringette Association. She was instrumental in ringette's entry to the Canada Winter Games. ** Jim Kyte ** is widely regarded as one of the toughest hockey players of his time, enjoying a 13-year, 598 game career as an  NHL defenceman.  He was twice nominated for the prestigious Bill Masterton trophy, and founded the Canadian Hearing Impaired Hockey Association. ** Steve Gray ** was a fixture on the national rugby team, notching 47 international caps as a centre, and representing Canada in three Rugby World Cups and the inaugural Rugby 7's World Cup.
Comprehensive biographical information for each of the inductees along with photos can be found at: ottawasporthalloffame.ca ** Ticket Information ** Tickets for the 2018 Ottawa Sport Hall of Fame Induction Ceremony, to be held
June 1
, can be purchased online here . Early bird tickets are $100. ** About the Ottawa Sport Hall of Fame ** The Ottawa Sport Hall of Fame is a non-profit organization, which documents, curates and celebrates outstanding achievement in local sport heritage. The Sport Hall of Fame is overseen by a volunteer Board of Directors which works in close partnership with the City of Ottawa to maintain and preserve our rich sporting legacies. Each year, the Hall of Fame Board receives nominations from the public, and selects new inductees to be represented in the Hall. The Ottawa Sport Hall of Fame is located at City Hall. It contains artifacts, photographs and memorabilia honouring our sporting heritage, as well as commemorative plaques honouring its more than 270 inductees.