FLOOD UPDATES: Water levels dropping, federal offices reopen in Gatineau
[caption id="attachment_67668" align="aligncenter" width="1000"]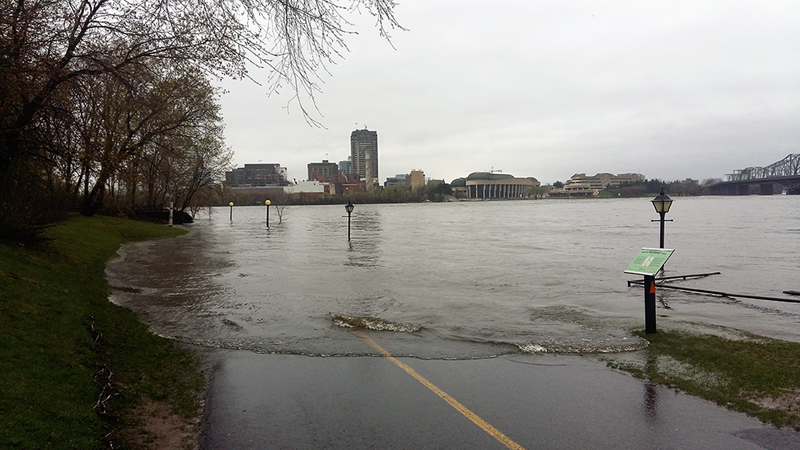 Flooding behind Parliament Hill. The Ottawa River's water level has increased by 33 cm on the Ontario side since Friday. (Dan Roodman/Submitted)[/caption]
Officials in Ottawa and Gatineau are preparing for flood recovery, as water levels continue to drop.
Several task forces were formed at Ottawa City Hall, which will map out Ottawa's recovery plan over the next few weeks.
The City of Gatineau, where dozens of streets remain flooded, said cleanup can only begin once water has fully receded. It has more information on the plan for recovery on its website …
Ottawa River dropped 15 cm near Hull Wednesday, to 44.80 metres down from 44.95 metres. It is forecast to drop another 18 cm on Thursday, according to the Ottawa River Regulation Planning Board.
The river level also dropped eight cm at Britannia, down from 60.38  metres, and should drop another 12 cm.
---
** Videos: Aerial footage of the raging Ottawa River at Chaudière Falls ** ** The Science behind the Ottawa River flooding **
---
_ Last updated 1:45 p.m. May 11. _ ** Ottawa River water level as of Thursday: **
 * 
60.30 metres at Britannia Bay as of 8 a.m., from peak of 60.45 metres on Sunday (average is 58.28 metres.)

 * 
44.80 metres at Hull as of 7 a.m., from peak of 45.18 metres on Monday (average is 41.78 metres.)

Via Ottawa River Regulation Planning Board. The ** Rideau River ** should also see a drop in water levels the Rideau Valley Conservation Authority said in a news release on Tuesday.
"The flood warning will remain in effect because of up to 40 millimetres of rain forecast to start on Thursday or Friday," the organization said. "The impact will depend on how much levels have subsided, how widespread the weather system is and how intensely the rain falls." ** How much rain has already fallen and how much more to go? ** The last precipitation recorded at the Ottawa Airport was May 8, when .6 mm fell. From May 4 and May 8, Environment Canada reported a cumulative rainfall of 66.8 mm the the airport. ** Average May precipitation, 1981-2010: ** 80.1 mm. ** So far this month: ** 113.2 mm. ** Average April precipitation, 1981-2010: ** 63 mm. ** April 2017 total precipitation: ** 147.8 mm.
Environment Canada forecast a chance of rain on Friday, Saturday and Sunday.
For up-to-date weather forecasts, check out our weather page . ** How many people are affected? ** In Ottawa about 310 properties have been impacted by flooding and 75 families displaced.
The most affected areas are in Britannia, Cumberland, Constance Bay, Dunrobin, Fitzroy Harbour and Maclarens Landing.
Two-hundred seventy five homes are impacted in West Carleton-March, 25 in Cumberland and 10 in Bay ward.
In Gatineau, a total of 541 homes and over 794 people have been evacuated. Entire streets are flooded in areas near the Ottawa River and the City of Gatineau has a realtime map showing which streets are closed.
The Red Cross is providing assistance to more than 1,160 people within Gatineau. ** What has been the response? ** The Red Cross is now registering Ottawa residents who have been affected. The City of Ottawa said it is important for people to register, as it also helps the city respond to their needs.
Registration can be done by phone at 1-800-863-6582. The call-registration hours are:
 * 
Monday to Friday: 9 a.m. to 8 p.m.

 * 
Saturday: 9 a.m. to 5 p.m.

Registration can also be in-person at the four Emergency Community Support Centres during their hours of operation (10 a.m. to 8 p.m.).
 * 
Community Hall at the R.J. Kennedy Arena, 1115 Dunning Road (Cumberland)



 * 
Ron Kolbus Lakeside Centre East Parking Lot, 102 Greenview Avenue (Britannia)

 * 
Constance and Buckham's Bay Community Centre,262 Len Purcell Drive (Woodlawn)

 * 
Fitzroy Harbour Community Center, 100 Clifford Campbell Street (Fitzroy Harbour)

Ottawa City Council voted Wednesday to develop a strategy to defer property tax payment for those whose properties are affected by the flooding.
The city didn't declare a state of emergency but on Sunday went into Activated Emergency Operations. City officials also asked the Ontario Ministry of Municipal Affairs and Housing to activate the Disaster Recovery Assistance for Ontarians , which it said would provide financial assistance to affected residents.
The Canadian Armed Forces are assisting provincial officials in both Quebec and Ontario. The federal government is also providing aid.
https://twitter.com/RalphGoodale/status/861310982466961412
Meanwhile, Clarence-Rockland has declared a state of emergency and has a voluntary evacuation notice for affected areas. Here is a Facebook group for residents there… ** How can I help ** ** ? ** The City of Ottawa said it expects a need for volunteers for the next three weeks in the recovery phase.
To help, register online .
Also, here is a Facebook group for residents of Constance Bay… The City of Gatineau says the inventory of sandbags is sufficient for now and has no need for volunteers at this time.
To donate to the Red Cross, visit the Canadian Disaster Relief Fund . The City of Gatineau encourages donations to be directed to local food banks and community organizations. _ Correction: An earlier version incorrectly reported the number of homes evacuated in Gatineau as 407, when at the time it was a lower number. _