FIREWORKS: Casino du Lac-Leamy's Sound of Light show returns for 23rd year
A photo of Manitoba's performance in the 2017 edition of Sound of Light, on Aug. 9. (via Sound of Light)
This year's edition of Casino du Lac-Leamy's Sound of Light show starts on Aug. 4, promising five evenings of outstanding pyrotechnic display. It runs every Saturday and Wednesday at 9:15 p.m. until Aug. 18 and is definitely worth checking out.
Sound of Light started in 1996 and has become renowned for being one of the best fireworks events in the world. This year, fireworks professionals (professional firework-ers?) from four countries will battle to make the best show.
Here are the shows, from a press release:
Spain (Saturday August 4th) Pirotecnia Zaragozana SA IROTECNIA ZARAGOZANA SA with the show "After the war"
United States  (Wednesday August 8th) Atlas PyroVision Entertainment whit the show " Bridge of Hope and Light"
Germany (Saturday August 11th) NICO Europe GmbH with the show "The Cinematic Odyssey"
China (Wednesday August 15th) Liuyang Dancing Fireworks Group with the show "The banquet of Fire"
The Grand finale The Casino Du Lac-leamy Sound of Light (Saturday August 18th) with the show " Les Super-héros" performed by ROYAL PYROTECHNIE
There are three official viewing sites, which require paid admission: * The Canadian Museum of History * Nepean Point (hosted by the Montfort Hospital Foundation) * Ottawa Locks (hosted by the Bytown Museum)
Ticket packages are available on the Sound of Light website.
Here are some suggestions for other viewing points: * Portage Bridge * Macdonald-Cartier Bridge * Behind the Supreme Court of Canada * Behind Centre Block
Any other suggestions? Email us: feedback@ottawastart.com If you're planning on taking some pictures, here are some tips on how to get the best shots.
Road, bridge and path closures
For safety reasons, several areas will be closed on show nights.
The Ottawa River between the Alexandra and Portages Bridges from 5-10:15 p.m.
Alexandra Bridge (all lanes, including pedestrian boardwalk) from 8:30-10:15 p.m.
The Ottawa River pathway between Bank Street and the Ottawa locks (behind Parliament Hill); between the Alexandra Bridge and the Ottawa locks (via Pioneer Road, under Major's Hill Park), from 7-10 p.m.
The Voyageurs trail between Victoria Street and the Alexandra Bridge (behind the Canadian Museum of History) from 6-10 p.m.
Lady Grey Drive and Pioneer Street from 7-10:15 p.m.
St. Patrick Street from Mackenzie Avenue and Des Allumetières Boulevard from Laurier Street from 8:30-10:15 p.m.
Des Allumetières Boulevard between Maisonneuve Blvd and the Alexandra Bridge; Laurier between Hotel de Ville street and Sacré-Cœur Blvd, as well as all connected side streets, from 9-10:15 p.m.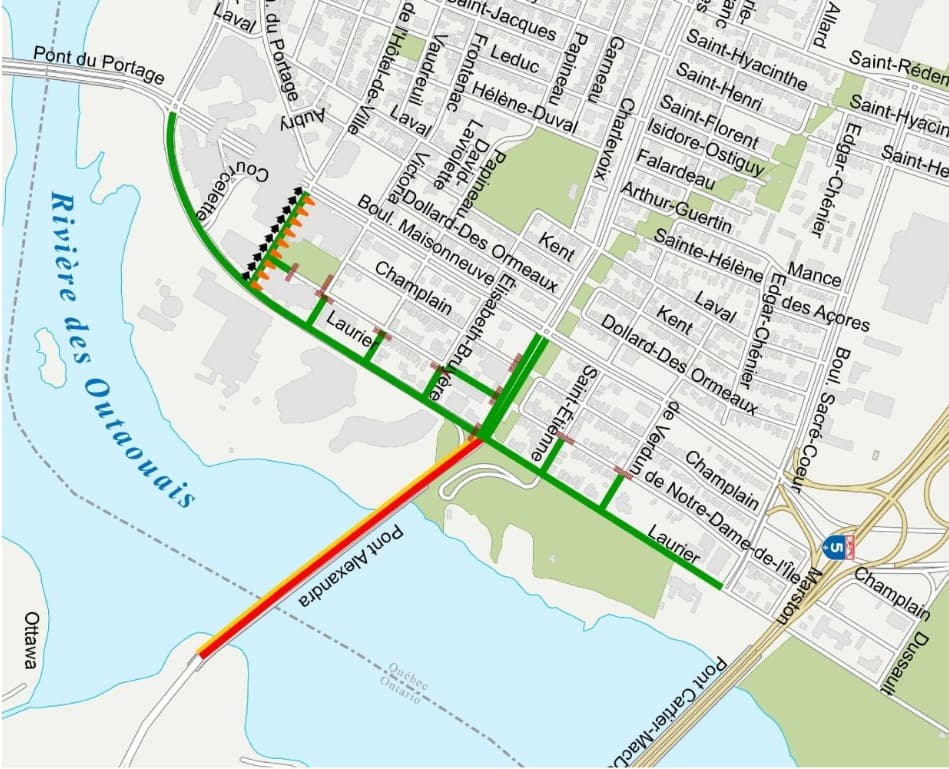 Correction: An earlier version of this article said Sound of Light runs every Saturday and Sunday. It runs every Saturday and Wednesday.