FEATURED: TD Nature Nocturne: The Life Aquatic (April 28)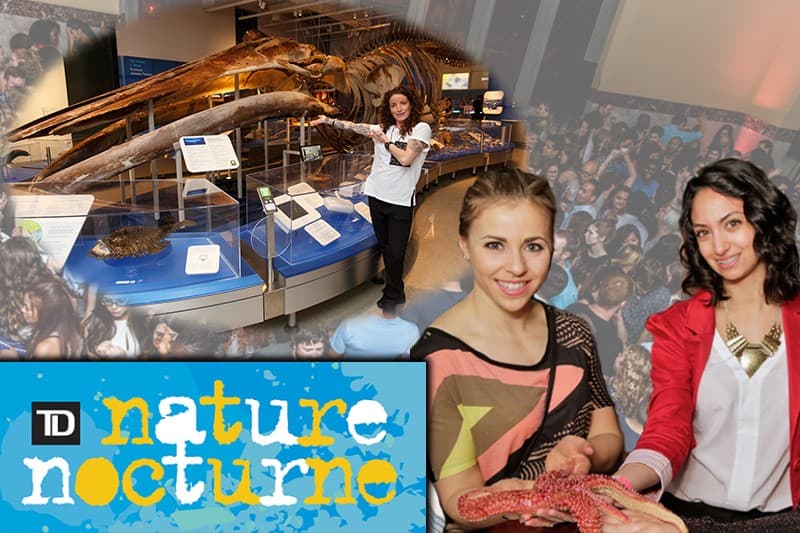 ** Friday, April 28 • 8:00 pm - 11:59 pm ** _ Canadian Museum of Nature _ Nature Nocturne at the Canadian Museum of Nature is Ottawa's hottest
Friday
night party!
You're in for a whale of a time this month as we invite you to dive deep into the theme of ** 'The Life Aquatic ** '!
Along with exploring world-class exhibitions or dancing the night away to the sounds of awesome DJs (DJ Katrella on the main dance floor under the giant jellyfish and The Kid Gorgeous in the Jump Lounge), you'll want to check out the many great activities:
 * 
Grab a mic for some sea shanties in the TD Karaoke Zone

 * 
Get your hands wet with some science

 * 
**
 Test your baleen know-how
**
with our museum researchers (and grab a selfie with the blue whale!)

 * 
Touch a real sea star!

 * 
Don't miss the
[
 **
  Cooke Lab
 **
](http://nature.us14.list-manage1.com/track/click?u=c64cbdce0d61cd4544d47615c&id=59b73d2f00&e=5407d712ff)
's work helping fish migration or their
**
 giant
**
**
 Plinko game
**
!

We're sure you'll find something to float your boat!
The recommended dress is smart-casual but Nocturners are always invited to wear a theme-appropriate costume. So how about nautical, marine mammals, fish, coral, or even just simply the colours of the ocean: blue and green!
Must be 19 years of age or older. Valid I.D. required. No outside alcohol permitted.
Friday, April 28th
from
8 p.m. to midnight
at the Canadian Museum of Nature!