FEATURED: Museum of Nature open house - research and collections facility, October 15
Don't miss this once-a-year opportunity to explore the museum's research and collections facility in Gatineau, Quebec. Discover our national collections of plants, animals, fossils and minerals. See some of our 14.6 million natural-history specimens and artifacts, and meet leading science experts who curate and study them. ** Museum of Nature - Research and Collections Facility (Gatineau, Quebec)
Saturday, October 15, 10am-4pm ** Photos permitted. Tours are self-guided. No reservations required.
[caption id="attachment_53316" align="aligncenter" width="600"]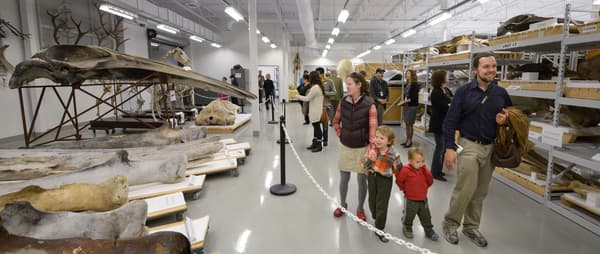 The whale bones in the Large Skeleton Room are one highlights of the open house.
Photo: Martin Lipman © Canadian Museum of Nature[/caption]
Highlights this year: - Discover the Arctic's biodiversity, with some northern "stars" in our collections - Sparkling minerals, dinosaur bones, Ice Age animals and other geological treasures; plants of all kinds pressed and preserved for study in our Herbarium - Learn how dinosaur fossils are prepared for study and display
…
- Marvel at the wall of antlers, whale bones and skeletons of all kinds and get up-close to parasites, crustaceans, mussels and clams, and tiny insects

Dee how new discoveries are made in our DNA lab, X-ray lab, and Heavy Wet lab.
See a special display about Mumba, a beloved gorilla from the Granby Zoo, as well as displays from the Bank of Canada Museum, Geological Survey of Canada, Students on Ice and the Canada Science and Technology Museum


** Information: ** • questions@mus-nature.ca • 613.566.4700. • nature.ca Reservations: Not required. Parking: Free; on-site and in the neighbourhood. For conservation reasons, please leave large backpacks, food and beverages in your car.