FEATURED: Google & WebMarketers to Co-Host Google Partners Connect! (March 13)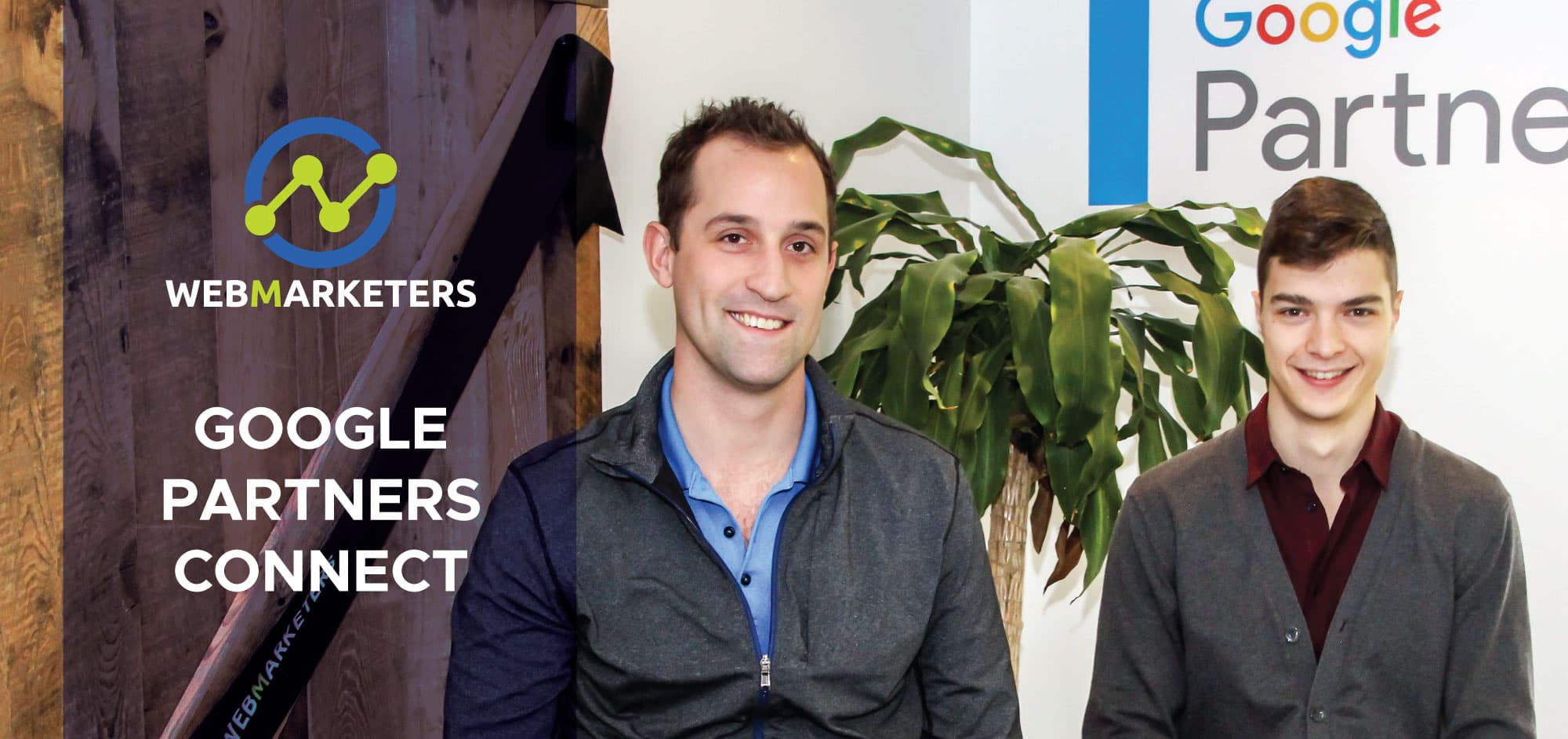 Hosted only twice a year, Google Partners Connect is an insider event live streamed exclusively through Google Partners like WebMarketers.
Quicklink to RSVP: https://webmarketers.ca/google-partners-connect Located in the heart of Little-Italy, WebMarketers has opened its doors to guests March 13, offering a complimentary lunch, refreshments, and of course a sneak peak at the latest and greatest in the world of Digital Marketing.
Google is promising some highly anticipated information, particularly focused around the future of video advertising.
In addition to learning more about the future of video advertising, this is a great opportunity to casually connect with the friendly team at WebMarketers, gathering ** insider information ** on new trends and techniques for growing your business in the digital era. ** Are you an early adopter always eager for that insiders edge? ** Then, WebMarketers' well known tagline, "Create an Unfair Advantage" speaks directly to you!
But what does it mean? Well, in the world of online marketing, a small percentage of businesses tend to get a very large share of all online sales. Figure out how to position yourself as one of those businesses with an "Unfair Advantage," and your business will be very successful. It's that simple, and it's a perfect example of the Pareto Principle - the 80/20 rule.
At WebMarketers, our focus is always on ** ROI ** and how our marketing initiatives relate directly to sales, and ** your companies growth ** . ** What will you LEARN? **
 1. 
Techniques to grow your business in the digital era

 2. 
Future of video advertising

 3. 
Discovering the right strategies for your online advertising

** What will we provide YOUR BUSINESS with: **
 1. 
Showcasing successful marketing initiatives based on ROI

 2. 
How to create video advertising in a cost effective manner

 3. 
Discovering strategies to create campaigns that will attract, engage & convert

 4. 
Personalized recommendations on how to convert online traffic

** Also, who doesn't love free food and drinks?! ** Incase you missed it, this event is happening over lunch on Tuesday March 13th. Lunch and beverages will be provided for all attendees. Along with Google's livestream and short workshop put on by the WebMarketers team, there will be ample opportunity to network and connect with other business people alike. ** You know who Google is, but who is WebMarketers? ** WebMarketers is a results-driven digital marketing agency that's focused on maximizing your ROI.
WebMarketers is all about identifying and executing on the right strategies to make you the most money from your marketing efforts. We'll work to align our services (Websites, SEO/SEM, Social Media and Content Marketing) with your vision and goals to achieve success.
The team is pretty laid back and easy to chat with, so don't be shy! ** But… There are Only 25 spots available. ** ** RSVP Now ** ** ! ** P.S. Whether you're interested in getting an insider view into Google's plans, discovering how WebMarketers can help your business, or looking to network – this is an event that Ottawa businesses can't miss!