FEATURED: Elvis: A Christmas Special (December 8 & 9)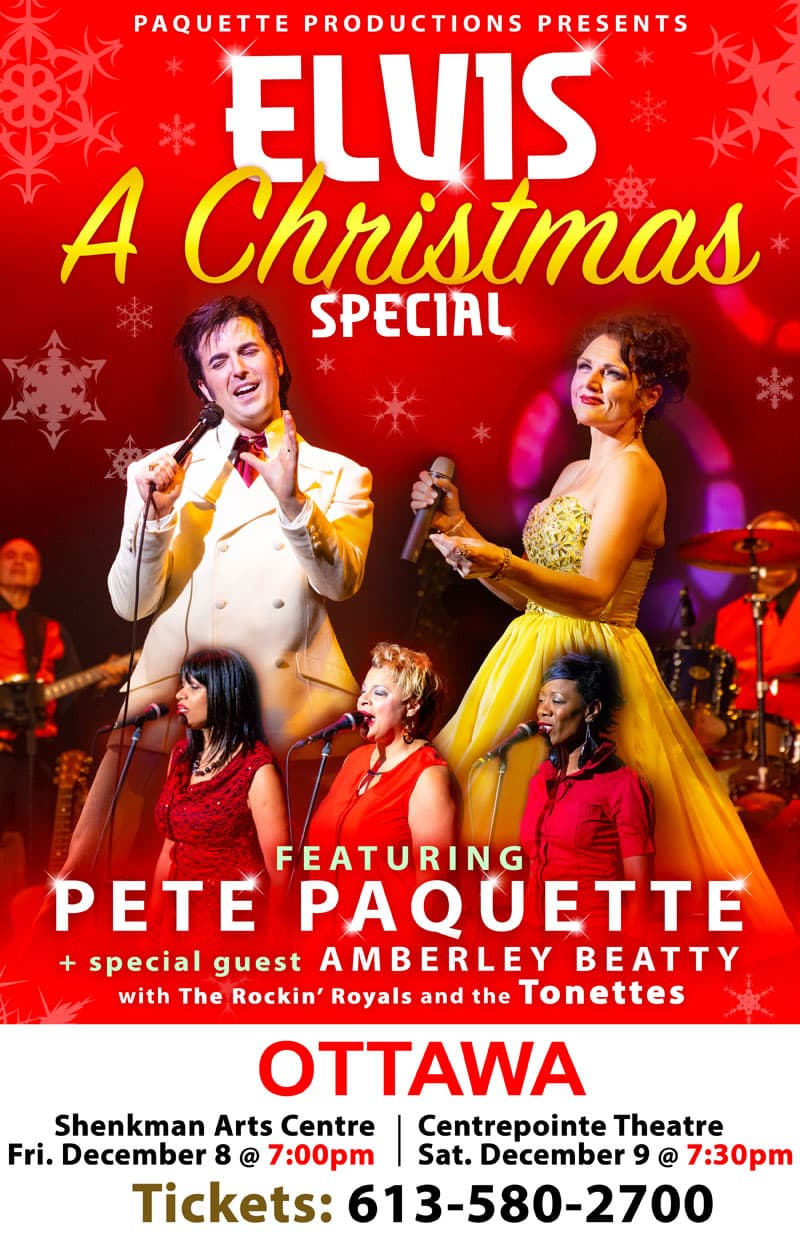 ** Presented by: Paquette Productions ** ** Shenkman Arts Centre ** ** Friday, December 8, 2017 at 7 pm ** ** Tickets ** ** Centrepointe Theatre ** ** Saturday, December 09, 2017 at 7:30 p.m. ** ** Tickets ** Elvis: A Christmas Special Starring Pete Paquette with Special Guest Amberley Beatty
This Holiday season, the incredible showman, Pete Paquette, and his band, the Rockin' Royals with the sensational Tonettes, returns in Elvis: A Christmas Special, a new show featuring a special guest performance by the dazzling Ms. Amberley Beatty.
Best known for his portrayal as Elvis Presley, Pete takes the stage to celebrate the Christmas Holidays through a special Tribute performance of the King's greatest Christmas Carols and songs of inspiration such as: « Blue Christmas », « Here Comes Santa Claus », « I Believe », « The Wonderful World of Christmas », and many more favourites.
With the entire Christmas song book at their disposal, Pete and Amberley will take you on a magical journey and sing a variety of some of their personal favourite Christmas songs that are dear to their heart.
Don't miss this rockin' Christmas show this Holiday Season. Elvis: A Christmas Special, a joyous event that will sure inspire the Christmas spirit in everyone! We will have a 'Blue Christmas' without you. ** THE PERFORMERS ** Pete Paquette (as Elvis) A world-class Multi-Award Winning Elvis Tribute Artist that is in great demand and is highly regarded as one of the top Elvis performers in the business today. Known for captivating his audiences through his incredible voice, high energy, charisma, and playful spontaneity with his audiences, Pete is an exciting performer to watch and leaves his audiences wanting more.
The Rockin' Royals (the band) All of our shows are backed by our exclusive band "The Rockin' Royals" which features a stellar new cast of musicians that have performed with some of the best artists and Tribute shows across North America. These talented musicians have been hand selected to bring you the very best sound and authentic performance in live entertainment.
The Tonettes (Singers) A trio of singers who have been blessed with power, sensitivity, and vocal energy. Individually, Marlene, Amoy, and Cathy have decades of experience performing with various bands and artists. With their knowledge of the vocal craft and a powerful presentation of music, The Tonettes will not disappoint when you hear them sing live in concert. www.paquetteproductions.com https://www.youtube.com/watch?time_continue=39&v=BShcN2pZXBc