FEATURED: Christmas Lights Across Canada will "glow" your mind
[caption id="attachment_57985" align="aligncenter" width="922"]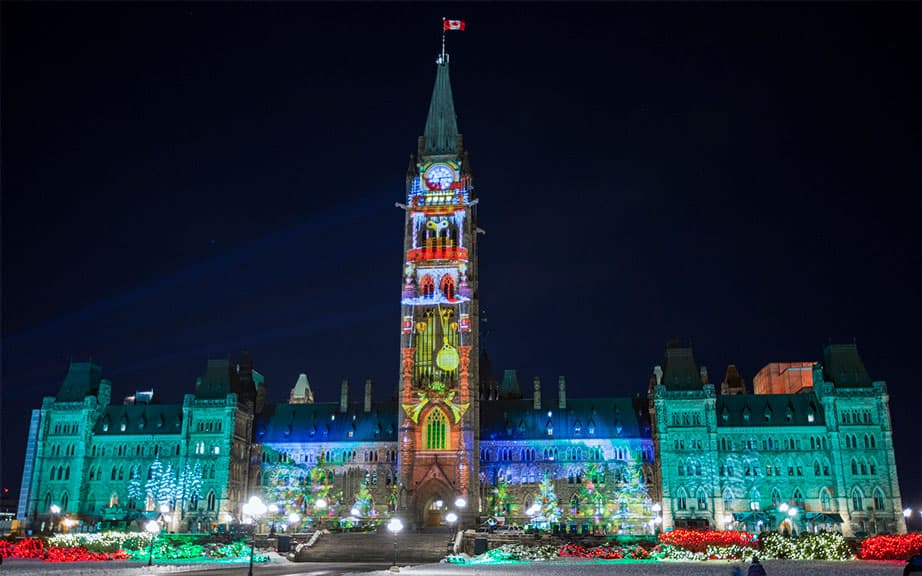 Christmas Lights Across Canada.[/caption] ** The 33rd edition of Christmas Lights Across Canada will kick off with an official illumination ceremony on December 7, 2017 at 7 p.m. ** Every night from December 7 to January 7, enjoy the magical winter lightscapes multimedia show projected on Parliament Hill buildings. A brand new experience also awaits you in Confederation Park with displays of lights that will "glow" your mind! People of all ages will get into to the holiday spirit as hundreds of thousands of dazzling lights shine in Canada's Capital Region and across the country.
The show is the same as last year, but the experience will be enhanced by the use of the entire building (addition of the left and right sections of the Parliament). And for the first time, there's a skating rink installed on Parliament Hill !
More info here: https://www.canada.ca/en/canadian-heritage/campaigns/christmas-lights.html
---
** Illumination Ceremony on December 7 ** The 33rd edition of Christmas Lights across Canada will kick off on December 7 with an illumination ceremony at 7 p.m. on Parliament Hill. Thousands of Canadians gathering for this annual ceremony will enjoy free BeaverTails® pastries and hot chocolate—while supplies last—live musical performances and colorful pyrotechnics.
Magic will definitely be in the air as Juno Award-winner Jess Moskaluke and Céleste Lévis perform during the illumination ceremony. Olympic, Paralympic and other young athletes from each province and territory will be sending Canadians special holiday shout outs that will be presented on giant screens.
Get the most out of these precious moments with family and friends, in an enchanting winter setting, as hundreds of thousands of lights shine bright in the heart of Canada's Capital Region.
If you can't make it to the event, the evening's festivities will be broadcast live on the Canadian Heritage Facebook account for Canadians across the country to see!
---
** Plan your evening! **
The magical winter lightscapes multimedia show follows the exciting journey of Grizzli, Fox and Snowman through imaginary landscapes on their quest for light. Inspired by Canada's nature, climate and culture, this fairy tale combines digital projection technology, lighting, and an accompanying original sound track with the architectural splendour of the Parliament Buildings. The show will be presented every night in loop from 5:30 p.m. to 11 p.m. from December 8 to January 7, 2018.
n Canada's Capital Region, the winter landscape glows with hundreds of thousands of dazzling holiday lights that brighten Confederation Boulevard, Canada's ceremonial route circling the heart of the Capital. The Boulevard encompasses Wellington Street, Mackenzie Street, Elgin Street and Sussex Drive in downtown Ottawa, as well as Laurier Street in Gatineau and the Alexandra Bridge.
Some of the best places to experience the lights include the front lawn of Parliament Hill, Confederation Square and the Alexandra Bridge. Confederation Boulevard will be illuminated daily from 4:30 p.m. to 2 a.m. until January 7, 2018.