FEATURED: Canadian Tulip Festival 2017 (May 12-22)
The Canadian Tulip Festival has announced a special edition of the Festival for 2017 to mark its 65
th
anniversary during Canada's 150
th
Birthday with activities to delight all ages. A Canadian Tulip Flag - _ "One Tulip One Canada" _ will mark tulip festivity celebrations throughout the Capital.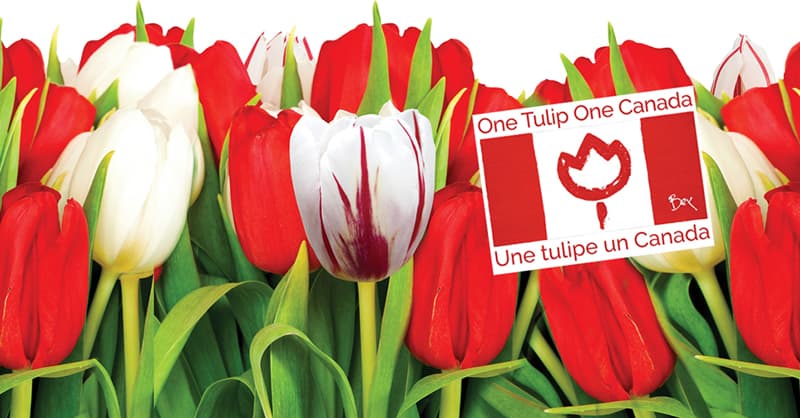 This special 65
th
edition of the Festival also marks a partnership with the Canadian Garden Council to create the "Garden Promenade" as part of expansion plans to showcase and promote the Capital as a garden tourism destination - a growing segment of the tourism industry. ** Featured Activities for the 2017 Special Edition include: **
 * 
**
 [
  Commissioners Park Tulips – A Garden Tulip Experience
 ](http://www.tulipfestival.ca/program/commissioners-park-tulips/)
**

 * 
[
 **
  Lansdowne Park Tulip Gallery – A Friendship, Floral and Art Tulip Experience
 **
](http://www.tulipfestival.ca/lansdowne-tulip-gallery/)

 * 
[
 **
  ByWard Tulip Park
 **
 **
  (ing)
 **
 **
  – An Urban Tulip Experience
 **
](http://www.tulipfestival.ca/byward-tulip-parking/)
sponsored by
**
 Sterling Ford
**

 * 
[
 **
  Tulips on the Garden Promenade – A City Tulip Tour Experience
 **
](http://www.tulipfestival.ca/garden-promenade-tulips/)

** Saturday, May 20 highlights **
 * 
Inspiration Village Launch – Ottawa 2017 – ByWard Market (York Street)

 * 
Phoenix Big Band Bash to Fight Cancer ($) – Aberdeen Pavilion

** Saturday, May 20 + Sunday, May 21 **
 * 
Victory Encampment – The Great Lawn

 * 
Sterling Ford Photo Contest

 * 
Fairytale Princesses – Family Village, Great Lawn; Tulipmania Fireworks

 * 
Gordon Harrison, Laura Daub, Janice Street, Flowers Talk Tivoli Workshops ($)

** Sunday, May 21 **
 * 
Artists in Bloom Young Talent Showcase – Friendship Stage, Lansdowne Park

 * 
65th Anniversary Tulipmania Fireworks with Animation Prequel and
_
 Special Debut: Royal Canadian Mint Coin Exchange
_
**
 **
  -
 **
**
Bring your pocket money to exchange for the world's first glow-in-the-dark circulation coin, the 2017 $2 Canada 150 coin (limited to two coins per person while quantities last)- TD Place, Gate 1 Lansdowne Park ($)

** ** Still Going Strong: ** ** Thousands of tulips in bloom; BEX Tulip Interactive (ByWard Market Tulip Park(ing); Artists at work among the tulips; guided and self-guided tours; Escape Bicycle Tours and Velogo; Handmade Marketplace; Lord Elgin Malak Gallery; Children's Tulip Garden; Buskers; Music in the Tulips; Tulip Café; Embassy displays and presentations
Tickets for the Swing Dance, Big Band Bash, Fireworks and workshops as well as daily admission ($10 per person on weekdays and $15 on weekends with children 12 and under free) to the Lansdowne Park Tulip Gallery can be purchased at www.tulipfestival.ca as well as on site. All other Festival locations have free access.
---
Each Canadian Tulip Festival official site, mentioned above, will include a ** Tulip Info Centre ** sponsored by ** Desjardins ** where Ottawa residents and visitors can learn about the Canadian Tulip Festival's 65
th
Anniversary celebrations, obtain detailed information about 2017 program activities, explore tour options offered by ** Bicycle Escape ** , ** Ottawa Walking Tours ** , ** Rideau Canal Cruise ** and ** Hop-On Hop-Off ** and pick up official Canadian Tulip Festival souvenirs.
"Not only is 2017 a milestone year for the Festival, it is also the year we welcome back Michel Gauthier who operated the Festival for 15 years from 1992 to 2005. Many friends of the Festival from over the years know Michel's talent for vision and his passion for the Tulip Legacy. We congratulate him on his vision and passion to expand the Canadian Tulip Festival into a Capital garden experience for residents and visitors," stated David Luxton, Chair of the Canadian Tulip Legacy, sponsor and supporter of the Canadian Tulip Festival.
The Canadian Tulip Festival is proud to plan its 65
th
Anniversary in partnerships with the Embassy of the Kingdom of the Netherlands, the City of Ottawa, the National Capital Commission, Ottawa Tourism, Ottawa Chamber of Commerce, Celebrate Ontario, Canadian Heritage and Ottawa 2017 along with our Friendship Embassy partners who help to offer residents and visitors a unique celebration of the tulip. ** Daily admission tickets on sale at www.tulipfestival.ca/visitor-info/tickets/ **