FEATURED: Book launch of "Chaudière Falls" by David Mulholland, December 10
** On Saturday, Dec. 10, 2016, ** Ottawa author ** David Mulholland ** will launch _ Chaudière Falls _ , his third novel of dramatized history, from 1 p. m. to 5 p.m. in the Colonel By Room at Ottawa City Hall. A percentage of sales will be donated to the Bytown Museum. All are welcome. Light refreshments will be served.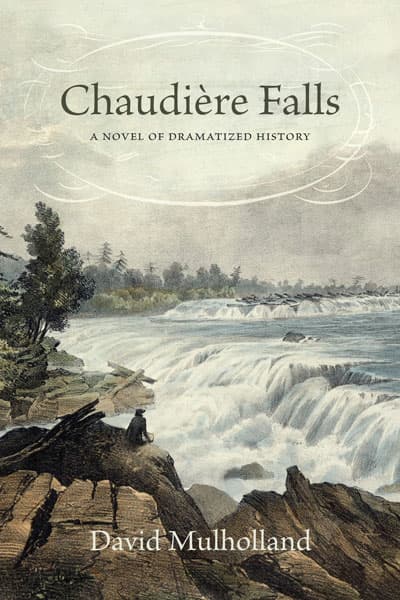 ** About the novel: ** On March 7, 1800, Philemon Wright, a farmer from Woburn, Massachusetts, arrives on the north shore of the Ottawa River in Hull Township in Lower Canada. On September 1, 1860, on the south side of the river, in the united province of Canada, Queen Victoria's son, Prince Albert Edward, lays the cornerstone for Canada's Parliament Buildings on Barrack Hill in Ottawa.
While David Mulholland's third 'novel of dramatized history' brings to life the _ real _ events that unfold between those two dates - Wright's determination to establish a community of farmers, the political scheming that results in Ottawa becoming Canada's capital - it's also the story of immigrants struggling for survival in a new world. Among them, Jedediah Jansen, who is 10 years old when his family arrives with Wright's party. Jed marries, enters the volatile timber business, is overwhelmed by both, and his life spirals out of control.
In Bytown, the settlers' attempts to establish a peaceful community are further exacerbated when the government in York (Toronto) refuses to confer legal status on the settlement. Its inhabitants' strong resentment to Colonel By's civil authority gives rise to rampant self-serving politics, religious bigotry, and barbaric violence.
"When I began researching and writing this story in February 2009, it had not yet dawned on me that, in 2017, we'd be celebrating 150 years of confederation," Mulholland says. "Although serendipitous, publication at this time ties in nicely with our country's sesquicentennial." _ Chaudière Falls _ - it's not only the water roaring over the cataract that's causing   turbulence!
More info: davidmulholland.ca