FEATURED: A Tribute to Elvis in Concert - May 5 & 7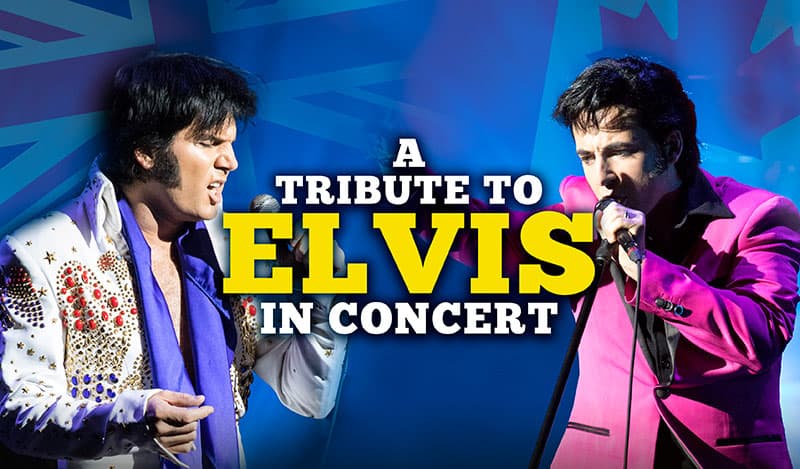 _ ** THE MOST ANTICIPATED ELVIS EVENT OF THE YEAR RETURNS! ** _ Back by popular demand! Paquette Productions is happy to announce the return one of the most successful Elvis shows of the year, A Tribute to Elvis in Concert, featuring two of the world's most coveted Elvis Tribute Artists known today: Pete Paquette from Toronto and Chris Connor from the United Kingdom. In the past two years, this dynamic duo have been performing their amazing Tribute show in front of thousands of Elvis fans across our nation. Accompanied by a eleven piece band, their incredible talents and showmanship makes this show a must see live concert for any rock'n roll music fan.
May 5: Centrepointe Theatre - tickets & info May 7: Shenkman Arts Centre - tickets & info Canada's Premier Elvis Tribute Artist, Pete Paquette, a multi-award winning performer who has toured across Canada with his self-produced show Elvis: The Moments, will set the stage with explosive energy, recreating a performance of two of the Kings' most defining moments of his career, from his early Rock & Roll years to his electrifying 1968 Comeback Special in his famous Black Leather Outfit.
Direct from the United Kingdom, Chris Connor, from the World Famous Elvis Show, within a few short years has skyrocketed himself to becoming one of the most popular and sought after Elvis Tribute Artists in the world. His natural looks and voice astound his audiences at every concert. Chris delivers a powerful tribute to Elvis in the Concert Years which will leave you mesmerized from beginning to end. ** More info: ** www.paquetteproductions.com www.chrisconnor.biz https://www.youtube.com/watch?v=J88z_9qp-pw