Fake Friday: Cat Bus Drivers Hazardous, Says Watchdog
[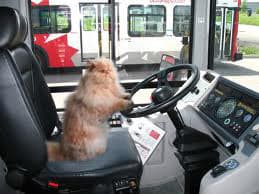 ](http://ottawastart.com/wp-content/uploads/2012/11/catdriver.jpg)
_ Ottawa _
The recent hiring of cat bus drivers within OC Transpo has one city watchdog upset and warning they may pose a serious hazard on city streets. With most cat drivers taking over the more stressful bus routes within the city, watchdogs are warning that the cat drivers could suddenly turn erratic, causing sudden changes in direction of the bus, or even applying the brakes dangerously.
City watchdog, Rufus, says the cat drivers can not be trusted and should be placed in a training program before being allowed to operate transit buses within the city. One cat driver, Wiggles, is upset the watchdog would make such a statement when no accidents or incidents involving cat drivers have ever been reported.
Read the full report from the-o-dot…
**
** ** See also: ** Ottawa OC Transpo Guide
If you liked this post, you should ** subscribe to etcetera , ** our free email newsletter. Featuring cool Ottawa events, interesting local news and contests and giveaways. Thanks!