Escape rooms offer a true escape from reality
You're locked in a small, windowless room with your friends. The clock ticks down the 45 minutes you have to find the clues, solve the puzzles and escape with your lives.
There is no real danger, of course. The windowless room is a part of Jigsaw Escape Rooms in the ByWard Market, one of several such "escape rooms" in Ottawa. It's been around for a little over a year now, having opened in May of 2015.
Matthew Prendergast owns it along with his brother David. He told OttawaStart.com the goal is to give people a chance to escape reality.
"We are so glued to our phones and televisions that it's nice to go out and do something social with friends and family," Prendergast said. "It teaches you to work together and communicate with your team in order to complete objectives."
[caption id="attachment_42893" align="aligncenter" width="3264"]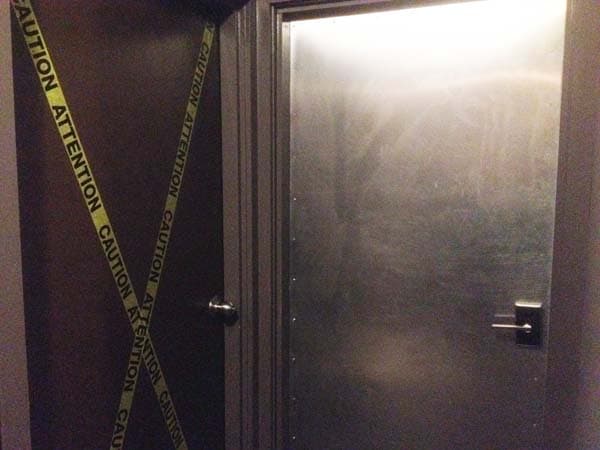 Doors of two rooms at Jigsaw (we weren't allowed to photograph the interiors)[/caption]
Matthew invited me to try it out for myself. Free was a pretty square deal, so I brought along two of my friends and soon we found ourselves testing our wits in "The Heist" - one of three scenarios currently available at Jigsaw.
Description of The Heist from their website: _ " _ _ You are part of a elite crime syndicate responsible for many high-end robberies. _ _ Your last job net over $10,000,000 in diamonds. _ _ Everything went to plan, until one of your associates double crossed you and took the score for himself. _ _ After gathering intel, you have now found the location of his safe house. _ _ Break in and take him for everything he's got! It's time to get even. Make it out before he returns and takes you out for good!" _ Again – no danger. You're in downtown Ottawa. Stay cool.
I won't give away any clues, but everything is there for a reason and everything means something. You may find some numbers – are they a combination to a lock? You'll find a clue, but need to find another clue to understand the first one. What does this mean? Is that significant?
Despite our best efforts, my team only got halfway through all the puzzles when the clock ran out. We weren't alone – only around one in four teams escape The Heist.
If a heist doesn't sound like your gig, there are two other rooms – The Cabin and The Study. Prendergast says they will add new rooms in the future and change the current ones.
If you're looking for something new and exciting to do in Ottawa, I recommend checking out Jigsaw Escape Rooms. It's a great team game, excellent for family and friends. Pretty cheap entertainment at $20 per person. You can book online here . _ Devyn Barrie is an editor for OttawaStart.com . He also writes for our sister site, StittsvilleCentral.ca and runs Stittsvegas.com , a Stittsville podcast. _