Epic Carling Bridge Replacement: THE MOVIE
** UPDATE: ** More time lapse vids & photos emerging this morning, I'll keep posting them at the bottom of this blog post. *** One of our readers, Terri O., sent along this video (below) showing part of the Carling Avenue / Queensway bridge replacement. She says:
"The Ministry of Transportation of Ontario is doing this crazy bridge replacement on the Queensway in Ottawa, Canada and they set up webcams so people could watch it. I took it a step further and made a stop motion video, so you can now watch a good chunk of the bridge replacement condensed into 2 minutes and set to epic music. Because neat feats of engineering are pretty epic and need a movie-quality soundtrack. ;) (Or, ok, because I thought it was funny to be so over the top about this bridge thing.) The music is [ LA BÚSQUEDA DE IANNA by Epic Soul Factory ](http://www.jamendo.com/en/album/85641) . It's used under creative commons license."
[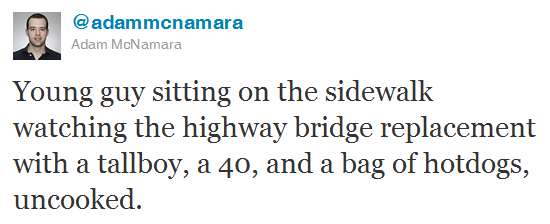 ](http://ottawastart.com/wp-content/uploads/2011/07/Twitter-2540adammcnamara-Young-guy-sitting-on-the-s-....png)
I think we missed a big opportunity here to start an annual ** "Ottawa Bridge Replacement Festival" ** .  The MTO set up bleachers and giant video screens for spectators – we could have gone a step further and set up beer tents , invited some local bands, and taken it to the next level.  Maybe next year?
Follow the #carlingbridge hashtag on Twitter for more.
Oh yeah, here's that video:
And here's another time lapse video from Rick Arbuckle , who was on the scene:
"Amazing work that they did - shut down the highway at 6:00pm and right on schedule at 7:30pm they started removing the old overpass.In the second angle you can see a crawler moving to pick up the new eastbound overpass. Just after dark they turned it and brought it in. As it is being brought into position you can see the westbound overpass being moved in. The last shot was taked just after 11:30pm -Total 4 hours, like I said amazing."
**
**
** See also: ** Ottawa Driving Guide
If you liked this post, please consider subscribing to our blog via email, Twitter, Facebook or RSS. Thank you.