EDITORIAL: Ottawa needs to stop issuing proclamations before it shoots itself in the foot
[caption id="attachment_67963" align="aligncenter" width="1000"]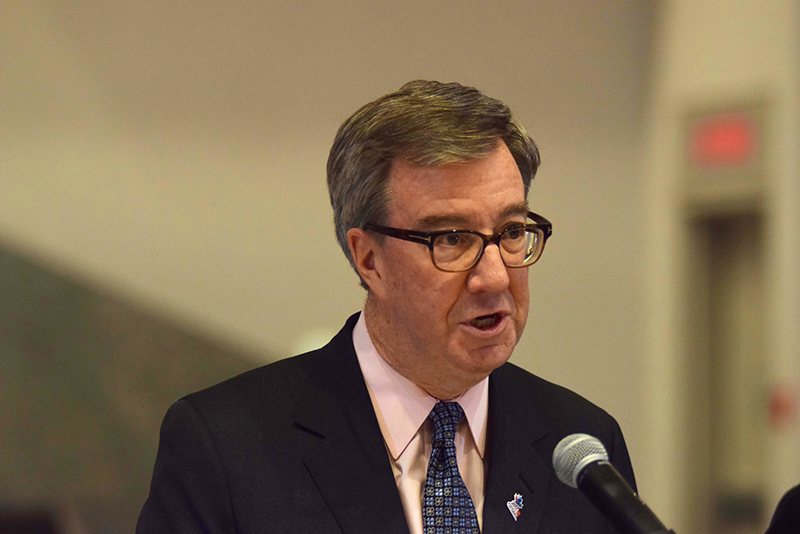 Mayor Jim Watson issues anti-abortion proclamations, but that doesn't mean he agrees with them. (Devyn Barrie/OttawaStart.com)[/caption]
The controversy last week over an anti-abortion flag flying over City Hall reminded us of a problem with the city's issuing of proclamations on request – that there is little discretion and one way or the other, it'll come back to bite us.
Although most of the public attention was on the flag and policies surrounding whose flag gets onto City Hall's poles, escaping attention was Mayor Jim Watson's proclamation on behalf of March for Life to commemorate the day.
According to City Clerk Rick O'Connor, Watson does this not because he is against abortion, but because he has little choice.
"The Ontario Human Rights Tribunal has ruled that… the refusal of a mayor may constitute a contravention of the Human Rights Code," he wrote in a memo released to the media Thursday afternoon, after the flag was taken down – as it turned out that flying the flag broke the city's policy because it was requested by an individual.
Inconvenient truth – that ruling was because the City of Hamilton's mayor in the '90s wouldn't proclaim Gay Pride Week.
Ugly history aside, that ruling now binds us to embarrass ourselves in perpetuity with March for Life proclamations et al.
The city's best fix is to say that proclamations should not be considered endorsements.
Clearly this isn't going to work. Even if Watson suffers no political fallout (whether or not it's actually his fault), it's not fair to subject the city and its residents to this system. There's real potential for embarrassment here, if it isn't obvious already.
This editorial seeks not to wade into the abortion debate. But if not abortion, what other topics would be similarly unsightly for the City of Ottawa to proclaim?
What happens if a request comes in for the mayor to proclaim Straight Pride Day (or something along those lines of absurdity)?
The only conditions under which a proclamation can't be issued are if they are politically or religiously motivated, go against city by-laws or policies, espouse hatred or discrimination, are not related to Ottawa, are intended to make profit or violate the Ontario Human Rights Code, according to O'Connor.
If abortion didn't fall under any of those categories, it's possible neither would Straight Pride Day. Who makes such a determination? What would be the reaction of residents and others to such a decree?
The potential for abuse is too much to risk. It's time to get out of the proclamations business. – _ Devyn Barrie, managing editor. _ _ Agree or disagree? Drop us a line at feedback@ottawastart.com or comment below. Letters may be edited for style and clarity. _