Crashed Ice: World champions crowned, in photos
"Trophy's in my spot," said Cameron Naasz as he walked into the drawing room of the Château Laurier, around 10:30 p.m. Saturday night.
Less than 30 minutes earlier, he had been crowned the Red Bull Crashed Ice world champion for the second season in a row, making him the only man to defend the title.
Naasz walked across the room, which had been converted into a workspace for dozens of journalists and photographers covering the tournament. His gold globe trophy sat triumphantly upon a leather couch in the corner of the room.
To the left of it was Dean Moriarty, the Canadian who took second place in the final race and fourth in the overall championship. In an armchair to the right was women's world champion, Canadian Jacqueline Legere. Soon, Jim De Paoli, the Swiss rider who took third in the race, joined them.
[caption id="attachment_62926" align="aligncenter" width="6000"]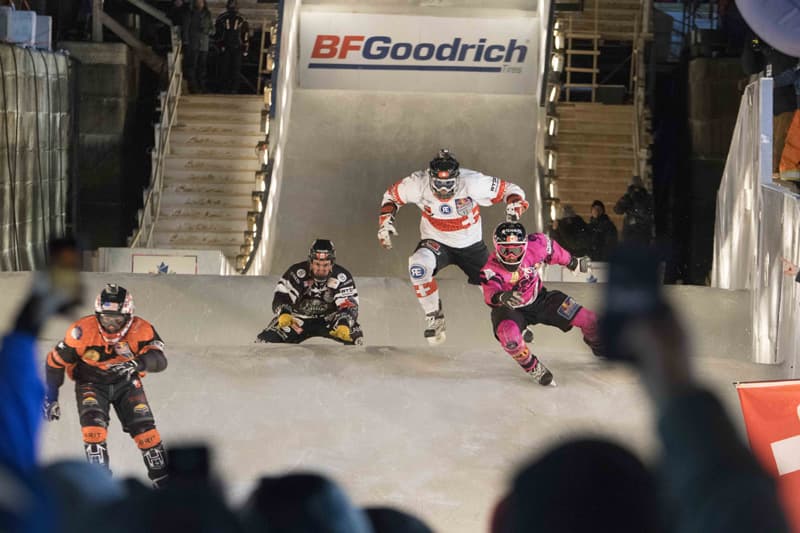 The final seconds before becoming world champion. Cameron Naasz in the lead, with Dean Moriarty, Jim De Paoli and in last Scott Croxall. (Devyn Barrie/OttawaStart.com)[/caption]
[caption id="attachment_62929" align="aligncenter" width="6000"]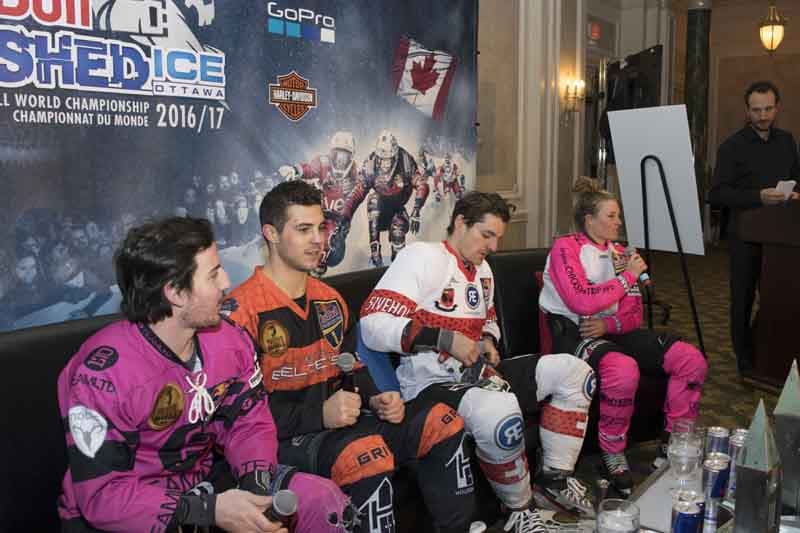 From left: Dean Moriarty, Cameron Naasz, Jim De Paoli, Jacqueline Legere and Claudio Caluori at a press conference after the championship.[/caption]
[caption id="attachment_62919" align="aligncenter" width="6000"]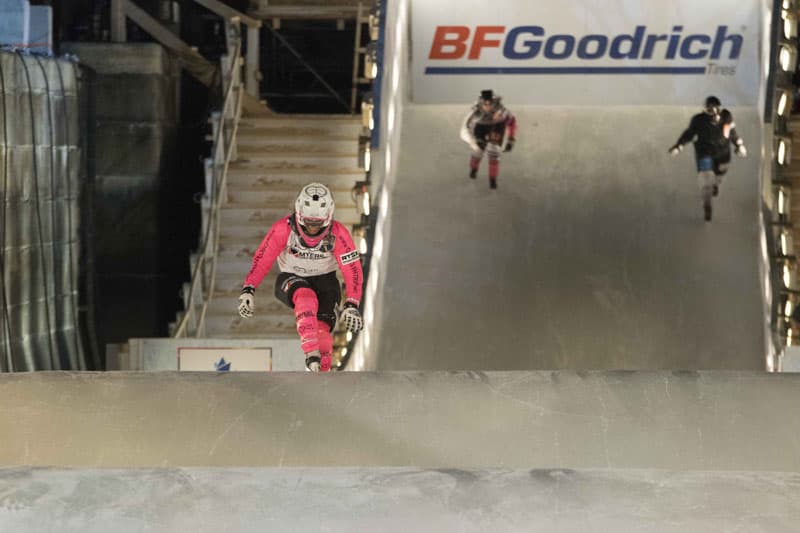 Jacqueline Legere approaches the finish line in the final race that would crown her champion. (Devyn Barrie/OttawaStart.com)[/caption]
None of the riders had changed from their gear, and since they entered the smell of champagne (which they sprayed at the finish line) and sweat started to waft.
It was a long night. The official schedule called for the races to begin at 6:30 p.m., but it was pushed back to start at 7:30 p.m. All the while, the evening hovered around -15 C and felt like -23 with windchill.
"We were surprised how tough Canadian people were, standing in the cold," said Claudio Caluori, the Red Bull official in charge of the track.
Tough and willing. Among the thousands who turned out was Prime Minister Justin Trudeau. "It's great that the weather worked out like this!" Trudeau commented on Red Bull TV, brushing off the cold.
The championship is usually held in Quebec City and it took nine years of convincing by Guy Laflamme, the director of Ottawa 2017, to get Red Bull to bring it to the capital.
"I think Ottawa did a good job here," Naasz told _ ** OttawaStart.com ** _ . He said it wasn't lost on him or his fellow riders that they were incorporated into Canada's 150th celebrations. "That means a lot." _ Photos by Devyn Barrie/OttawaStart.com. _ [caption id="attachment_62927" align="aligncenter" width="6000"]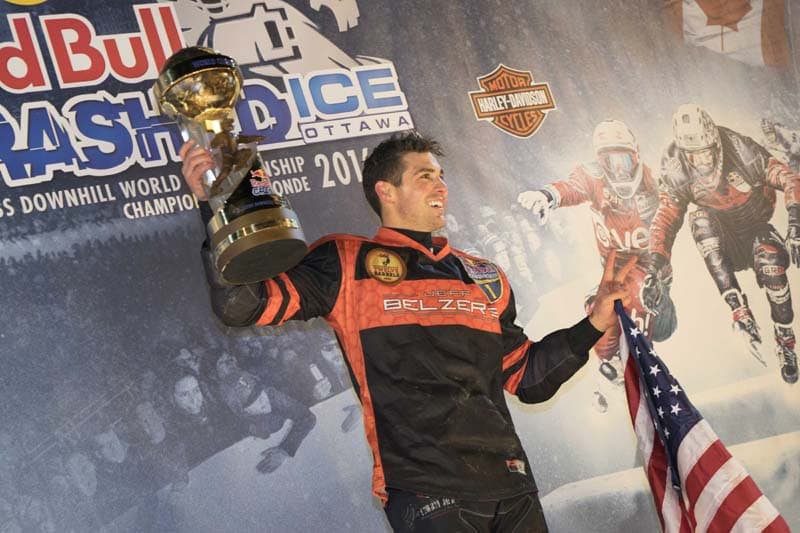 Naasz holding his trophy and the American flag after being crowned world champion for the second season in a row.[/caption]
[caption id="attachment_62923" align="aligncenter" width="6000"]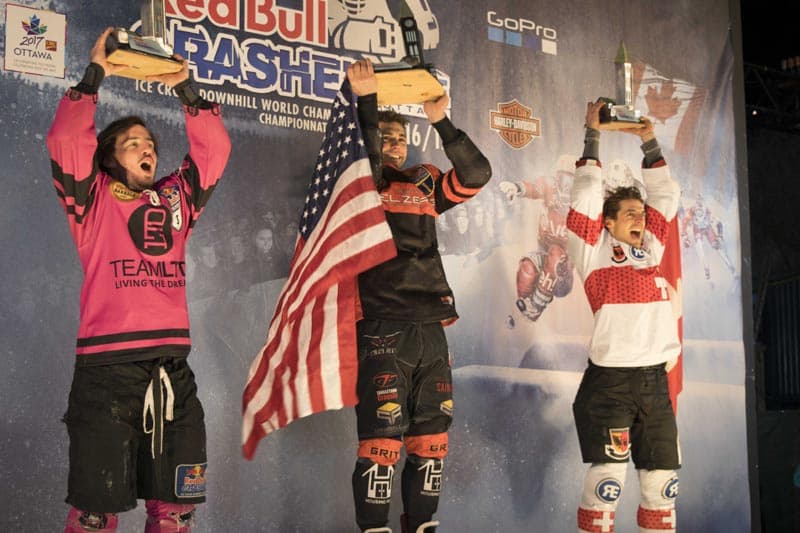 From left: Dean Moriarty, Cameron Naasz and Jim De Paoli on the champions' podium at the finish line.[/caption]
[caption id="attachment_62922" align="aligncenter" width="6000"]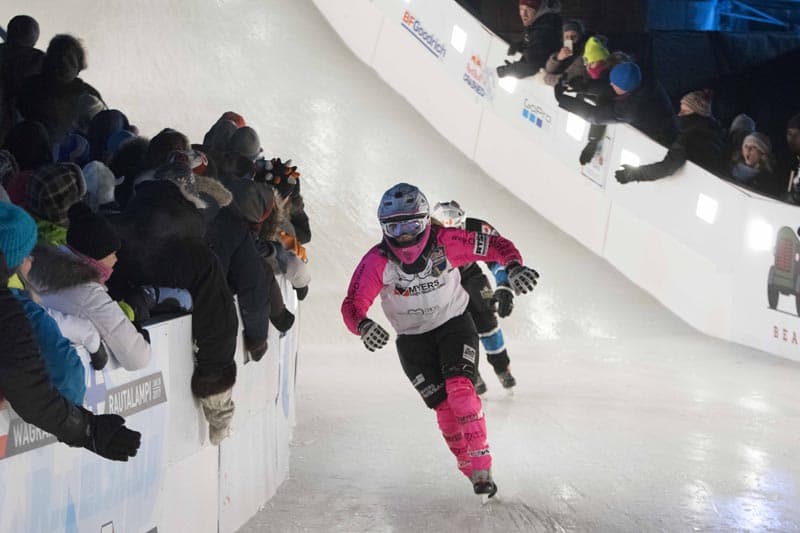 Jacqueline Legere in one of her final heats before the championship race.[/caption]
[caption id="attachment_62920" align="aligncenter" width="6000"]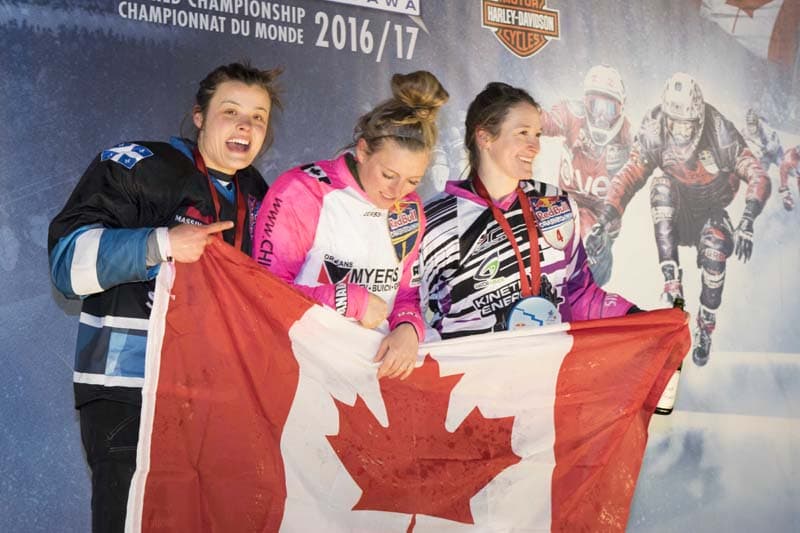 From left: Maxie Plante, Jacqueline Legere and Elaine Topolnisky hold up the Canadian flag after Legere won the women's world championship. All three are Canadian.[/caption]
[caption id="attachment_62921" align="aligncenter" width="6000"]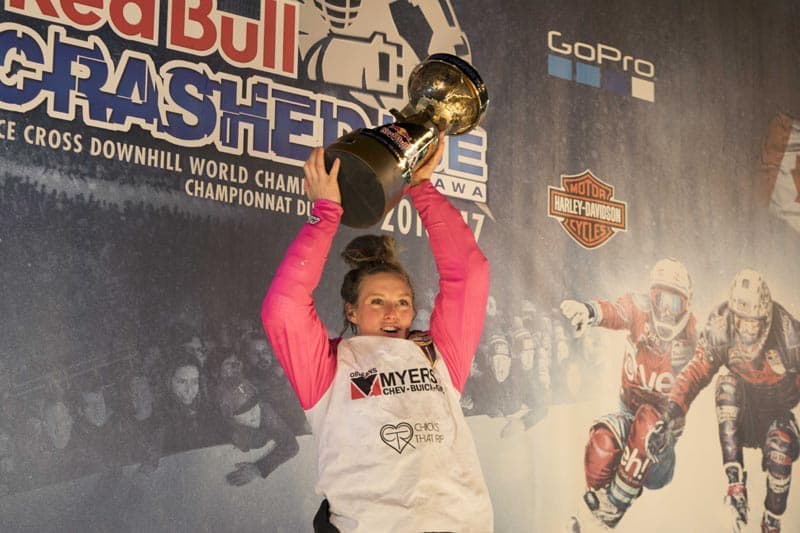 Jacqueline Legere shows off her trophy.[/caption]
[caption id="attachment_62925" align="aligncenter" width="6000"]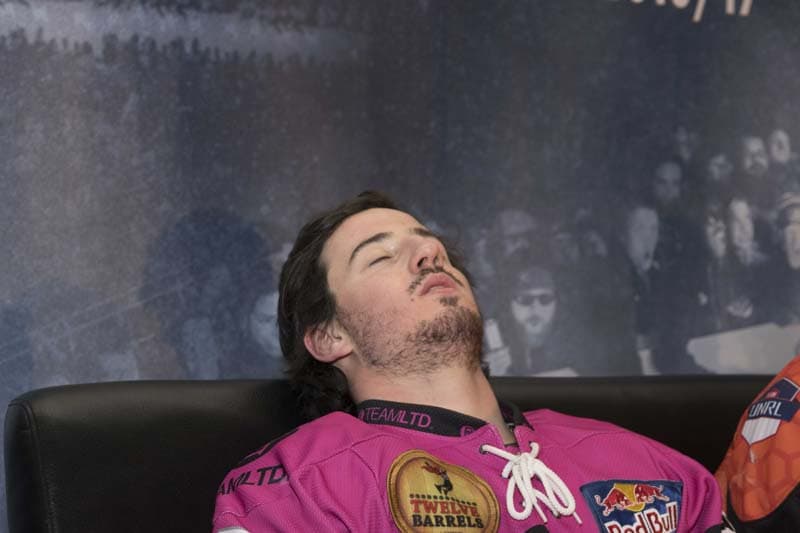 Dean Moriarity hangs his head back during a press conference following the world championship.[/caption]
[caption id="attachment_62914" align="aligncenter" width="6000"]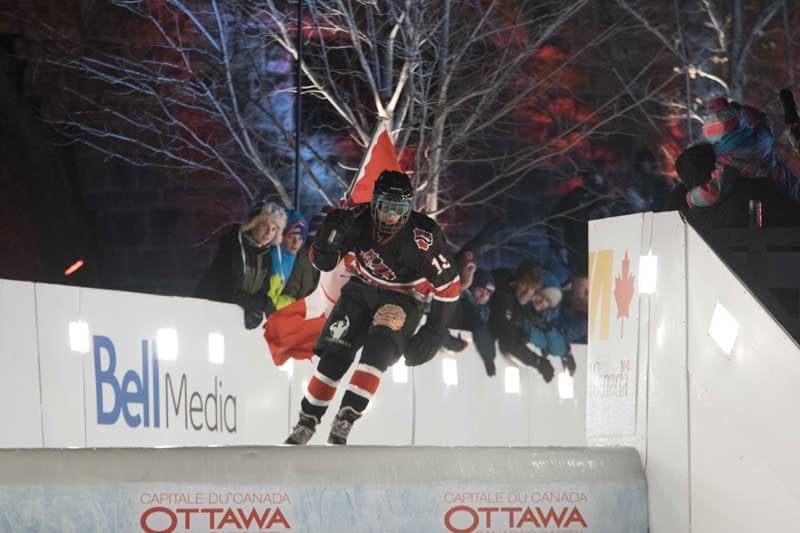 The Canadian flag is carried along the track during the opening ceremony of the world championship.[/caption]
[caption id="attachment_62917" align="aligncenter" width="6000"]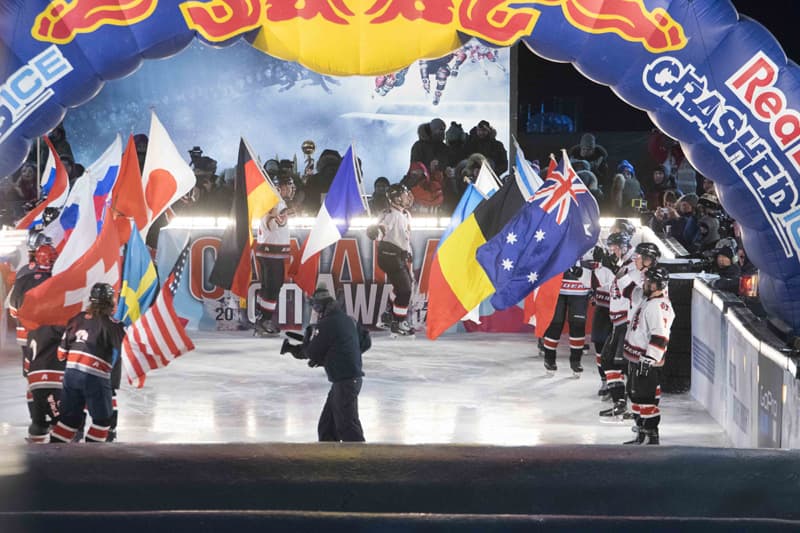 During the opening ceremony, riders from each nation competing skated with their flag by the finish line.[/caption] ** See more Crashed Ice photos here… **