CONTEXT: the SIU, explained
Every time there is a serious injury, death or allegation of sexual assault in an incident involving police, the Ontario Special Investigations Unit (SIU) is called in.
That is exactly what happened Sunday, when a man was seriously injured while being arrested by Ottawa Police outside a Hintonburg apartment complex. Abdirahman Abdi suffered a cardiac arrest in the incident - one which witnesses told media involved officers kicking and hitting him.
He was taken to the Ottawa Hospital, where doctors tried to save his life. Abdi was pronounced dead at 3:17 p.m. Monday.
https://twitter.com/SIUOntario/status/757682979456057344 ** Related: ** #JusticeForAbdi trends after man arrested in Hintonburg dies. Now, the SIU will investigate and determine whether the officers involved acted criminally. ** What we know so far ** The SIU does not release many details about their investigations. We know they have assigned five investigators and one forensic investigator to the case.
Two Ottawa Police officers have been designated as "subject officers" - meaning they are the focus of the investigation. On Tuesday, the CBC and Ottawa Citizen identified the officers as Patrol Const. Dave Weir and DART Const. Daniel Montsion.
Another five officers are being interviewed as witnesses. ** How does an SIU investigation work ** ** ? ** Very much like an ordinary police investigation, the SIU's Jason Gennaro told _ ** OttawaStart.com ** _ .
[caption id="attachment_45410" align="aligncenter" width="595"]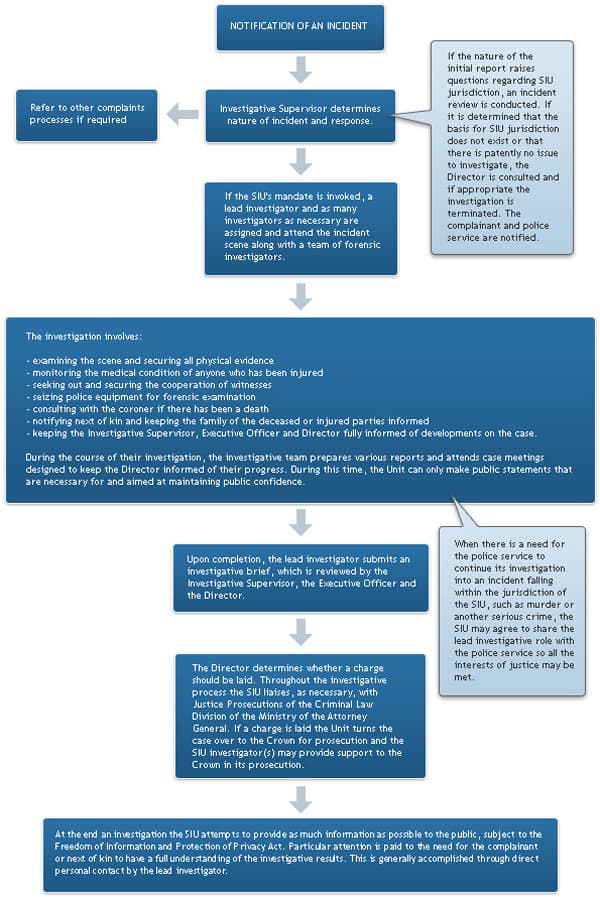 Diagram showing the SIU's investigative process (Via SIU)[/caption]
Gennaro said the investigation's scope is squarely on determining whether officers acted criminally.
The narrow scope means it is unlikely to tell us whether Abdi's race (or mental health) played a role in the incident, as alleged by some observers.
https://twitter.com/DesmondCole/status/757674561647308801
(Ottawa Police Association President Matt Skof told CFRA it is unfair to accuse the involved officers of racism.)
The SIU also does not make recommendations on how to prevent future incidents, so it would be up to another party to determine whether better training for police could have made difference.
"That's not our focus," said Gennaro. "Our mandate is to look into whether or not the actual incident is a criminal incident and if so, if charges are warranted."
Four weeks ago, Ontario Ombudsman Paul Dubé released a report which said police in Ontario are not receiving sufficient use of force training.
"Ontario officers have plenty of training on how to use their guns, but not enough on how to use their mouths," the report said. ** What kind of power does the SIU have? ** Generally, the same sort of powers as police would have in a normal investigation.
Subject officers have the same rights as any suspect under a normal police investigation, including the right from self-incrimination. This means the SIU cannot force them to give an interview or submit their notes.
Anyone else involved in the case ** can ** be compelled to provide evidence and interviews to investigators.
"In terms of investigations, it is the normal thing that you would expect in any investigation," said Gennaro, "We would collect evidence from witnesses, collect forensic evidence… etcetera."
The SIU has complained in the past of lacking the teeth to force police to cooperate with their investigations. A 2008 report by then-Ombudsman André Marin made 45 recommendations, none of which have been put in place. ** How long will the investigation take ** ** ? ** The SIU's goal is to complete most cases within 30 business days, but the majority take months. Some go on for over a year. ** What happens next ** ** ? ** Once the investigation is wrapped up, it will be up to SIU Director Tony Loparco whether there is enough evidence to lay charges. If so, the criminal justice system takes over and prosecution begins.
The Director also writes a report detailing the investigation and reasoning behind the decision on whether or not to lay charges. Reports are only for the Attorney General (who happens to be Ottawa Centre MPP Yasir Naqvi) and are rarely ever publicly available. The Ottawa Citizen has an editorial out demanding Naqvi make the final report public when it is ready. After an SIU investigation, Ottawa Police have to launch an administrative investigation, to review policies and officer conduct. It must be completed within 30 days and would be reported to the Police Services Board.
In the meantime, a funeral for Abdirahman Abdi will be held Friday.