Winter trail project exceeds crowdfunding goal
[caption id="attachment_53886" align="aligncenter" width="600"]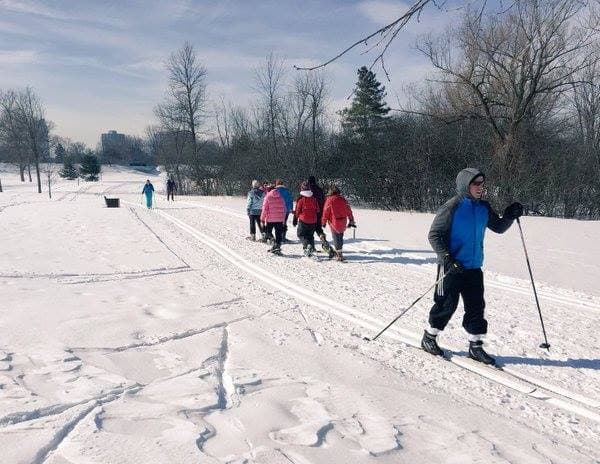 The Sir John A. Macdonald pathway during a pilot project that saw a trail groomed for two weeks. (Via Dovercourt Recreation Association)[/caption] _ ** Update - The crowdfund has raised 105% of its $20,000 goal. An updated version of this Oct. 13 story is below. ** _ The Sir John A. Macdonald pathway – great for three seasons a year, almost unused during winter.
Dave Adams is hoping to change that. He's raised more than $21,000 from the community to fund a permanent, groomed winter trail along the entire pathway.
Adams, a professional trail groomer, has worked on the project since last winter. In February, he was asked by the Westboro Beach Community Association to groom parts of the pathway for two weeks as a proof of concept – with incredible success.
"I was so impressed," Adams told ** _ OttawaStart.com _ ** . The trail became a hotspot of activity with hundreds of skiers, joggers, walkers, winter cyclists and more. Up to 216 people were recorded using the trail in the space of an hour.
A winter trail of its kind is unprecedented. While there have been attempts in the past, Adams says they didn't work out. There is limited use of the path during winter because someone has to break trail, and nobody wants to be that person. "You never wanted to be the first in the morning," Adams said. "It was there, but it was crude at best, and then I came in."
After the pilot, Adams decided he wanted to make it permanent. The WBCA wasn't a large enough organization to fund it alone, so they partnered with the Dovercourt Recreation Association. They're also getting support from the National Capital Commission, the Champlain Park Community Association, several ski clubs and a few local politicians - particularly Kitchissippi Councillor Jeff Leiper, who helped with a down payment on the grooming machine.
> > ### _ "This is a community project." _ > >
Moving forward, Adams wants to continue the project for as long as possible. He wants to groom up to 16 kilometers worth of trail, three to five times a week, stretching from Dominion Station to the Canadian War Museum.
To pay for it, he's spent hours filling out grant applications and asking around for corporate sponsorships, on top of the crowdfund.
The groomer has already been purchased at a price just under $30,000. Adams says it should be delivered by the first week of December and will be ready in time for Christmas. He'll start as soon as there's snow and continue until it melts.
"I'm hoping for a white Christmas."
The crowdfund closed on Nov. 14.