COMMENT: Ottawa's great cycling infrastructure — lanes that go nowhere and a light that doesn't work
Bikes at the uOttawa campus. Photo by Jordan Schulz, used under a Creative Commons license.
Bike to work month is over and, while I see others posting about 100+ kilometres logged for the last few weeks, I've finished it out with only about 46 km down.
Although I've been urban cycling for a few years, those were the most informative 46 kilometers yet because I decided to keep track of my routing and experience while running them. It allowed me to collect some great examples of road engineering that's bad for cyclists.
This past month has been a busy time in the Ottawa cycling world, with plenty of conversation in the public domain over the sorry state of cycling infrastructure the city provides.
This is an important conversation to have, given the city is trying to encourage more people to bike for utilitarian trips, like commuting or running errands. Cycling has a ton of benefits, for society and individuals. It has the potential to majorly reduce greenhouse gas emissions for transportation purposes — just my 46 klicks alone saved almost 12 kg in carbon out the tailpipe, according to the Bike to Work Ottawa tracker. It's also great for people's health because it gets you moving and exposed to fresh air. It's cheaper too — you save money on gas and insurance, while society saves money through less road wear and tear, reduced congestion, as well as less negative environmental impacts.
But people are not going to bike if they can't do it safely. Unfortunately, as we saw through two high-profile traffic incidents in May, including the death of one cyclist and serious injury to another, that is a mixed bag right now in this city.
Let's have a look at my rides to work last month as an example how the situation for bikes can vary on the road.
My office is in East Industrial, off Hawthorne Road. I live in Nepean near Algonquin College, so wasn't planning to bike the entire way, although it could certainly be done. As a compromise, I decided to bike halfway, to Mooney's Bay Station, where I could bus the rest of the way.
Starting near Baseline Road and Deerfield Drive, I'm on the bike and heading out. I travel east via Withrow Avenue, toward Meadowlands. This is suggested as a cycling connector by the city, although the road is in particularly rough shape for bike use. When I get to the intersection of Withrow and Merivale Road, to cross onto Capilano Drive, I do my best to use it as I'm "supposed to", by pulling up in the straight lane like a car would. But I soon realize the lights won't change unless they know a car is there, so I have to use the pedestrian beg button.
Later, I get onto Meadowlands Drive. Not long in and I hit a segment with a line of cars parked at the side. This forces me to take the lane, which I don't like having to do, but am entitled to for my own safety. Can't go getting doored — I have stuff to do today! Conditions are good, so I zip along fairly quickly.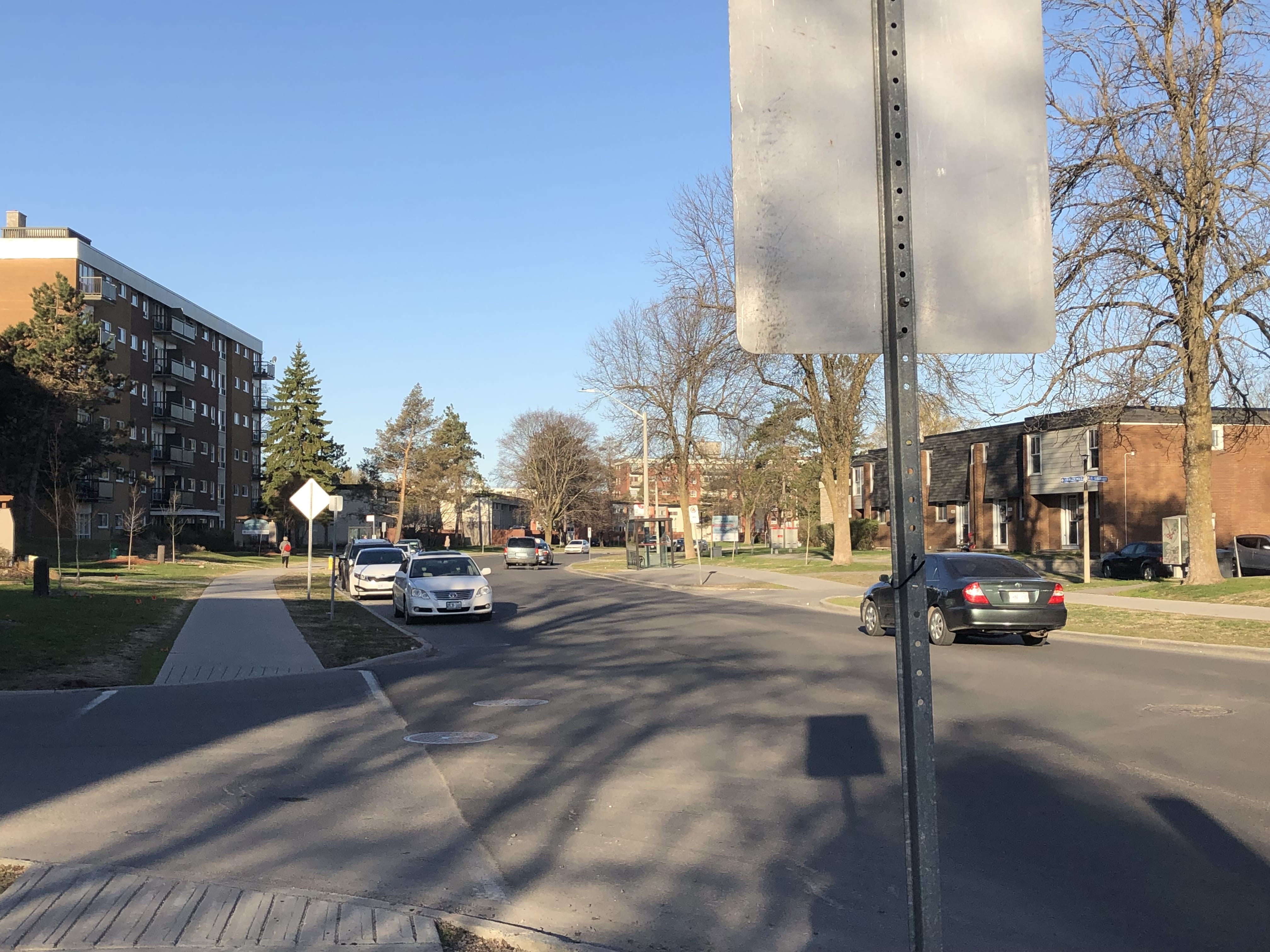 A look back on Meadowlands Drive, where cars are parked along the side.
The road here is in good shape, surface-wise. That's because Meadowlands Drive was ripped up in 2011 for reconstruction that finished in 2013 — the latter being the same year the City of Ottawa adopted its complete streets policy. That's where the city approaches traffic engineering as more than just accommodating cars — complete streets seek to provide safe and high-quality service for any road user, whether cyclist, pedestrian, transit rider or driver.
Under the city's policy, any transportation project (and especially one where roads get reconstructed) is supposed to be an opportunity to improve service for other road users "within the scope of that project." Given the Meadowlands project was finishing when the city adopted the policy, it was obviously not possible to implement in this case. A missed opportunity for this major collector that, quite frankly, is highly useful as a cycling arterial.
There's a number of things wrong with Meadowlands from a cycling perspective. Number one is the car parking — there should not be any on-street parking for any road that is used as a cycling route. If it's a major road for cars, it will be for cyclists as well so the city eliminating these spots would be a very positive improvement.
Another deficiency are these curb extensions. These are intended to aid with traffic calming and reduce crossing distance for pedestrians, but they also help to force cyclists further into the road and into danger. It's well-intended but, with a lack of real cycling infrastructure here, it just doesn't deliver safety.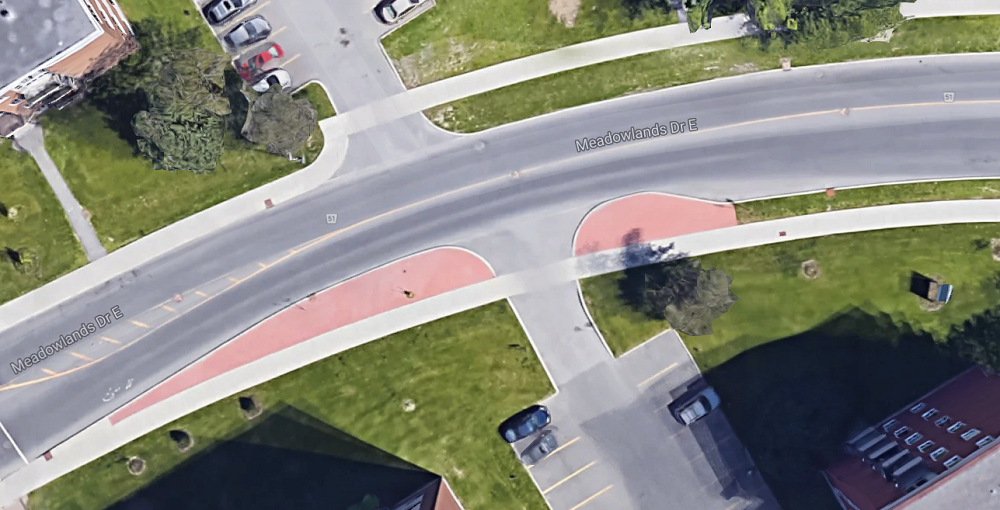 Curb extensions on Meadowlands Drive.
At Fisher Avenue — a mirage? Could it be? A bike lane! Except it goes right into the curb, meaning I need to merge into traffic to avoid crashing.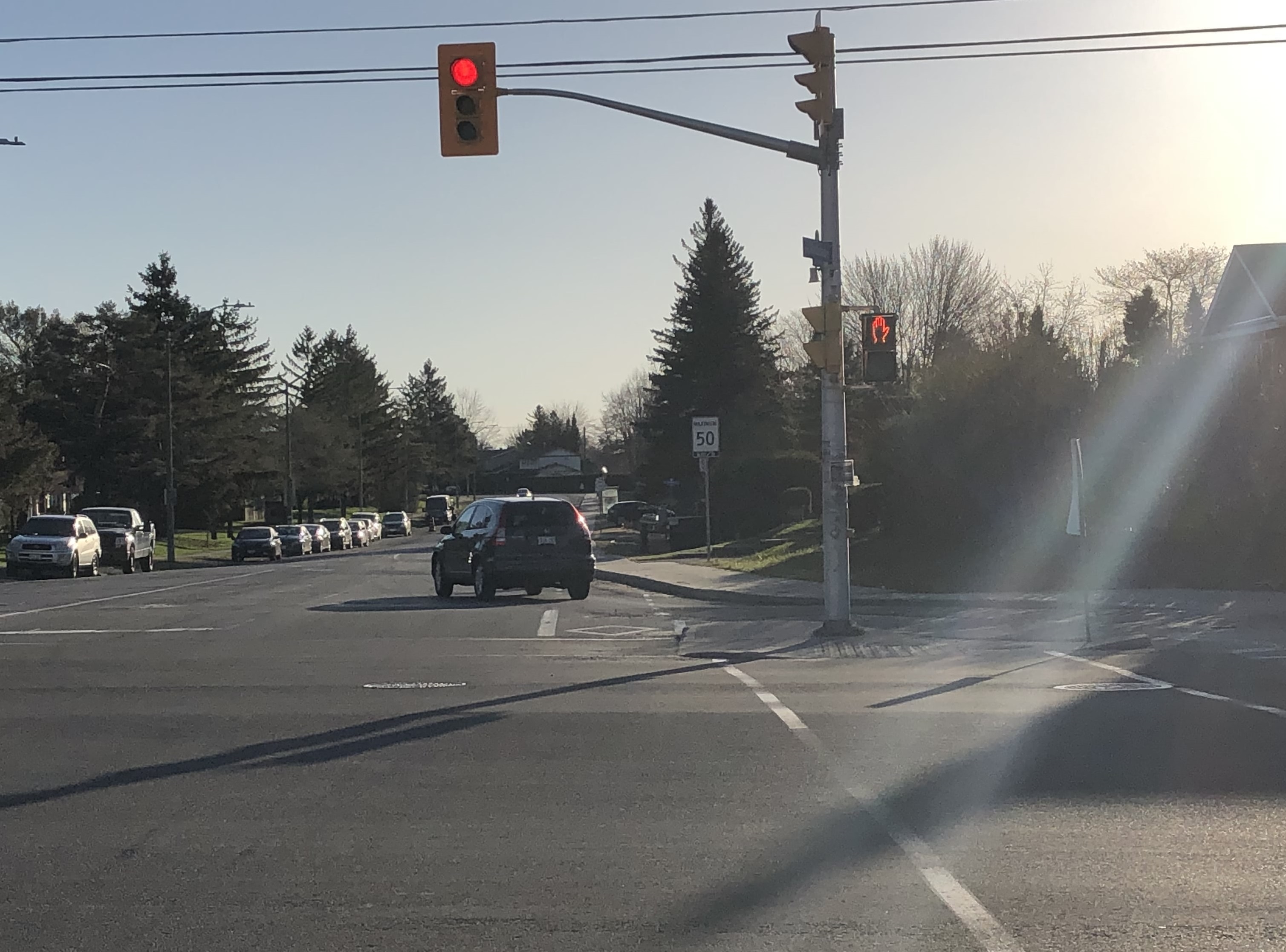 A bike lane heads directly into the curb.
There is an alternative route — Deer Park and Dynes Roads to the north. There's been some work to make these preferred cycling routes, with a neat "complete" intersection at Fisher Avenue that was added in 2017, plus bike lanes coming soon to Dynes Road.
The intersection I mentioned at Fisher Avenue is "complete" only on paper, because it is missing a connection to any other cycling infrastructure and the cycling lights have never been commissioned. The intersection uses "cycle tracks", a type of protected bike infrastructure where a path for cyclists is provided above the curb, usually next to the sidewalk. Not far away, on Prince of Wales Drive, there's a short distance of cycle tracks that would be great to have run down Dynes Road to hook up with this intersection, and continue down Deer Park. But, for now, all we get is a standalone intersection. A testament of the city's complete streets implementation strategy — infrastructure by piecemeal!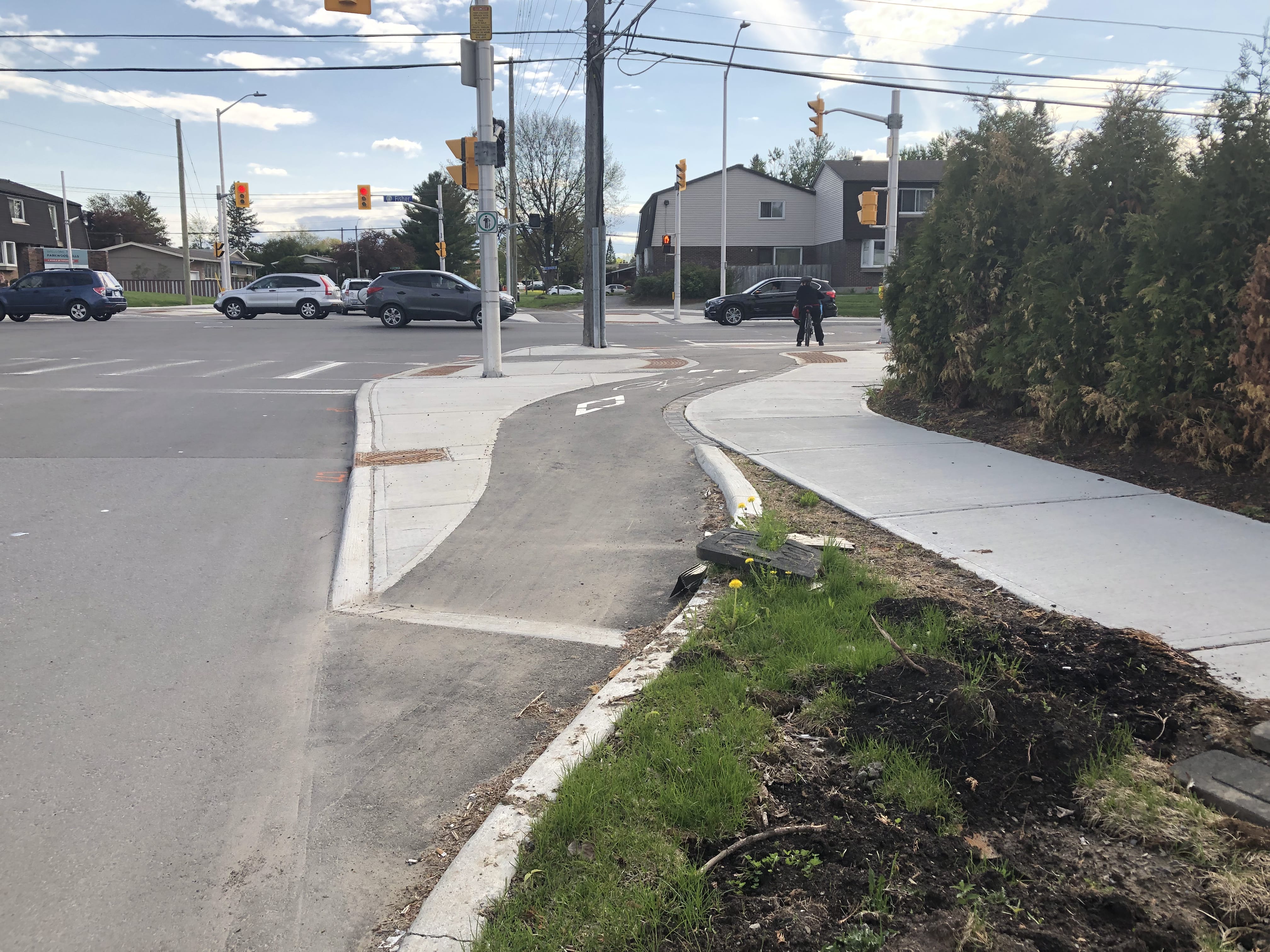 Above: A special intersection for bikes that doesn't go very far.
Below: Cycle crossing lights remain bagged, while lights for cars are fully functional.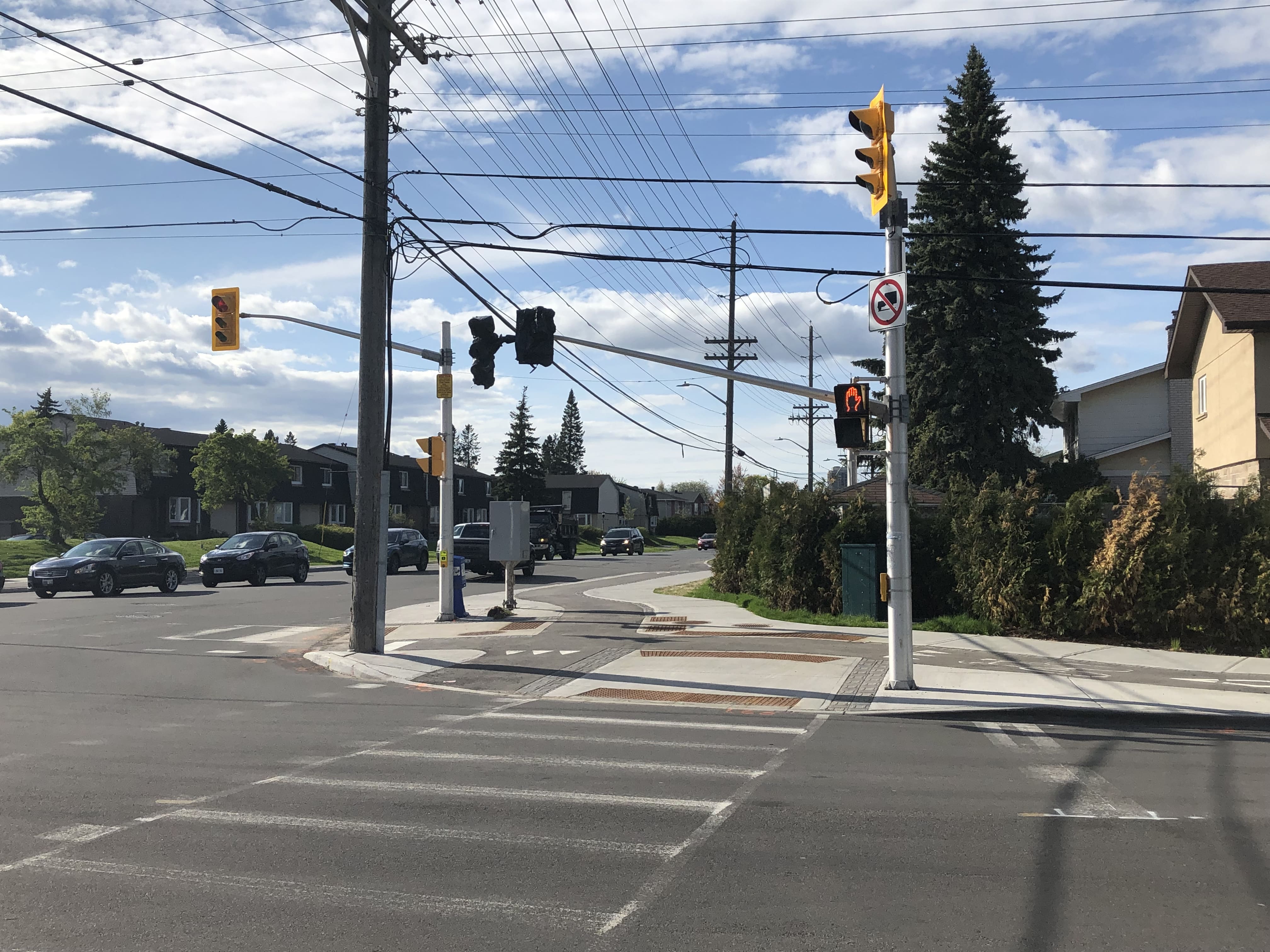 I reached out to the office of councillor Riley Brockington, as a road user, to complain about the incomplete nature of this complete intersection. One of his staffers kindly responded, saying it was added because the road was ripped up for a water/sewer infrastructure replacement project. But, because of a limited budget, this was the best the city could muster. Basically, we'll have to wait until more sewer work is needed in the area before the thing actually connects to something useful for cyclists.
As for the bike crossing lights, the project is still "not completed" so they haven't been turned on. Oh, ok. I just figured since the lights for drivers were working… we could… you know. Oh whatever.
Onward and upward. I get onto Hog's Back Road and cross the bridge — all via sidewalk, because that road is scary with a capital S. Luckily, there is an NCC pathway I can use, which runs through Hog's Back Park.
Down to Heron Road, where there are some highly uninviting bike lanes on the road. Shall I mix in with traffic going about 60–70 km/h? I think not. I stick to the sidewalk.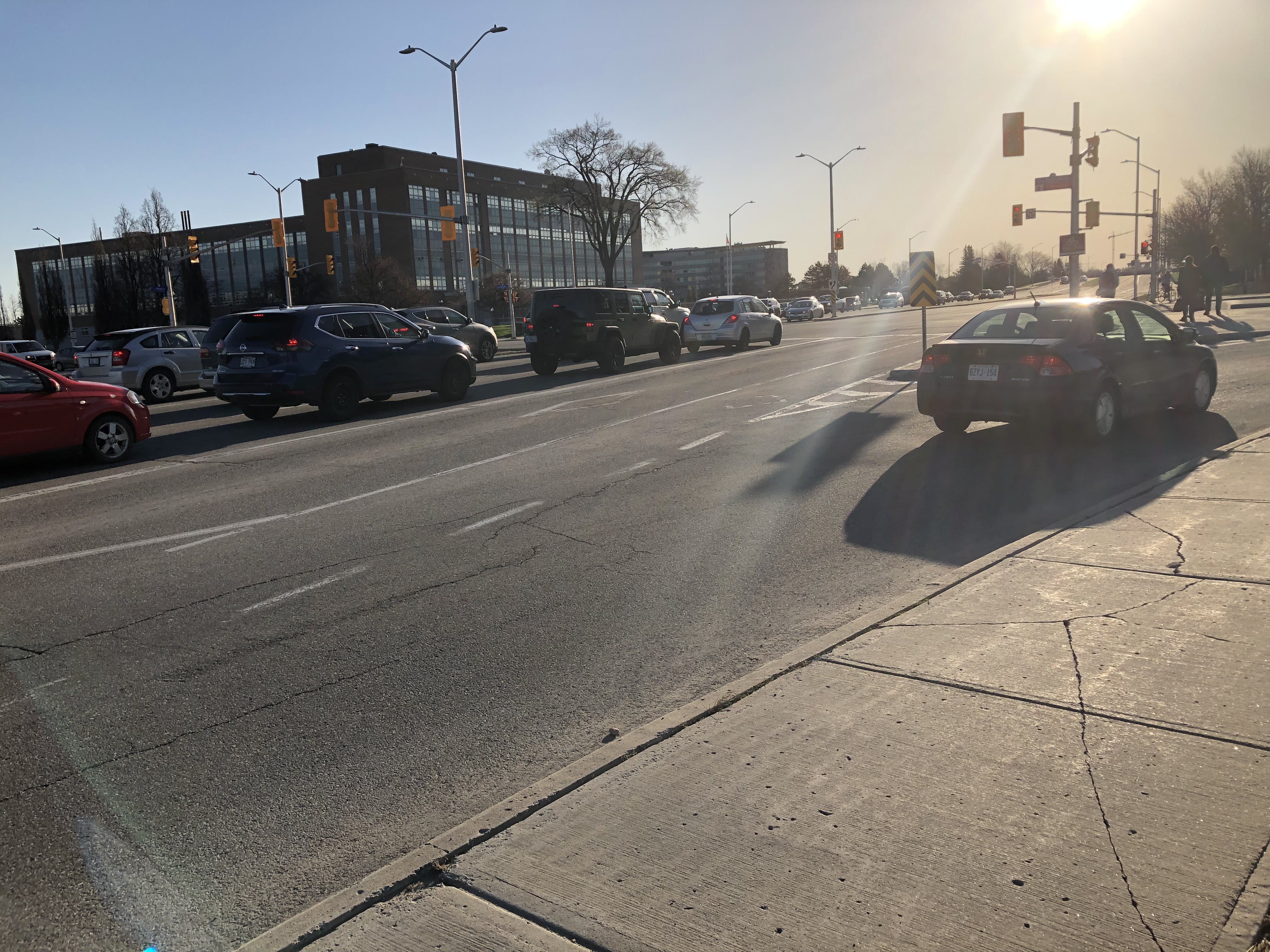 The bike lane on Heron Road is a quick and easy way to get hurt.
In a few minutes, I'm at Mooney's Bay Station. It's 7:08 a.m. and I left the house at 6:40 a.m. Not bad!
Bottom line? Biking (halfway) to work is a great start to the morning — and also a great way to get some insights into the kind of barriers facing people who cycle in this city. I love it, and I bet lots of other people would too if there was some safer infrastructure to do it on. With time, and some pushing, the city may just decide to put its money where its mouth is. Until then, we're spinning our wheels.