Colin White's sketches of Ottawa confectionaries
[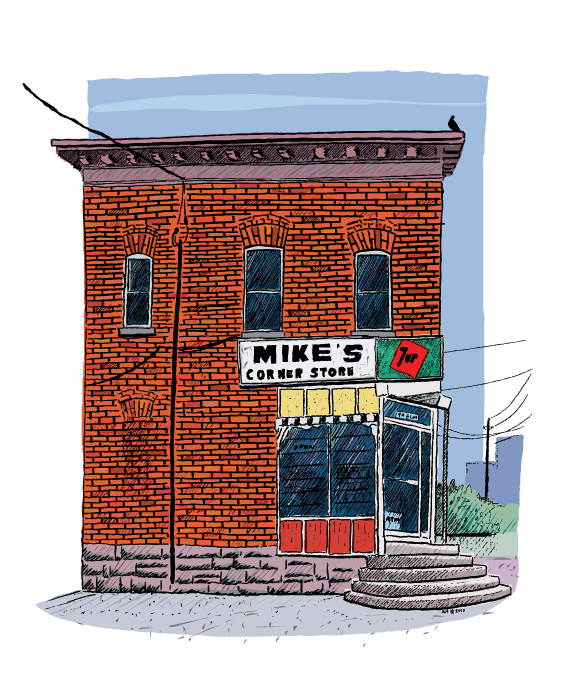 ](http://ottawastart.com/wp-content/uploads/2011/06/Mikes_final.png)

Mike's Corner Store at the corner of Elm and Rochester, by Colin White.  Republished here with permission.
I used to live on Elm Street, right across from Mike's Corner Store.  I live in Stittsville now and it's one of things I miss about the old hood.  If I remember right, Mike immigrated from Lebanon a few decades ago and has owned the store for almost as long.  I don't think it ever closes.  I remember buying milk there on Christmas Day once, and at least a couple late night trips to by mouse traps.  And December Mike would give his regulars a box of After Eight chocolates to say thanks for our business.
So I was really pleased when I saw Colin White's drawing of the building, which is part of a series called "Confectionaries".  It's on display now at Raw Sugar Cafe (692 Somerset West). More info…
A bit from Colin about the series and the drawing of Mike's in particular:
There is much to be said for the aesthetic of a confectionary — specifically locally-owned, community-known confectionaries. Rather than the uniformity of corporate mini-marts and gas stations, local confectionaries, although a little rough around the edges, often have a compelling and unique look. At the same time, one will always recognize a traditional confectionary due to some typical qualities: local or family named; fading signage; hand-written signs; ice-boxes & telephone booths; and perhaps most importantly — apartments in the building, either above or behind the store itself. The community knows the owners of these confectionaries, and the owners know the community, often because they live in it as well. I was inspired to begin this series after being commissioned to do a drawing of Mike's Corner Store. The owners were selling the place after 30 years, and their son wanted to give them a gift to remember their home and livelihood. During my time sketching the store, I met several members of the community, all of whom knew the family. The local kids would skateboard up to the store, get their candy, and skate off again — after checking out my drawings. Retirees, parents and young professionals alike cherished their neighbourhood confectionary. I hesitated to tell them I knew the store was being sold. What would happen if it were replaced by a 7eleven? Or shitty condos? I decided to continue sketching more local confectionaries in Ottawa, concerned that they may one day become relics in an increasingly corporate world.
** See also: ** Ottawa Neighbourhoods Guide
If you liked this post, please consider subscribing to our blog via email, Twitter, Facebook or RSS. Thank you.