City to close even more of Elgin Street
Elgin Street sign. Photo/City of Ottawa
Beginning on Monday, April 1, the southbound lane on Elgin Street from Laurier Avenue to Somerset Street will close, completing the full closure of Elgin Street from Laurier Avenue to Catherine Street.
Elgin Street is currently undergoing construction from Gloucester Street to Isabella Street. This includes underground work on Waverley Street from Elgin Street to Metcalfe Street, through Jack Purcell Park.
Traffic, transit and cyclist detours are in place. The City will continually review these detours to ensure they are working effectively. The Elgin Street closure will result in traffic and transit impacts. The City asks for your patience and to plan ahead and expect delays.
cityofottawa Businesses + Elgin Street = a perfect pairing! Even in 1929 when this #TBT photo was taken! * The #ElginStreetRenewal will update infrastructure and revitalize the community. Businesses along Elgin Street are part of this community too and they remain open throughout construction - visit them today! * #ElginStreetRenewal #ElginStreet #IDigElgin #Transformation #Throwback #InstaThrowback #TBT #shoplocal #buylocal #elginst #elginstreet #downtownottawa #ottawadowntown #ottawatourism
View More on Instagram
City Hall parking garage
Access to the City Hall parking garage from Nepean Street will remain open. When exiting the City Hall parking garage onto Elgin Street, motorists will be able to turn right only. Motorists can then turn left from Elgin Street onto Gloucester Street to access the Metcalfe Street (northbound) and O'Connor Street (southbound) signed detours, or can travel north to Laurier Avenue and turn right to access the Queensway.
Free parking is available at City Hall on weekday evenings after 6 pm and all day on weekends and statutory holidays.
Traffic
A traffic detour route has been established for northbound and southbound traffic. There are designated street crossings to provide east-west access to destinations next to the construction zone.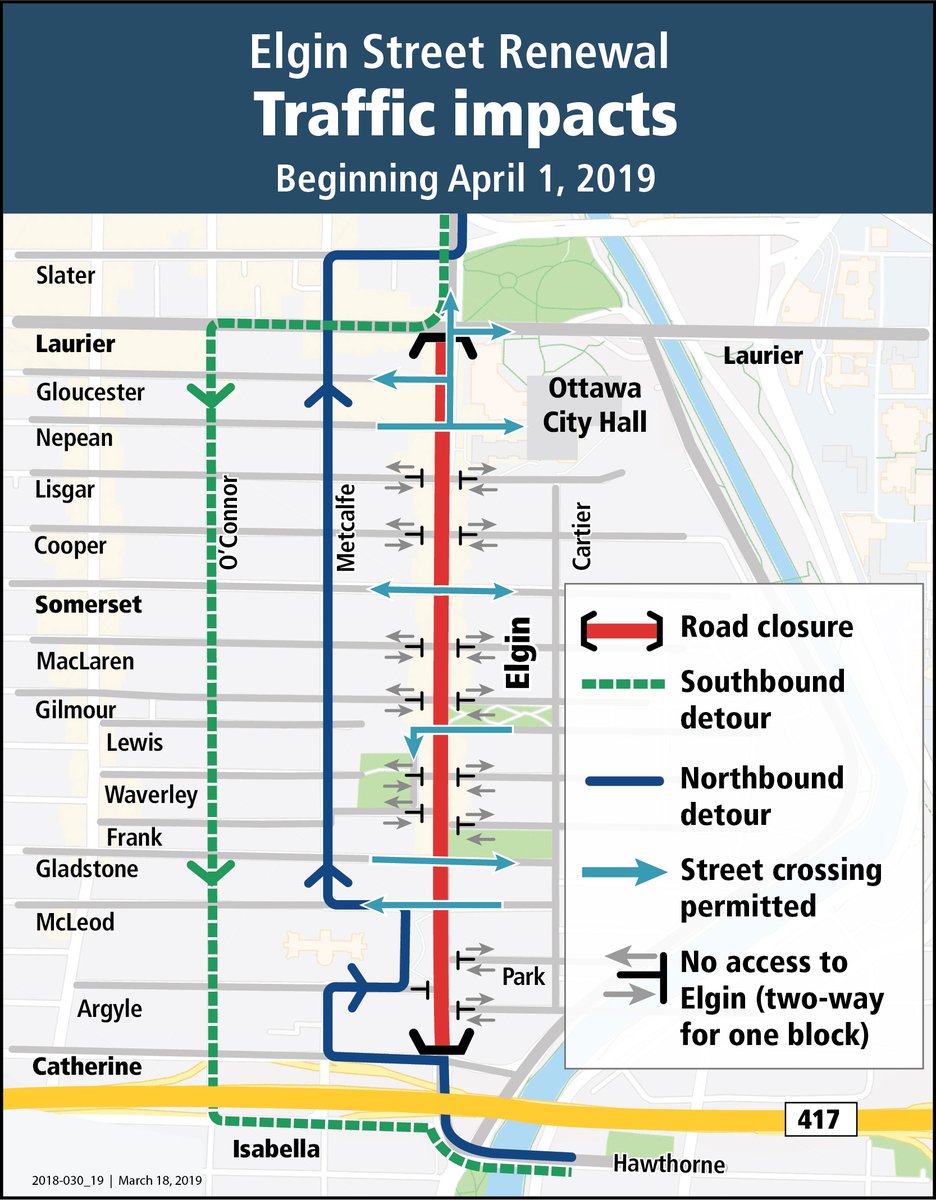 Transit
OC Transpo routes 5 and 14 currently using the southbound lane on Elgin Street from Laurier Avenue to Somerset Street will use the O'Connor Street detour route instead. Please visit ottawa.ca/elginstreet and OCTranspo.com for a bus detour map, route details and up-to-date information.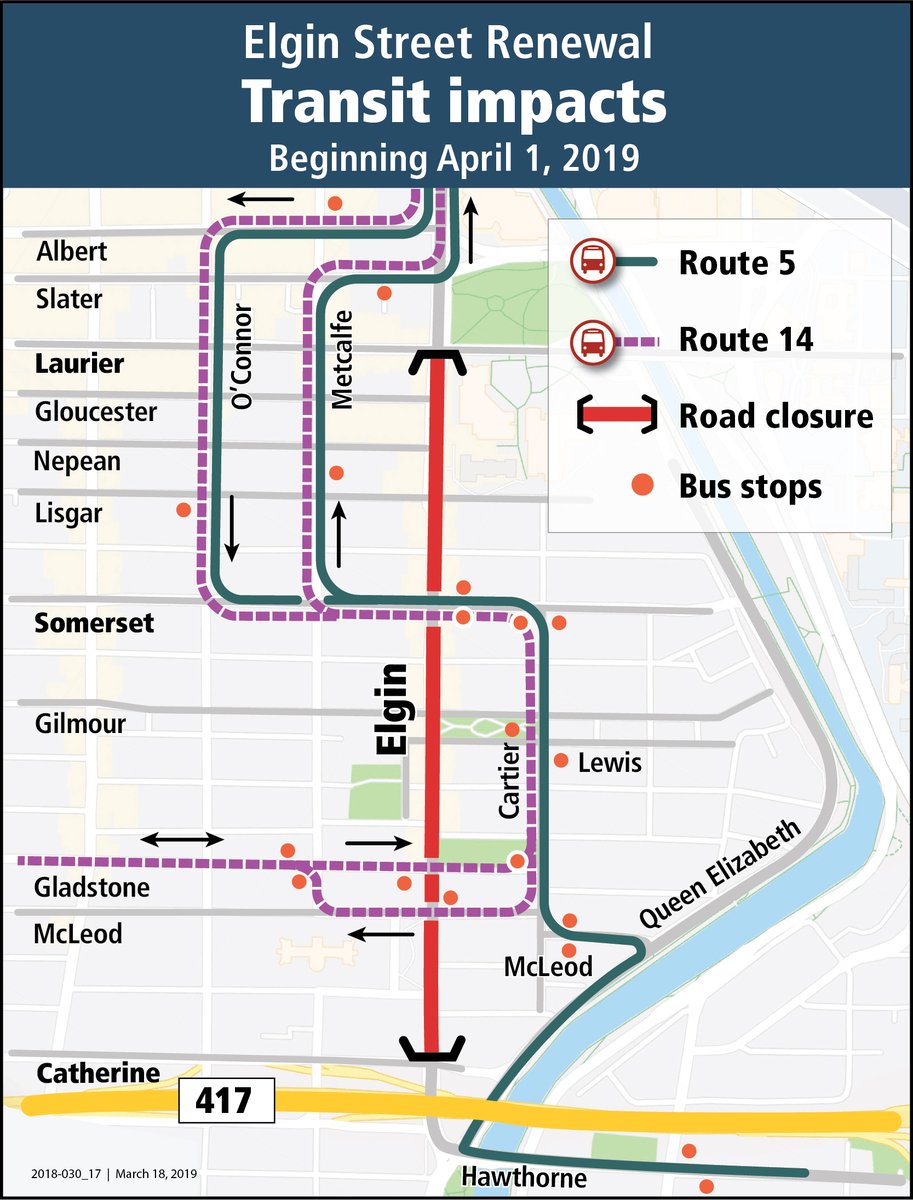 Pedestrians
Pedestrians can access businesses on both sides of Elgin Street at all times during construction. Various pedestrian crossings along Elgin Street are being maintained where feasible.
Accessibility is important for the City of Ottawa. The City makes every effort to provide access through and around construction sites. If you require special accommodation, please contact the project team at mailto:elgin@ottawa.ca.
Cycling
There is a signed cyclist detour route. There are also many existing cycling facilities around the Elgin Street area. Please visit ottawa.ca/elginstreet for a cyclist detour map.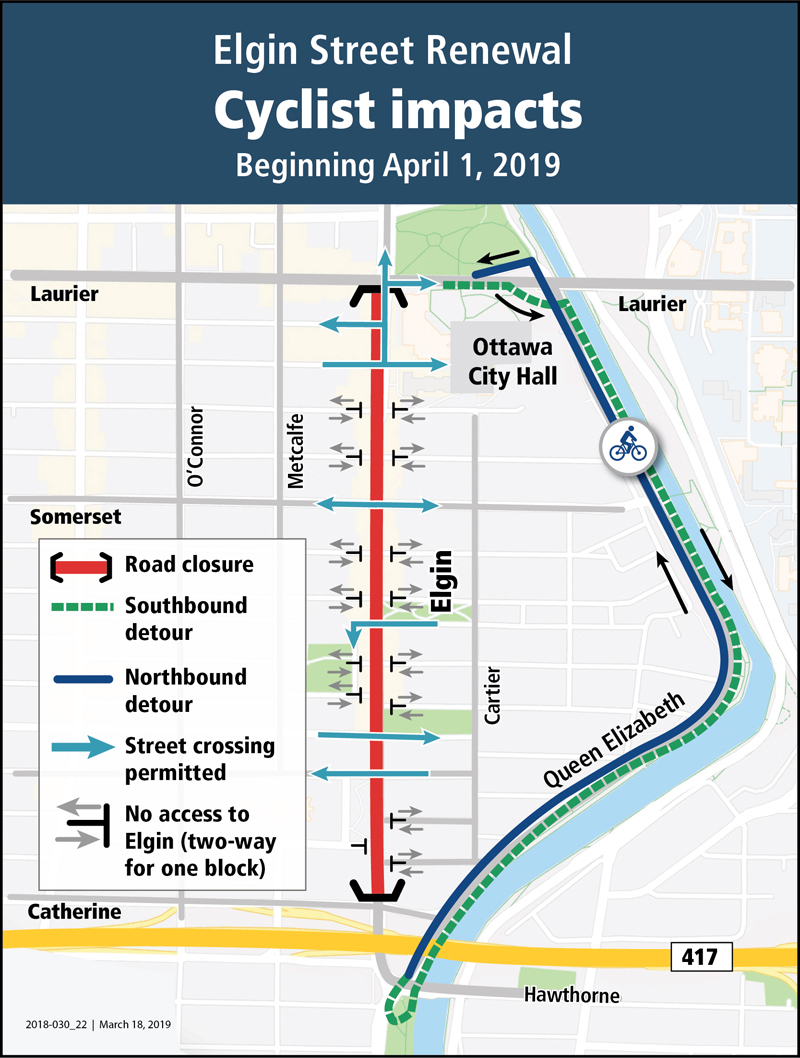 Stay informed
For information about the project, including up-to-date traffic impacts, visit ottawa.ca/elginstreet.
Sign up for the Elgin Street Renewal e-newsletter on ottawa.ca to get regular updates on the project.
Follow the City on social media:
Twitter: @ottawacity
Instagram: @cityofottawa
Facebook: City of Ottawa / @cityofottawa
Email the Elgin Street Renewal project team at mailto:elgin@ottawa.ca.
Listen to the traffic reports on local media.