City report shows how suburban development is shifting denser
Sprawling suburbs are on their way out, with the city preferring more intensification of land uses. (Aerial photo of Barrhaven via City of Ottawa.)
While the outer suburbs continue to dominate residential development activity in Ottawa, city data shows that developers are increasingly building denser forms of housing.
The 2018 update to the Vacant Urban Residential Land Survey, released over the summer, contains numerous tidbits of information about how Ottawa's residential stock is developed outside the greenbelt. It's a tool for City Hall to monitor the supply and use of vacant suburban land to ensure it is following key provincial policies that ensure the city has enough land to support growth. It also shows that construction of townhome units narrowly edged out single-detached homes for the third-straight year.
According to the report, there is ample land. Vacant land totalled 1,870 hectares, as of December 2018. That's enough for about 81,287 units. The province requires the city to maintain, at all times, a minimum 10-year supply of residential land. The report breaks down land consumption by unit type and arrives at the conclusion that annual land demand through 2028 years will be 91.9 hectares, or 3,189 units of varying types. I.e., the city has over 20 years of supply on its hands.
The document also looks at how land is being used in the suburbs and where all the action is concentrated. It breaks "suburbs" down into five areas outside the greenbelt: Kanata-Stittsville, Riverside South, Orléans, South Nepean and Leitrim.
Kanata-Stittsville is chewing up the most land, accounting for 42 per cent of the 114.6 hectares developed in 2018. Orléans came in second, using up 23 per cent. But while the two big suburbs consumed the most, they were not fastest-growing in consumption — that accolade goes to Riverside South, which jumped the most between 2017 and 2018 to now account for 13 per cent of land consumption.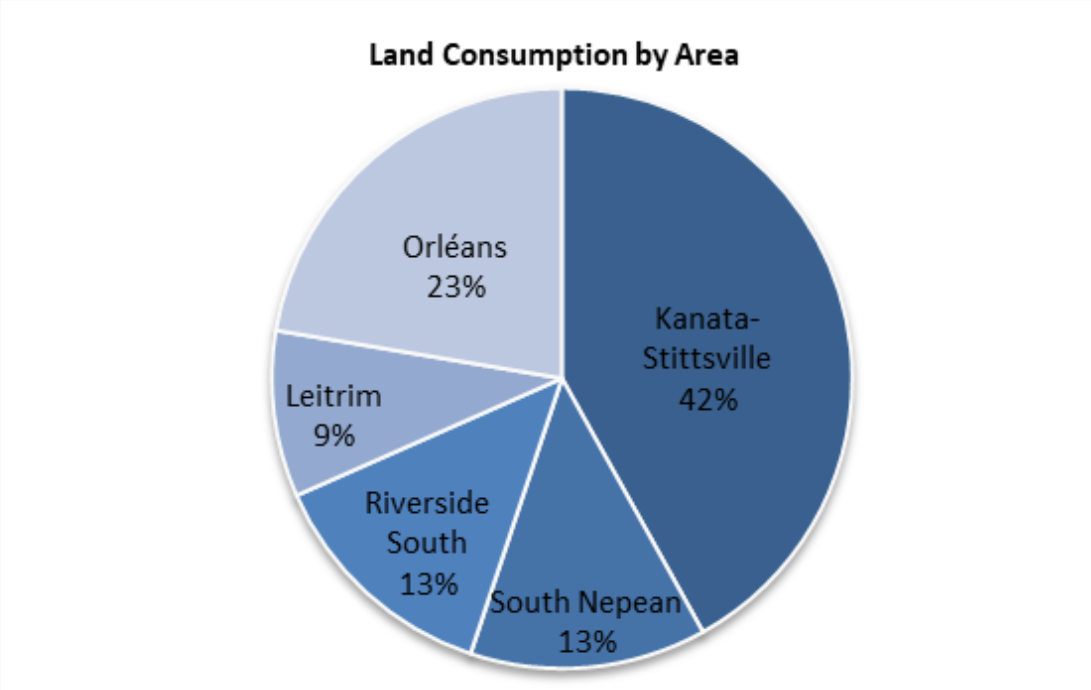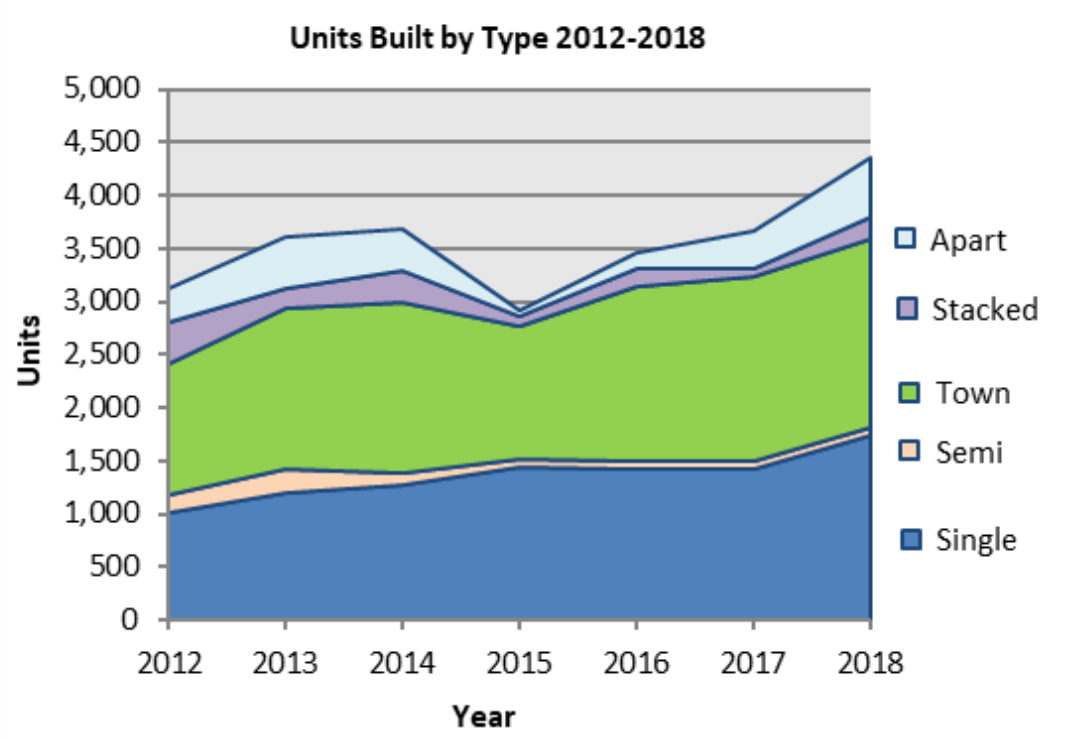 Developers slightly favoured townhomes in 2018, building 1,768 such units over 1,730 single-detached units. This tracks with the average over the past few years, as well as City Hall's observance that single-detached homes will become less important for residential development over the long term. As noted previously on this blog, the city concluded years ago that there will be a shift in demand through 2036 away from the traditional house and towards higher-density housing types like apartments. "In fact, this shift has happened more quickly than it had been expected a few years ago," the city says on its website.
Townhomes offer a higher density level than single-detached homes, meaning they cost less to provide municipal services to. Plus, you can fit more units into a block than you could with singles. Earlier the city released a paper called Ottawa Next: Beyond 2036, that evaluated how things may change for the city deeper into this century.
One takeaway from that report is relevant to this data on townhome development: the ongoing trend of people preferring higher-density housing will only continue. As the 2036 paper highlighted, land will become more expensive in the future and that will probably put single-detached homes beyond the price range that most people can afford.