City looking for artists to create underpass murals
_ (Via City of Ottawa) _ ** Ottawa ** – The City of Ottawa is seeking art professionals to design and create two original murals, one on each wall of the Main Street underpass, under Highway 417. The murals will reflect the surrounding area and create a distinct gateway into the neighbourhood.
[caption id="attachment_53168" align="alignright" width="468"]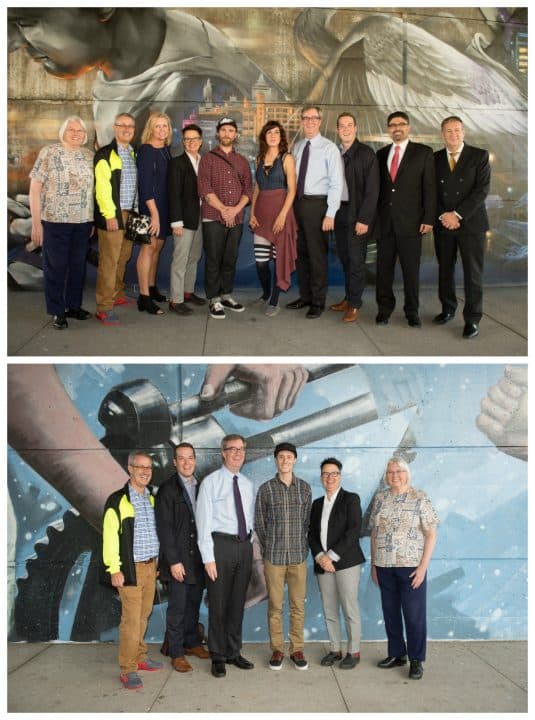 Similar murals under the Laurier Avenue Bridge. These murals were unveiled on Oct. 6, 2016, part of the city's murals on underpasses program.[/caption]
Visit ottawa.ca for more information on the application process and selection criteria. The walls will feature community-inspired designs, developed by the selected candidate and chosen by an independent panel of local artists and community members.
---
** RELATED: ** Celebrating the Rideau Canal through art
---
The selected art professional or team will be announced in May. The murals will be completed by the end of June 2017.
Outdoor murals can reinvigorate main streets and bring vitality and civic pride to community cores. They have also proven to be successful in managing graffiti.
For more information call 3-1-1 or email mural@ottawa.ca .
This is the fourth year that the City has chosen to paint murals on underpasses. Previous underpass locations are:
 * 
Laurier Avenue and Colonel By Drive

 * 
Laurier Avenue and Queen Elizabeth Driveway

 * 
Bank Street at the Queensway

 * 
Carling Avenue at the Queensway

 * 
Metcalfe Street at the Queensway

 * 
Riverside Drive at Bronson Avenue

For more information on the City's mural programs, and photos of completed underpass murals, please visit ottawa.ca .